Peace candles lighted at Data Darbar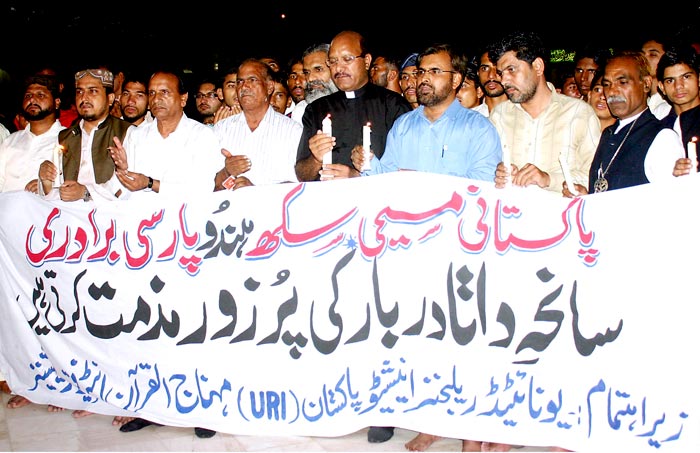 The leaders of different religions got together to participate in a ceremony of lighting peace candles at the revered shrine of Data sahib under the banner of Directorate of Interfaith Relations of Minhaj-ul-Quran International and the United Religions' Initiative(Pakistan). A collective prayer was held for the departed souls as a mark of solidarity with those who lost their near and dear ones in this tragedy. Those who were present at this historic occasion included Father James Channan(OP, URI Regional Coordinator Asia Sub Region Pakistan), Yuel Bhatti(Executive Secretary URI), Dharm Singh, Dr Munawar Chand, Pandit Baghat Lal, MB Wilson, Sohail Ahmad Raza; Director of Interfaith Relations MQI, Tahir Baghdadi, Latif Madani, Abdul Hafiz Ch, Qazi Mahmood, Hafiz Ghulam Farid and Iftikhar ul Hassan Chishti. A large number of the Muslims and non-Muslims were also present on the occasion.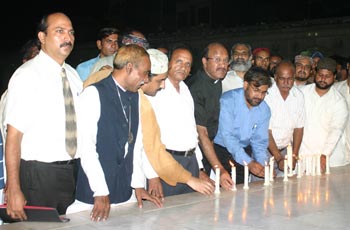 Speaking on the occasion, the non-Muslim leaders condemned the suicide attack on the Data Darbar in the most vehement terms. They expressed their deep sorrow over the loss of innocent lives. They said that the non-Muslims were equally shocked at this gruesome act of terrorism like their Muslim counterparts. They demanded the establishment of a National Commission against terrorism under the leadership of the Chief Justice of Pakistan.
Sohail Ahmad Raza, Director of Interfaith Relations, said that Data sahib was benefactor of humanity and those who wreak havoc with human lives at the shrines of such benefactors were in fact beasts in the human garbs. He said that all of us condemn their cowardly acts in the strongest possible words and demand of the government to take effective measures to crush terrorism with an iron hand.