Spiritual gathering of Shab-e-Barat 2010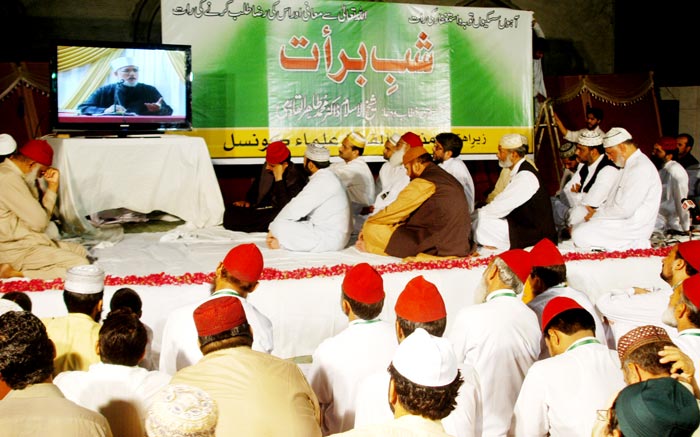 The spiritual gathering of Shab-e-Barat was held on the night of the 14th of Shaban-ul-Moazzam in the Central Secretariat of Minhaj-ul-Quran International on July 27, 2010. The chief highlight of the event was the keynote speech of Shaykh-ul-Islam Dr Muhammad Tahir-ul-Qadri. Amir-e-Tehreek Sahibzada Miskin Faiz-ur-Rehman Durrani presided over the spiritual gathering, whereas the distinguished guests included acting Nazim-e-Ala Sheikh Zahid Fayyaz, G.M. Malik, Jawad Hamid, Raja Muhammad Jamil Ajmal and other central leaders.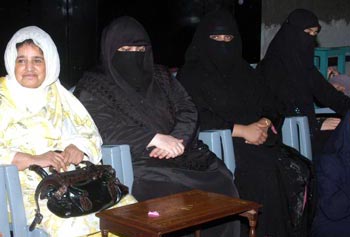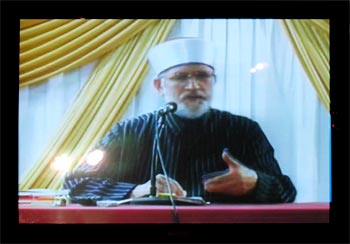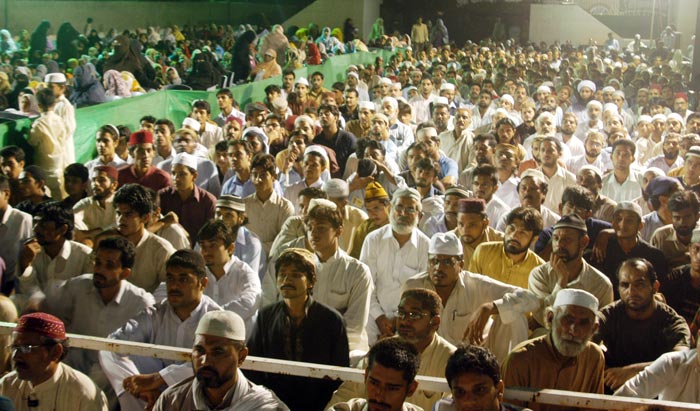 A large number of people from across Lahore and its outskirts participated in the programme zealously including women for whom separate sitting arrangements were made. Fool-proof security arrangements were also made keeping in view the precarious security situation currently prevailing in the country.
The formal proceedings of Shab-e-Barat got underway with the recitation from the Holy Quran at 9.30 pm followed by Naat Khawani. Muhammad Afzal Noshahi, Minhaj Naat Council, Bilali Brothers, Haideri Brothers, Qari Anser Ali Qadri, Shakil Ahmad Tahir and other Naat-Khawans presented Naat and cast a deep spiritual spell on the audience with their melodious voices.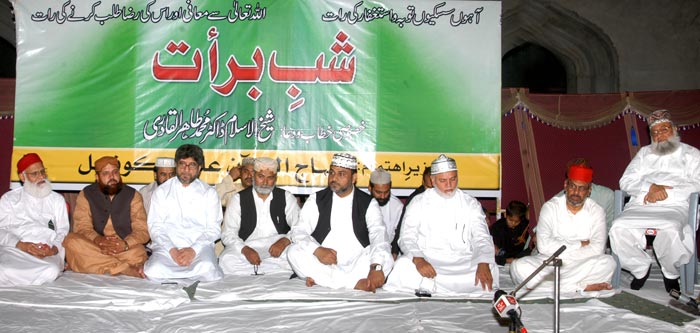 Shaykh-ul-Islam Dr Muhammad Tahir-ul-Qadri started his keynote speech live from UK through video conferencing at 11:30 pm. He chose "renunciation of sin" as the subject of his speech. He said that Shab-e-Barat is a spiritual gathering but unfortunately our great religion is being reduced to a set of rituals and customs. Instead of acting upon its teachings in letter and spirit, we are part of the process aimed at converting Islam into a set of rituals performed without any reference to its actual spirit. This represents the culmination of our prayerlessness and alienation from the religion in practical terms.
Dr Muhammad Tahir-ul-Qadri said that Shab-e-Barat is such night on which Allah Almighty descends to the heavens of the world at the last hour of night. His Mercy calls out for people who repent of their sins and seek His Forgiveness and Help. Allah's Mercy continues to summon people and those of His creations who respond to the calls of this Mercy join the club of the blessed people.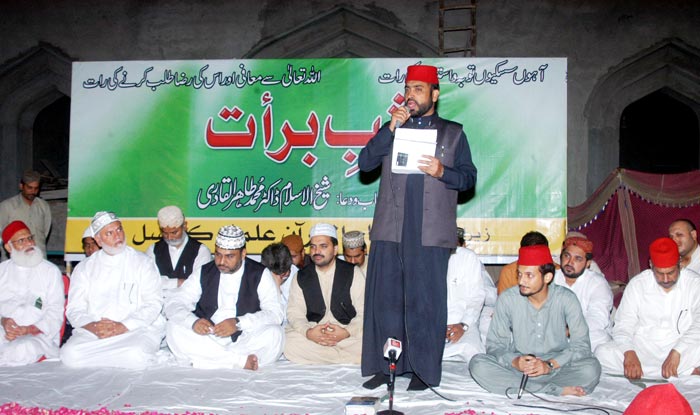 Referring to a misunderstanding, he said that some people object to the need of holding gatherings on this night and hold that man should seek Allah's forgiveness in solitude. He said that this objection emanated from lack of knowledge. Quoting a Hadith, he said that getting together for sake of Allah is also worship. He said that once two groups of the Companions were sitting in the Prophet's Mosque. One group was busy in individual worship, while people in the other group were engaged in scholarly talk on education and training. When the Holy Prophet (SAW) came there, he chose to join the group of people who were busy in discourse on education and training. He said that when someone indulges in any form of individual worship, one is not sure of its acceptance by Allah Almighty. On the other hand, when people participate in collective worship, Allah accepts the worship of all due to one chosen and pious person in the gathering.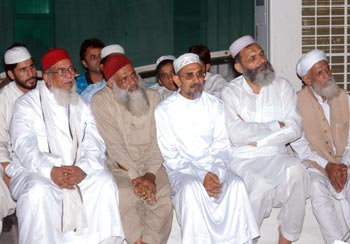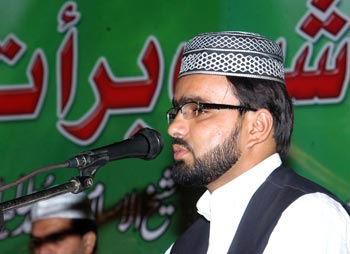 Shaykh-ul-Islam Dr Muhammad Tahir-ul-Qadri said that man should consider sin as a sin and keep himself away from it. It is Allah's promise that if one avoids committing major sin, He would save such a person from the minor sins. Therefore, Allah Almighty would Himself forgive the minor sins of those who offer their prayers regularly five times a day.
He said that he who does not consider sin as a sin and makes its committal part of his second nature, even his minor sins become major ones. Therefore man should not take even a minor sin lightly and if he thinks that it is merely a minor sin, then it is nothing but his wretchedness. He said that it is a sign of a believer that he runs away from it, while the sign of the hypocrite is that he makes it part of his nature without any fear.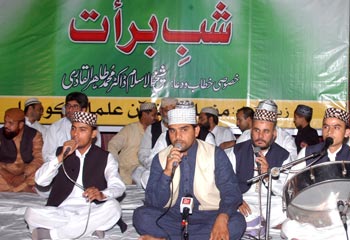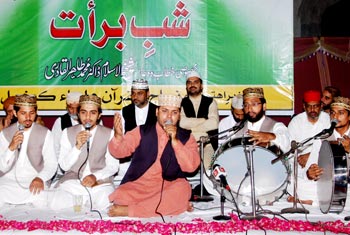 He said that Shab-e-Barat was a night aimed at seeking repentance from Allah Almighty. Our Lord writes things in our fate. He who would submit himself to His Creator and seek His Forgiveness from evening till dawn, he would get to know the essence of this night.
Shaykh-ul-Islam further said that Allah Almighty keeps waiting for His Subjects to repent of their sins and seek His Forgiveness. He who immerses himself in sins, goes beyond asking for forgiveness. This represents the wretchedness of such a person.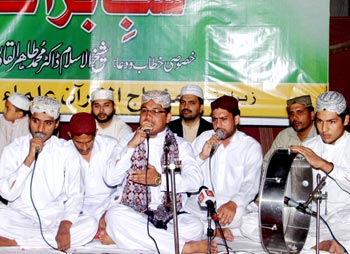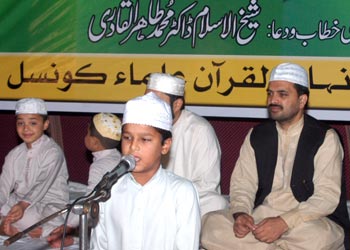 Dr Muhammad Tahir-ul-Qadri said that unless one eats from rightfully earned sustenance, his worship would not create spiritual light. He whose means of income are suspect and illegal would not stand to benefit even an iota despite the fact that he continues to worship day in and day out.
He referred to Imam Imdadullah Mohajir Makki who said that the saints or the Friends of Allah are so particular about rightful sustenance and piety that whenever they dine at the invitation of others, they certify beforehand as to the nature of the means of income i.e. legal or illegal. He said that we have eliminated every difference between what is lawful and what is forbidden in our lives and are preparing ourselves for the hell due to our greed and illegal accumulation of wealth.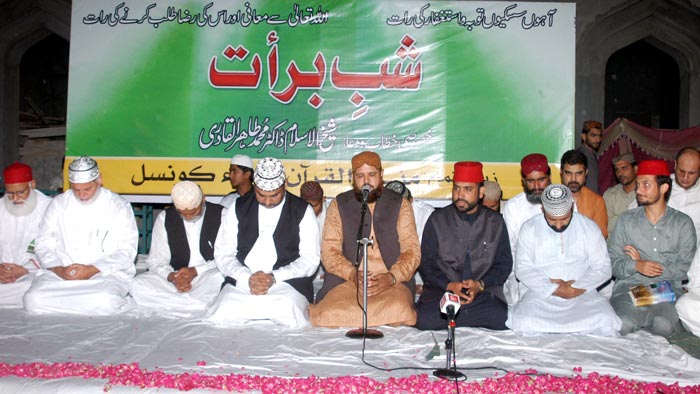 Imam Shafai noted five characteristics and said that he who possesses them is the saint of Allah namely he is indifferent to the world; is harmless to others; earns rightful livelihood; is pious and keeps himself connected with Allah.
Shaykh-ul-Islam said that in forgiveness lies the riddance of sin, which is not possible unless one wins pleasure of his Lord. He said that the pious people are on the decrease in the world and the bazaars of the piety are closing down.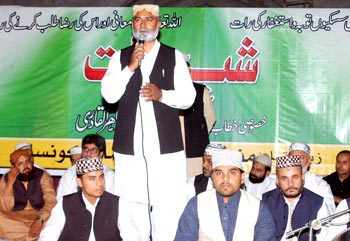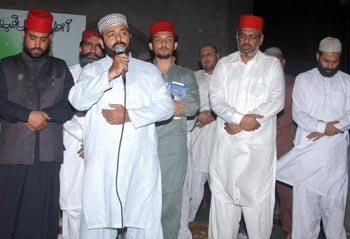 Giving main message of Shab-e-Barat, he advised people not to underestimate any sin and make a vow to give up sinning and adopt piety in life. He said that our stay in this world is very limited and finally we are all set to leave for our eternal abode. Then we would not have the chance to do pious deeds in the world again. He said that we would have to make a resolve of bringing about internal change on this night.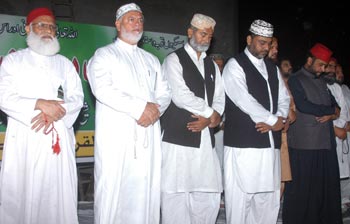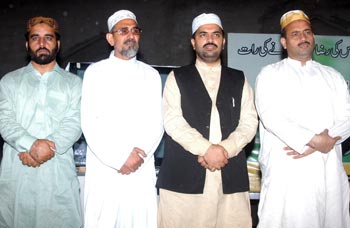 The speech of Shaykh-ul-Islam concluded at 11:40 pm. Muhammad Afzal Noshahi presented Naat after the speech in his characteristic style. Allama Farhat Hussain Shah led the collective Dua after Durood-o-Salam.