Monthly Spiritual Gathering of Gosha-e-Durood - July 2010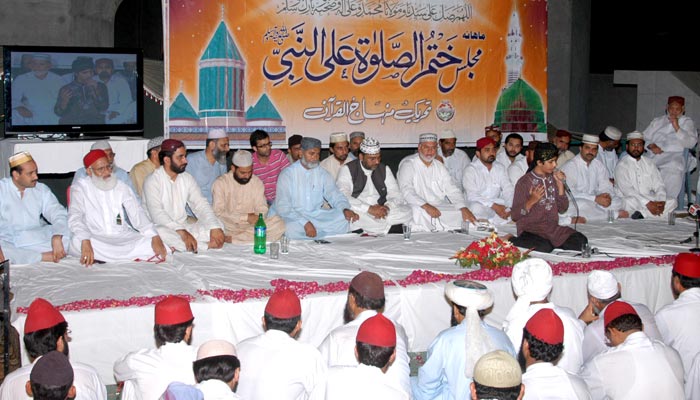 The 55th joint ceremony of monthly spiritual gathering and Shab-e-Miraj, organized under the banner of MQI, was held on July 9, 2010, which was presided over by Amir-e-Tehreek Sahibzada Miskin Faiz-ur-Rehman Durrani. This program was originally planned to be held on July 1 according to the schedule but was delayed due to the important event of Shab-e-Miraaj. The audience included acting Nazim-e-Ala Sheikh Zahid Fayyaz, Tauquir Ahmad Gillani, Allama Asif Mir Qadri, Raja Muhammad Jamil Ajmal, Aaqil Malik, Muhammad Farooq Rana, Mufti Abdul Qayyum Khan Hazarvi, Prof Muhammad Nawaz Zafar, Ahmad Nawaz Anjum, Dr Zahoor Ahmad Azhar, Allama Farhat Hussain Shah, Haji Muhammad Salim Qadri, Sayyid Musharraf Ali, Haji Raiz Ahmad, Raja Zahid Mahmood, Mian Abdul Qadir, Jawad Hamid, Dr Ashgar Javed, Bashir Khan Lodhi, Allama Noor uz Zaman Qadri, Ghulam Murtaza Alvi, Shahzad Rasool Qadri and other central leaders.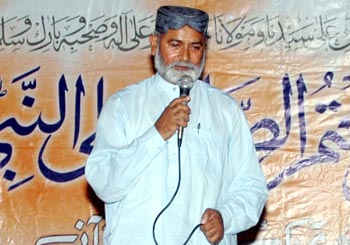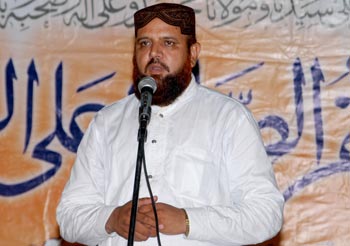 A large number of women also participated in the programme for whom separate seating arrangements were made. A huge digital screen was also installed for the audience.
The formal proceedings of the programme got underway with recitation from the Holy Quran followed by Naat Khawani. Anser Ali Qadri, Amjad Bilali Brothers, Minhaj Naat Council, Shahzad Brothers, Shakil Ahmad Tahir and young Naat Khawans from Hujra Shah Muqueem had the honour to present Naat. Bashir Khan Lodhi presented 'Kalam-e-Bahu' in his characteristic style.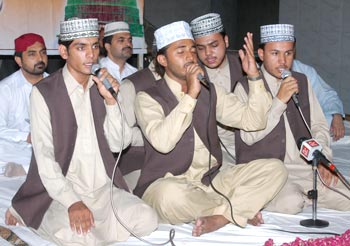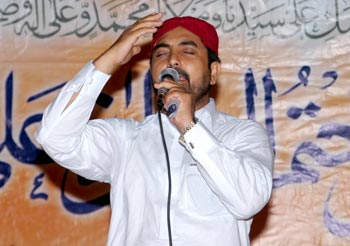 Speaking on the occasion, Allama Farhat Hussain Shah said that the event of the Mirja-un-Nabi (SAW) is the greatest of miracles of universe. This miracle left the scientific research far behind and stunned the scientists. He said that MQI is busy in propagating the message of peace, harmony, interfaith dialogue in the world with special focus on the teachings of the Holy Prophet (S.A.W) and joint program of spiritual gathering and Miraj-un-Nabi is the continuation of that.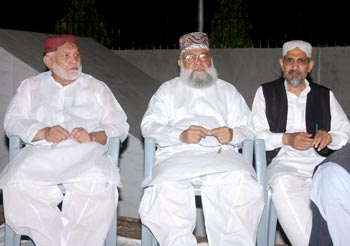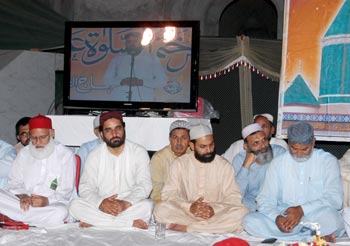 Allama Farhat Hussain Shah presented the monthly report of Durood offered during the month of June. Before the conclusion of the program, all participants stood up and presented Durood-o-Salam on the person of the Holy Prophet (saw). Waqas Ali Qadri conducted the proceedings of the programme. The program ended on the Dua led by Allama Muhammad Hussain Azad.