An International Seminar on 'Role of Universities & Seminaries in the Promotion of Peaceful Co-existence'
A Joint Venture of Minhaj University Lahore
&
Azan Educational & Research Institute
(Al-Mustafa International University, Iran)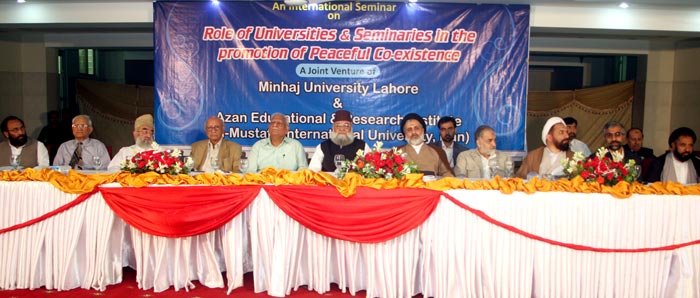 The clouds of despondency, lawlessness and hopelessness that hover over the world of Islam in general and Pakistan in particular have both historic and contemporary reasons including our own mistakes and conspiracies by 'others'. But no student of history can say that these conditions have been created for the first time. Such critical stages have been a recurring phenomenon in Islamic history as has been the case with other nations. Academicians and intellectuals have been coming to the fore to steer the nations out of these crises. Their timely and effective guidance has been a major factor in giving nations sense of direction.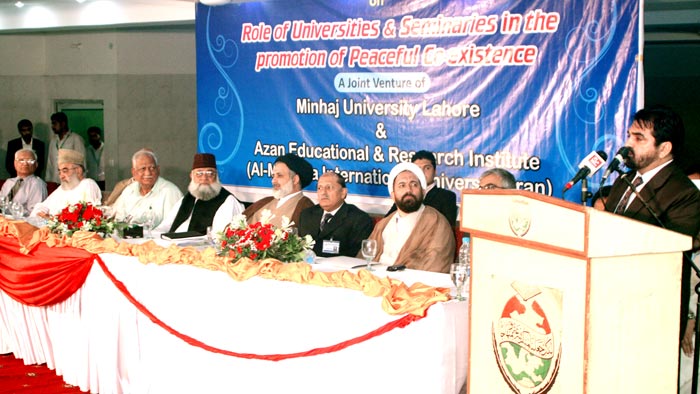 Mindful of the gravity of the situation and the need for a timely action, some Pakistani students, who are studying in Al-Mustafa International Islamic University of Iran, established a research-oriented think-tank with mutual cooperation a few years ago. Those who performed this arduous task of bringing into existence a platform for collective deliberations included Mr. Kazim Saleem, Muhammad Younis, Ehsan Ali Razi, Mazaahir Shigri and Yasir Shamsi. These youths, who have equipped themselves with modern and classical education, dream of a Pakistan, which is free from sectarianism and other divisions and is a hub of peace in the region. Imbued with this vision, they travelled to the universities and educational institutions of Pakistan during summer vacation and held numerous meetings with the students, teachers and heads of these universities across the country. They have also brought out an Urdu monthly "Aazaan" that contains writings of prominent authors from across the world. This clarion call of "Aazaan", which first resonated from Al-Mustafa University of Iran, is now reverberating through the scholarly circles in Pakistan.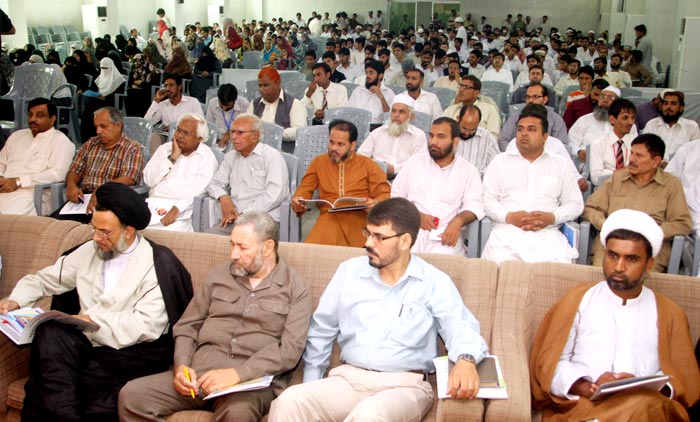 When these determined youths visited Pakistan, they also held a meeting with the management of Minhaj University Lahore. They also betrayed their intention of holding an international seminar to familiarize the people of Lahore and Pakistan with their aims and objectives. They found Minhaj University to be the carrier and promoter of such values as peace, interfaith dialogue, and peaceful coexistence. The management of the University also encouraged them for their constructive objectives.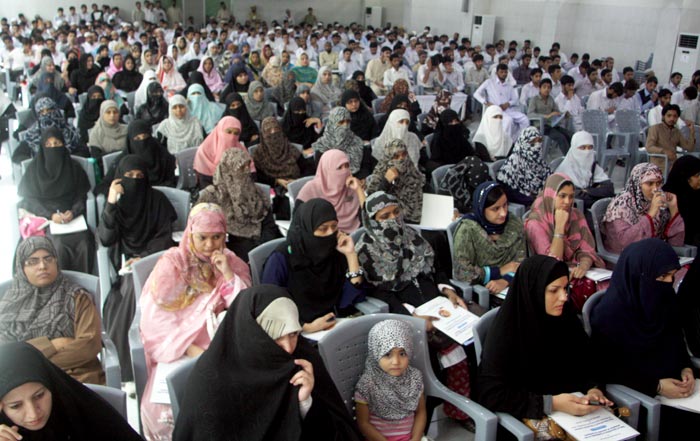 In pursuance of the agreement reached earlier, a prestigious seminar was held under the joint banner of Minhaj University and "Aazaan" Educational & Research Institute (Al-Mustafa University of Iran) on October 2, 2010, which was attended by high-powered delegations from the country as well as abroad. Sayyid Sajjad Hashmiyan, pro-vice chancellor of Al-Mustafa University of Iran who reached Pakistan a day earlier along with two companions, was the guest of honour on the occasion.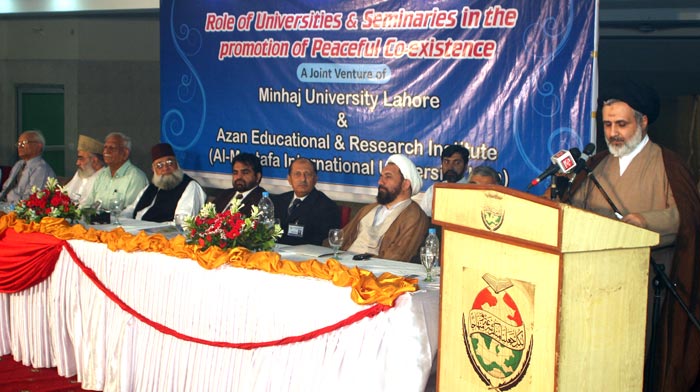 The proceedings of the seminar got underway with the recitation from the Holy Quran by Hafiz Aamir Abdus Sami followed by Naat which was presented by Raja Mahdi Ali.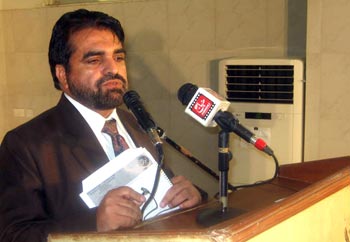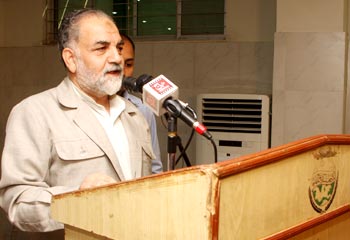 In his inaugural address, Dr Ali Muhammad, vice chancellor of Minhaj University Lahore, welcomed the respected guests. He threw light on the national and international services of Shaykh-ul-Islam Dr Muhammad Tahir-ul-Qadri, the founding leader and patron-in-chief of Minhaj-ul-Quran International, in the realms of peace, interfaith dialogue, and inter-sectarian harmony. He referred to hundreds of graduates of Minhaj University who are spreading this message of Shaykh-ul-Islam the world over.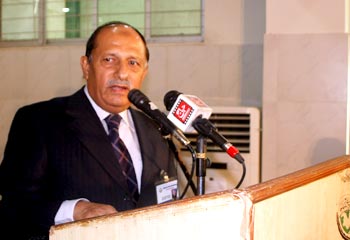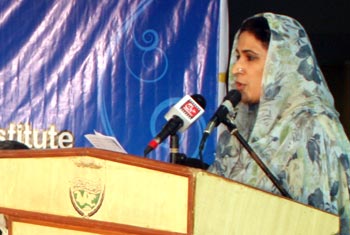 Throwing light on the aims and objectives of "Aazaan" and the seminar, Muhammad Kazim Saleem, the founding director of Aazaan Institute, said that they were ready to play the role of a bridge between educational institutions of Pakistan and Iran so that the positive values of both systems could be shared for mutual benefit. He also extended his gratitude to Dr Raheeq Ahmad Abbasi, Dr Ali Akber Al-Azhari and all teachers of Minhaj University on behalf of "Aazaan" who were instrumental in holding this international seminar. He said that this moot provided high-ranking guests from Iran with an opportunity to know about the scholarly contributions of Shaykh-ul-Islam Dr Muhammad Tahir-ul-Qadri.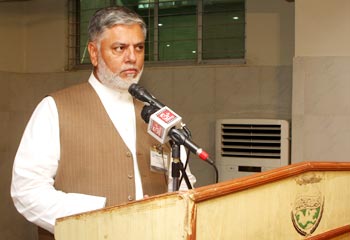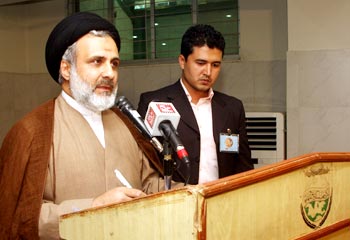 Dr Jamil Anwer, pro-vice chancellor of the University of Punjab, briefly mentioned cultural, religious and intellectual relationship between peoples of Pakistan and Iran, saying that it was an abiding relationship which stood the test of time. He referred to Dr Allama Muhammad Iqbal, Pakistan's national poet, who is understood more in Iran than in Pakistan. Emphasizing the fundamental role of educational institutions in fostering 'peaceful coexistence' among religions and communities, he urged the teaching and student communities of the Islamic world to come forward and play their constructive role in stemming the tide of downfall and anarchy.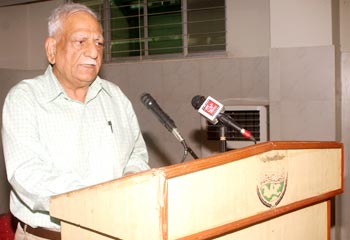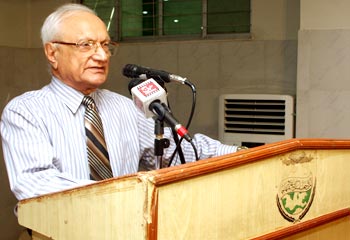 Representing the Shiite educational institutions and seminaries, Allama Ghulam Abbas Raisi, principal of a local seminary, dubbed this seminar as need of the hour. He appealed to the religious scholars and intellectuals to dedicate their efforts for creating unity within diverse elements of the Muslim world.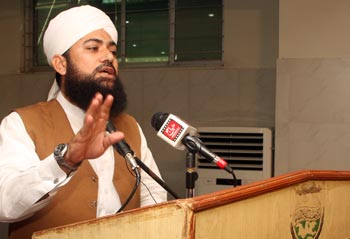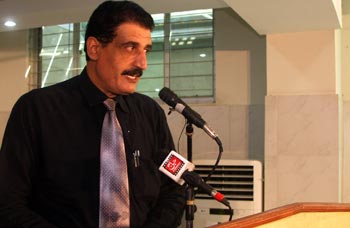 Dr Hassam-ud-Din, Dean of Islamic Studies Department of Karachi University, represented four-member delegation from Karachi University. He appreciated the work of MQI in the promotion of interfaith dialogue, peaceful coexistence, and unity. He said that the practical demonstration of this sincerity was visible in the way high-powered delegation was given a red-carpet welcome on their arrival in Minhaj University Lahore. He said that such seminars should be held in every major city of Pakistan.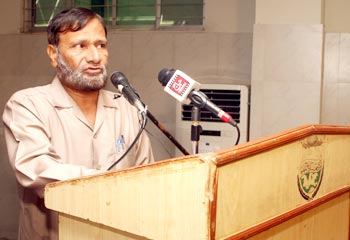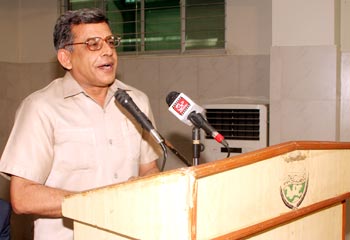 Dr Maher Muhammad Saeed, president of Teachers' Union of Punjab University, appreciated the holding of the seminar through collaboration of both educational institutions and regarded it as an effort worthy of emulation by the rest of the institutions.
Prof Dr Ehsan Malik, chairman of MBA department of Punjab University and Director General of Punjab University (Gujranwala Campus), in his fiery speech, urged the teachers and scholars to make a mark in the field of research. He said that when knowledge-driven progress takes place, anti-Islam forces would start dealing with the Muslims on parity basis. He said that this is the peculiar role the Universities can play in promoting peace and harmony in the world. He said that it was our duty to advance this cause with utmost dedication and honesty. He said that it was regrettable that the books being taught in our educational institutions were written by others. He congratulated Shaykh-ul-Islam Dr Muhammad Tahir-ul-Qadri for his scholarly contributions to the body of knowledge on almost all topics and for his role as promoter of peace in the world.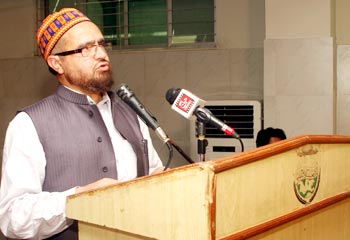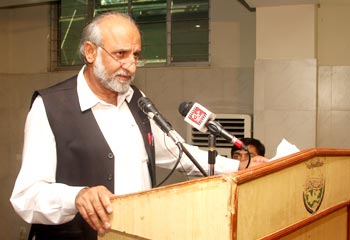 Highlighting the importance of the topic of seminar, Senator S.M. Zafar, former federal law minister and renowned lawyer, said that the organizers of this seminar have established a good example for others to follow by touching on the sore point of Pakistan and Islamic world. He said that Islam was being brought into disrepute in the world and innocent people were being bombed in the name of religion. In such dire circumstances, he added, educational institutions had huge challenge to play significant role in reversing the downward tide. If such voices start getting raised from the educational institutions, it means that the Muslims can take on these crises, he held.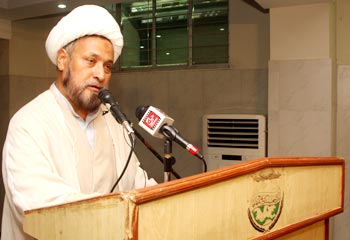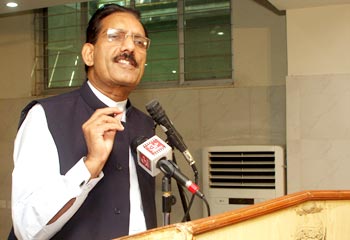 Dr Khairat ibne Rasaa, in-charge of Minhaj Education Society and former vice chancellor of Punjab University, said in his talk that if the universities within the Muslim world continued to update their syllabi in accordance with the demands of time, there is no reason why they cannot achieve excellence in education and research. He added that if the educational institutions kept on playing their role, the society stood to benefit. He emphasized the need of bringing about revolutionary changes in the educational system besides urging the students and teachers to equip themselves with latest developments in the field of knowledge.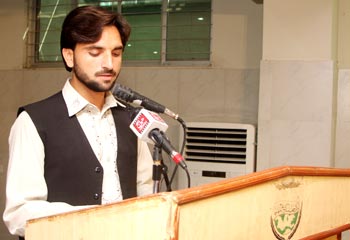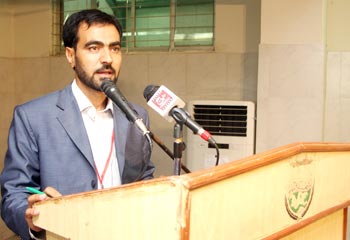 Mufti Usman Silavi, Khateeb of Jamia Mosque Data Ganj Bakhsh Ali Hajveri, threw light on the services of the Sufis for the establishment of peace and utility of the monastic system. He appreciated the seminar.
Representing the Government of Punjab, Dr Asma Mamdoot, senior member of the Standing Committee on Education, paid glowing tribute to the organizers of the seminar. Detailing challenges faced by Pakistan, she referred to the efforts of the Punjab government for the establishment of peace and dubbed such efforts as educational needs.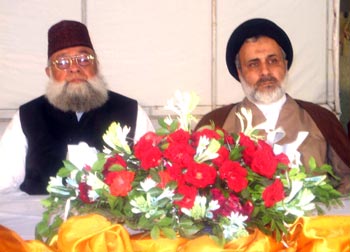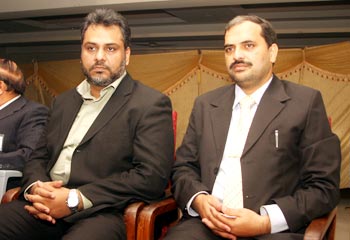 Raja Jamil Ajmal, Director of Foreign Affairs of MQI, declared that MQI was starting a tree plantation campaign as per the instructions of Shaykh-ul-Islam Dr Muhammad Tahir-ul-Qadri and it would be inaugurated by the Iranian guest as a gesture of goodwill.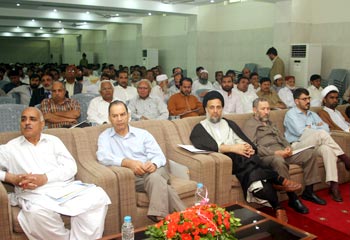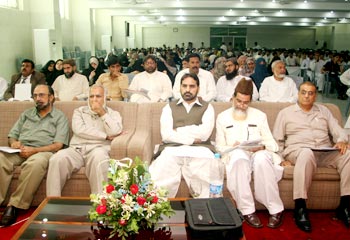 Dr Ibrahim Muhammad Ibrahim, chairman Urdu department of Al-Azhar University, also attended the seminar on special invitation. Presenting message of Al-Azhar University, he said, "All sects of the Muslims have 95% shard commonalities. It is unfortunate that we emphasize 5% differences/divisions by forgetting these commonalities. The universities need to come forward and play a leading role in this regard."
Renowned Muslim scholar, Prof Nisar Ahmad Usmani who specially flew in from UK to take part in this seminar, mentioned the historic services of Shaykh-ul-Islam Dr Muhammad Tahir-ul-Qadri in the fields of peace, knowledge, harmony and interfaith dialogue. He also referred to historic Fatwa (Religious Edit) of Shaykh-ul-Islam, saying that the Muslims were holding a special conference in Wambly Centre in September next year to promote these values of love and harmony in the world. He urged the heads of the educational institutions to take a leaf from the book of Dr Muhammad Tahir-ul-Qadri and guide the Muslim world out of these trying times by rising above sectarian confines.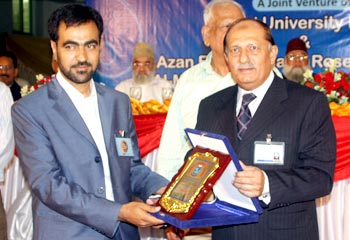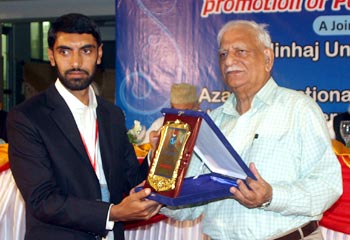 The Chief Guest highlighted the attributes of Islamic civilization in his brief address and asked the Muslims to deal with one another with love. He said that we proudly marketed our good manners with others but when it came to dealing with our co-religionists, we divided ourselves among castes, colours, creeds and races and allowed these divisions to define our conduct with one another. He said that our educational institutions would have to play pioneering role in ridding our respective societies of these biases and prejudices. He also underlined the need of encouraging dialogue and culture of research as a way forward. Mr. Yasir Shamsi translated the Persian speech of the chief guest. All participants listened to his absorbing speech attentively.
Brig. (r ) Muhammad Iqbal Khan, chief organizer and naib Amir of MQI, thanked all the respected guests and threw light on the reasons of holding this seminar. Central Amir Faiz-ur-Rehman Durrani led the concluding Dua.
Special shields were given to the team members of "Aazaan" for their services for promotion of peace and harmony. It must be kept in mind that Mr. Muhammad Younis, a member of the team, has authored M. Phil thesis on the intellectual and practical services of Dr Muhammad Tahir-ul-Qadri in Al-Mustafa International University.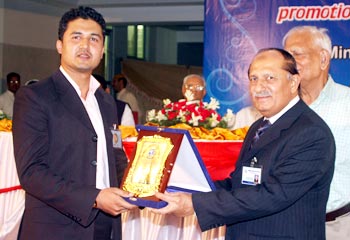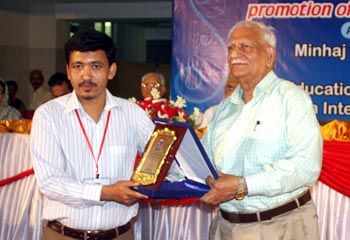 The proceedings of the seminar continued in four languages – Arabic, English, Persian and Urdu – simultaneously, while Dr Ali Akber Al-Azhari, (organizer of the seminar), conducted the seminar. A special edition of "Aazaan" was published which contained special introductory articles about the under discussion topic of Dr Muhammad Tahir-ul-Qadri and Dr Ali Akber al-Azhari, which was also distributed at the occasion.