MWL distributes Eid Gifts and food among orphans and the destitute women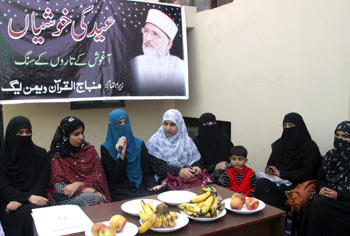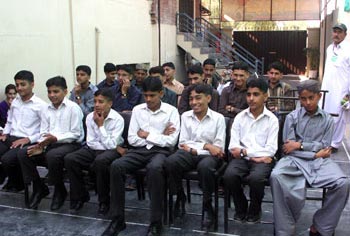 Minhaj-ul-Quran Women League distributes Eid gifts and food packs among the orphans, the needy, poor and indigent sections of society on the eve of Eid al-Adha every year. This year also, the Central Women League spent the whole Eid day on 17 November, 2010 with the destitute women and children staying at Dar-ul-Aman, Dar-ul-Shafqat and Aghosh. The Women League team headed by Secretary General SumairaRafaqat Advocate gifted Eid clothes among them two days before Eid. The WL team extend their gratitude to Mohtaram Abdul Rehman, MohtaramTahir Yaqub, Mohtaram Adnan and Mohtaram Muhammad Qaisar for their active participation in the activity and cooperation in facilitating the arrangements.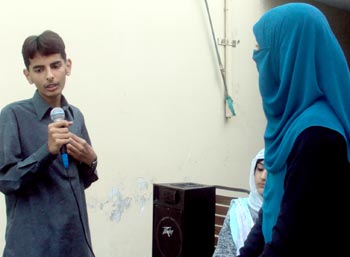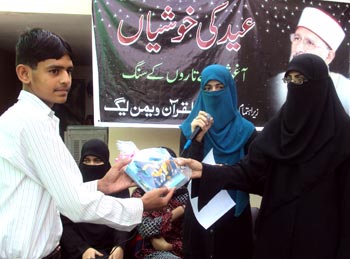 The Women League Team spent first part of the Eid Day with the orphans at Aghosh. They organized a special programme for the children to provide them affection, warmth and love and make them glow with joy. They engaged the children in various games and contests of children's interestlike competitions to eating bananas, peeling of apples, blowing and bursting balloons, taking ice cream, tug of war, and quiz competitions. The children of Aghosh had well prepared their scripts and performed most fervently to express their sentiments of deep love, nearness and submission to Shaykh-ul-Islam. This colourful and enjoyable programme ended with the distribution of gifts among the children.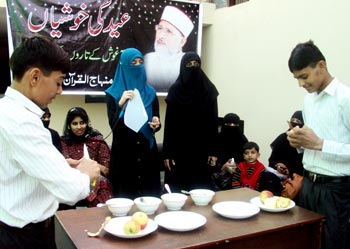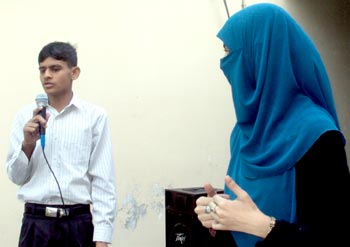 The Women League took their lunch with the women residing in Dar-ul-Aman. Again a vibrant and lively programme was organized here too for celebrating Eid with the Dar-ul-Aman sisters. They shared the thrills and ecstasies of the Eid Day with them and made them feel blooming, gleaming and relishing on being together. The competitions held on the occasion included musical chair, sporting bangles and wristlets and tongue twisting stuttering drills. At the end of the programme, Secretary General Women League MohtarmaSumairaRafaqat extended to them warm felicitations on her own behalf and on behalf of the entire Minhaj-ul-Quran Women League and uttered departing sentiments. She distributed Eid gifts and bangles among them.
Later, the Women League Team distributed food packs among the orphan and indigent children of Dar-ul-Shafqat.