Minhaj-ul-Quran Women League organizes Book Exhibition in Aiwan-e-Iqbal Lahore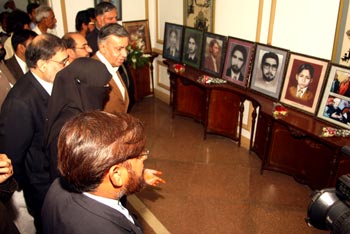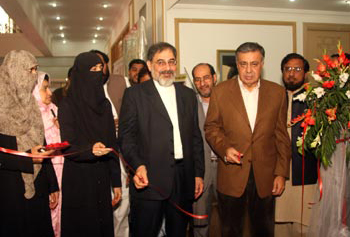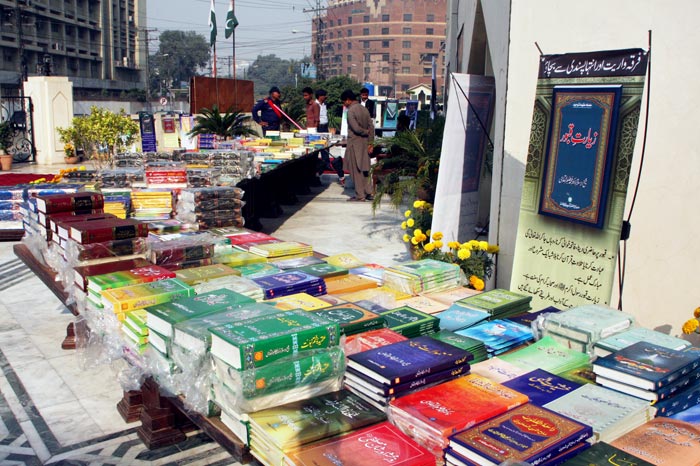 The Minhaj-ul-Quran Women League (MWL) organized a grand exhibition of hundreds of books authored by Shaykh-ul-Islam Dr Muhammad Tahir-ul-Qadri, in Aiwan-e-Iqbal Lahore on 25 November, 2010. This is the first of the series of exhibitions MWL has planned to organize in connection with their country-wide campaign "Aao Quaid ki Fikr Aam Krain" to promote the MQI ideology and take the message of Shaykh-ul-Islam to the people. MWL arranged such exhibitions last year as well in Lahore and Islamabad. Encouraged by the results achieved last year, WL has planned to launch this campaign. It intends to introduce the multidimensional struggle of Shaykh-ul-Islam dedicated to the cause of Islam, peace, justice, human rights and the unity of Umma. Shaykh-ul-Islam, a genius of the century and a light of guidance for humanity even for the coming centuries, has to convey to all the humanity the divine message of the Quran from the platform of Minhaj-ul-Quran. His volume of contact with the world comprises a thousand books, about 6000 talks and lectures on diverse subjects of modern time and human concern. 365 books have seen the daylight while the rest of them are in different phases of finalization and production. The exhibition, in this way, is an attempt to capture the attention of the masses as well as intelligentsia through a dazzling activity—concentrating the light through a converging exercise—the exhibition.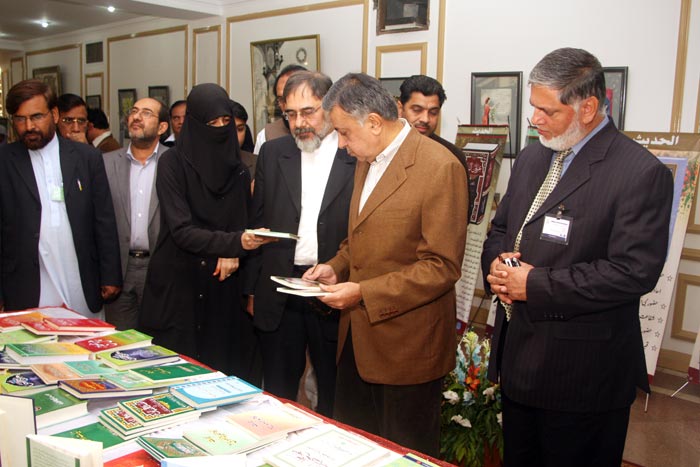 Almost all the printed books were displayed in the exhibition except for those few out of stock, getting into the supply line soon. A rich collection of his talks and speeches on CDs and DVDs also formed part of this comprehensive, rather all-inclusive exhibition of Dr Qadri's works. A photo gallery of different development phases of his life too had been decked to give a comprehensive introduction to Dr Qadri's struggle to the viewers. And the glimpses of his recent activities in the Western world in the form of flexes containing excerpts from his talks could also be seen colourfully displayed and played to the visitors through plasma.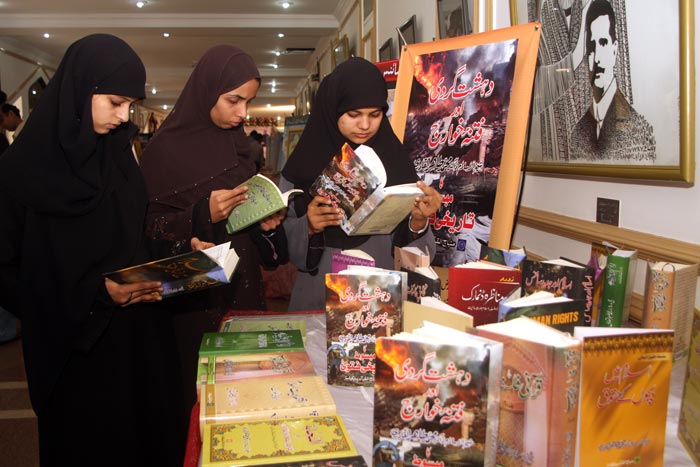 A strikingly amazing aspect of the exhibition was a small but dynamically active team of Minhaj-ul-Quran Women League that put the viewers in great surprise. The arrangements were extensive and rich in quality, and this tiny group of young sisters of MWL had put up the whole show. Mainly, it was the work of the leader of this dedicated team Miss Sumaira Rafaqat Advocate who stood out effectively vocal young person with an intellectual demeanour and an elaborate vision on how things are made expressive and communicative. Hundreds of introductory flexes on steel stands were put alongside the displayed books, and the viewers would know about a book without asking the organizers about it or by giving it a sporadic view. Yet there were members of her team, taking their positions beside each table to provide instant information sought by the visitors. With all the available state-of-the-art methods employed she topped off the exhibition and made it expressly informative on Dr Qadri's personality. It was one of the most effectively organized exhibition.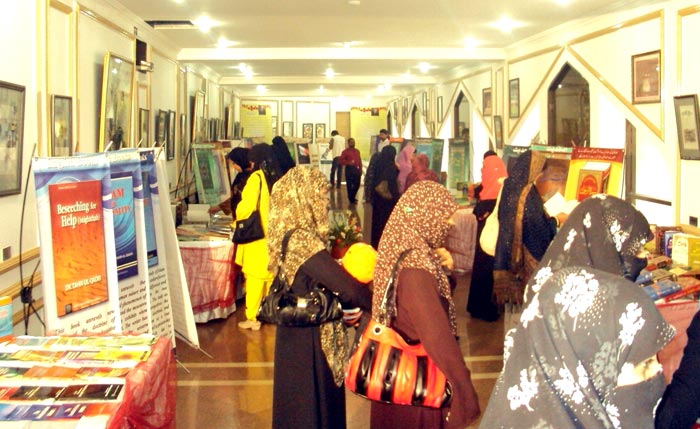 There was a visible cooperation and coordination between the Minhaj-ul-Quran Woman League and their media and production departments. Senior intellectuals, scholars, journalists and educationists thronged the exhibition and the production team recorded their candid views about the colossal work of Shaykh-ul-Islam. They included people like Vice President Press Club Mr Aamir Waqas Ch, veteran columnists and intellectuals Dr Irshad Ahmed Arif, Dr Ajmal Niaizi, President Peoples Party Punjab (Women) Begum Hasnain, General Secretary Khawateen Punjab Neelam Awan, renowned anchor person Mr Iftikhar Ahmed, famous analyst and columnist Brig (R) Farooq Hameed Khan, Chief Executive Think Tank Zuhur Ahmed, distinguished political and social personality Aliena Tiwana, DG Urdu Science Board Prof Dr Abdul Ghafoor, Executive Director Indus Foundation for Human Development Prof Sajjad Haider, famous educationist Munir Ashfaq Rahmani, Dr Abbas Famori (D.G Cultural Consulate Islamic Republic of Iran, Lahore), Sardar Manmohan Singh Khalsa (Chairman World Sikh Muslims Federation U.K.), Zahir Hussain Dar (Vice Chairman S.M.F), Zahid Hussain Bukhari (Secretary (Sharians) ETPB of Pakistan), Azhar Nazir Sulehri (Deputy Secretary ETPB of Pakistan) and distinguished politician Mian Munir. A large number of people from general public and thousands of girl students from various colleges and universities thronged the exhibition and showed great interest in learning about Minhaj-ul-Quran International and Shaykh-ul-Islam Dr Muhammad Tahir-ul-Qadri. The exhibition attracted Chairman Muslim and Sikh Federation UK and his team who were on their visit to Lahore and prominent figures from Christian community as well. Mr Arif Nizami, the towering intellectual and journalist declared the event a unique effort conducted in a classic manner. He paid great tribute to Shaykh-ul-Islam, his incredible contributions towards promoting the cause of peace, harmony, human rights and integration. Dr Abdul Ghafoor Rashid regarded the works of Shaykh-ul-Islam most valuable and historical, vitally significant towards creating unity among Umma and integration among communities. Dr Ajmal Niazi said he knew Dr Qadri from early years of his academic career when they used to perceive in him a personality that would do something incredible but then they could not visualize all that Shaykh-ul-Islam has done and is busy doing on the globe. He called him a man with perfect life.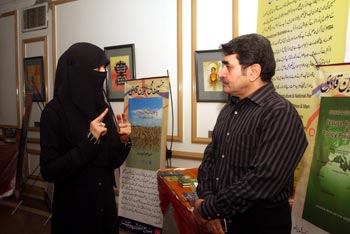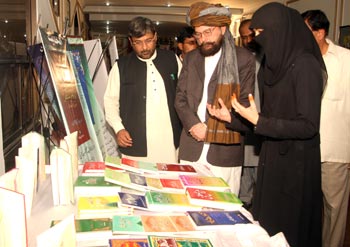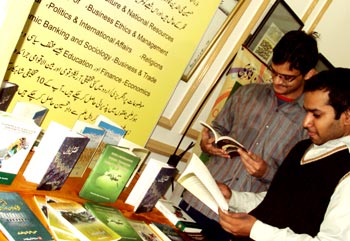 This grand exhibition of hundreds of books and thousands of lectures by Shaykh-ul-Islam Dr Muhammad Tahir-ul-Qadri is a tribute to his historical struggle launched all over world to promote the cause of Islam, peace and human rights. His books and lectures contain his message for the humanity entire. And what is the message? In the words of Sumaira Rafaqat she uttered in her introduction to the exhibition, the message is to develop the inner selves, establish the outer peace through inner peace, grow into true Muslims, integrate into the human society at large, promote culture of love, tolerance and moderation as taught and practiced by the Beloved Prophet (SAW), spread interfaith harmony and spread peace in the world with superior character and morality. The message is to defeat radicalism, extremism and terrorism by promoting the true teachings of Islam. The message is to follow the Seerah of the holy Prophet. The message is to shun material motives and selfishness, and become generous and altruistic. The message is to forgive and promote brotherhood, and abandon revenge and violence. The message is to get 'Back to God, Back to the Quran and Back to Muhammad' and rise to foil all conspiracies against these forces of love and peace. That is the message which has electrified the Muslim youth all over the world, and has captured the world opinion to recognize the reality of Islam, jihad, peace, love, tolerance and moderation.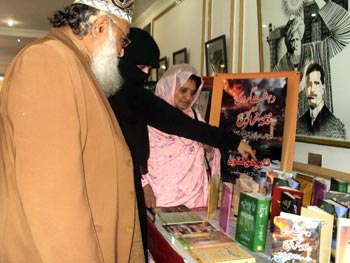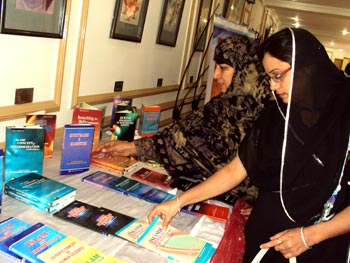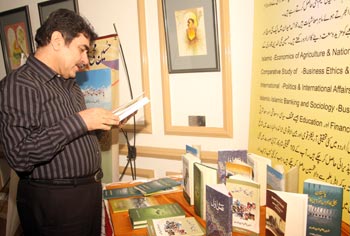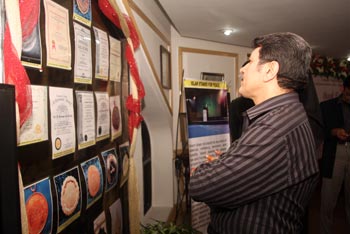 Secretary Women League Sumaira Rafaqat welcomed all the guests and participants and thanked all those who cooperated in organizing the activity. She especially thanked Mr Tahir Yaqub, Mr Hafeez Ch, Qazi Faiz-ul-Islam, Shafiqu-ur-Rahman Sa'ad and his entire production team for doing a marvelous job in their respective capacities to make the exhibition a great success.