Minhaj-ul-Qura'n Women League Pakistan Organizes Training Workshops for Nazimat e Dawa & Halaqa e Durood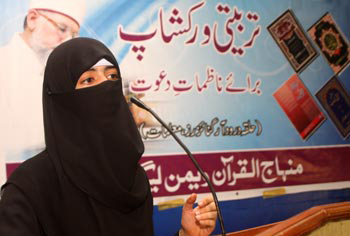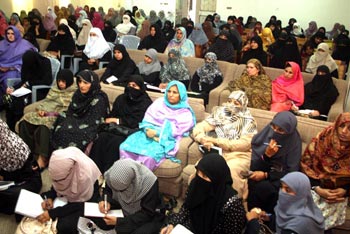 Under the auspices of Dawa department of Minhaj-ul-Quran Women League a workshop was organized in the Conference Hall of MQI Secretariat Lahore on Dec 4, 2010. The secretaries Da'wa, organizers of Halaqajat–e-Durood and Mualimat from local chapters of Lahore, Islamabad, Faisalabad, Depalpur, Kamonke, Sialkot, Sargodha and Gojra attended the workshop. The workshop was organized to conduct a critical survey of last six months performance in the field, the methods to be adopted to attain to the remaining targets given in the annual working plan and to brush up ideological and organizational knowledge of the participants of the workshop. The workshop went underway with the recitation from the Holy Quran followed by Na'at. Miss Sadaf Iqbal, Nazima MSM MWL then welcomed the participants to the workshop and explained to them the objectives of the workshop. Central Nazima Da'wa Miss Sidra Karamat then addressed the workshop on Da'wa and its significance. She dwelled upon the significance of preaching Islamic commands and prohibitions and elaborated methods to make Da'wa more and more effective. Miss Sadaf Iqbal Nazima MSM then explained the da'wa projects in progress in the field. A CD was then played to the participants containing Shaykh-ul-Islam's lecture on Halaqajat Durood and their establishment.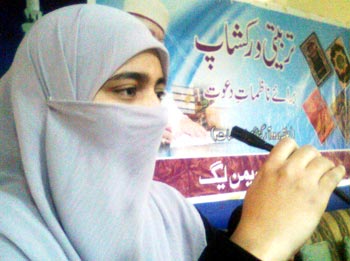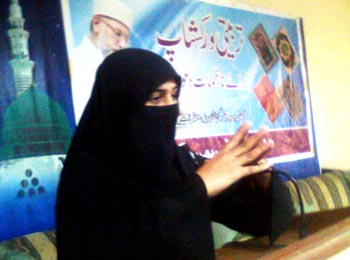 In the end, Nazima Women League Miss Sumaira Rafaqat Advocate expressed her views on 'holistic vision of MQI workers. She held that nothing can be achieved without sincerity of purpose and total commitment to the cause of Prophetic Mission. She said it was essential to keep the major objectives of MQI always in view to make the struggle really fruitful. Half knowledge and half-hearted attempt can land one in troubles and failures, she maintained. To bring about a sure change, therefore, it is essential to work for the cause of the mission with a broader vision of what MQI has to do and how, she said.
The workshop ended in Dua.