Minhaj-ul-Qura'n Women League Pakistan Organizes Training Workshops for stability
A training workshop was conducted under the auspices of Minhaj-ul-Quran Women League Training department at MQI Secretariat Lahore on Dec 4, 2010. The secretaries training of the local chapters of MWL deployed in the field attended the workshop. The workshop was organized to impart training to the Nazimat Training in MQI ideology, organizational and administrative techniques and putting the training activities in the field in order.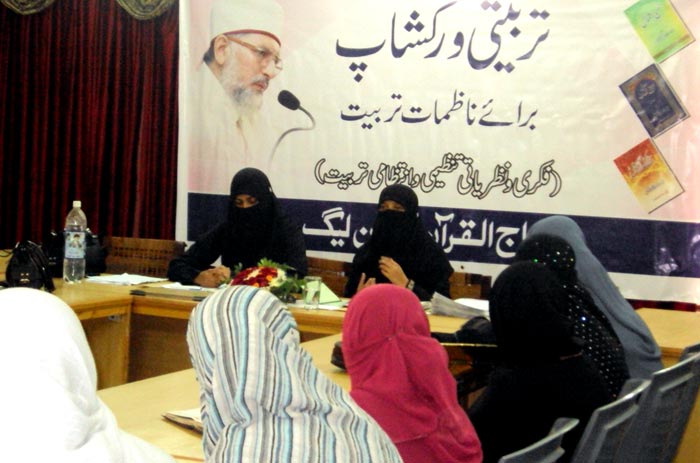 Those who attended the workshop included secretaries training of the local chapters of Lahore, Islamabad, Faisalabad, Depalpur, Kamonke, Sialkot, Sargodha and Gojra. The workshop went underway with the recitation from the Holy Quran followed by Na'at. Miss Sadaf Iqbal, Nazima MSM MWL then welcomed the participants to the workshop and explained to them the objectives of the workshop. Central Nazima Training then addressed the workshop on 'Training and its significance. She urged the participants to mould their character into the Prophetic model to bring about a positive change in society according to the Islamic ideal.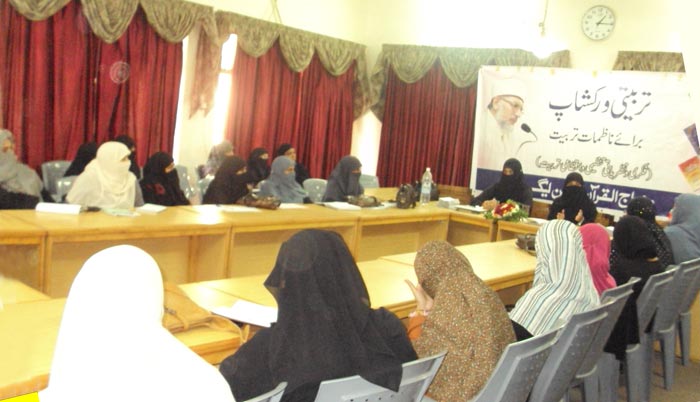 Miss Sadaf Iqbal then spoke on 'how to make the training projects result oriented'. She elaborated the concept that achieving the coveted results is possible through knowing the projects in hand thoroughly.Higher the objective, higher the worker's character should be. That entails high seriousness towards the projects in progress.
The workshop surveyed the last six performances and discussed the modus operandi to achieve the remaining targets. In the end; Nazima Women League Miss Sumaira Rafaqat Advocate expressed her views on 'how change takes place'. She held that CD exchange, circulation of CDs at cast level and setting up and stabilizing organizations at Unit level was the sole method of realizing the change in society.
The workshop ended in Dua.