MWL Organises 'Ihya-e-Islam awr Khanwada-e-Rasool ka Kirdar' Conference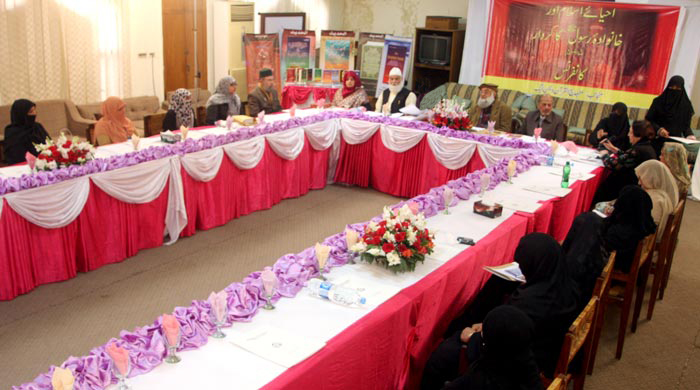 Venue: Central Secretariat Minhaj-ul-Qura'n International
Date: 20th December 2010
Time: 1:00 pm to 4:00 pm
Presided by: Ameer-e-Tehreek Respected Sir Miskeen Faiz-ur-Rehman Durrani
Speakers:
Muh. Pir Jamil-ur-Rehman Chishti
Muh. Pir Sultan Fayyaz-ul-Hassan
Muh. Hassan Askari (Famous writer, poet, journalist)
Muh. Sayyid Farhat Hussain Shah (Nazim Ulma' Council MQI)
Muhtarma Mehnaz Rafi (Famous politician Vice president PML)
Muhtarma Lubna Zaidi (Nazima Imamia Organization)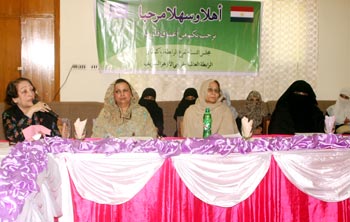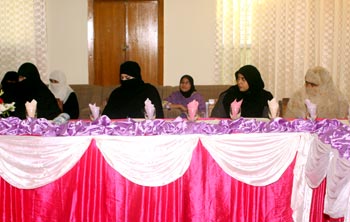 By the grace of Allah Almighty & the blessings of His beloved Prophet Muhammad (SAW) & patronage of Shaykh-ul-Islam Dr. Muhammad Tahir-ul-Qadri, Ihya-e-Islam awr Khanwada-e-Rasool (S.A.W) ka kirdar" Conference was arranged on 20th of December 2010, to pay tribute to the eminent personalities who are perfect models of moral and spiritual accomplishment for the Muslim Ummah. They have left behind an indelible and unforgettable impression of the sacrifice for Islam.
The proceedings of the Conference formally went underway with recitation from the Holy Quran by Sadaf Iqbal from Minhaj-ul- Qur'an Women League followed by special salutations invoked on the Holy Prophet PBUH. Miss Sumaira Rafaqat Advocate (Secretary General MWL) presented the welcoming address and talked about the objectives of this conference. Introducing the topic to the participants, she held that the exalted Imam (R.A) embraced martyrdom to safeguard the identity of Islam and denounce the ugly face of extremism, bigotry, terrorism, massacre and violation of human rights collectively known as yazidiat. Islam is, therefore, Hussainiat and Hussainiat is Islam. Shaykh-ul-Islam Dr Muhammad Tahir-ul-Qadri has held the banner of Islam high following Hussainiat and declaring MQI the heir to Husainiat. Miss Sumaira Rafaqat observed that Minhaj Women League is the heir to the heritage of Sayyida Zainab, the same way. That is how MQI is engaged in reviving the true Islam in modern age plagued by modern yazidiat—terrorism and bloodshed of peaceful and harmless people.
Dr Hassan Askari said in his speech that it is very unfortunate that we ignore the importance of spiritual training in everyday life. He said that a mother plays a vital role in the spiritual and intellectual growth of a child. He said, the women must know that Hazrat Zainab (may Allah be please with her) led every moment of her life promoting the teachings of the Holy Prophet Muhammad PBUH. She followed her father with true spirit in simplicity and humbleness. In Karbala she faced all the hardships with courage and valour.Witnessing such a tragic event did not break her apart and she showed her fury and anger towards Yazid in his presence.
Lubna Zaidi said that if we compare our life with Shuhada-e-Karbala, it becomes quite vivid that we have forgotten the great sacrifice of Khanwada-e-Rasool (S.A.W.). She said that the war of Karbala was a war of principles and Hazrat Imam Hussain (R.A) refused to negotiate on principles even if that would mean death for him. Hazrat Zainab (R.A.) supported her brother and did not persuade him or advise him to let go the principles. We need to develop a very strong relation with Ahle Bait-e-Rasool (s.a.w.). She said that Shykh-ul-Islam Dr. Muhammad Tahir-ul-Qadri is doing a marvellous job and he is the only Muslim Scholar who is following the path of Imam Hussain(R.A.). We should all support him in his cause for the revival of Islam.
Mehanz Rafi said that the Muslim world today can learn a lot from the life of Hazrat Zainab (R.A) who was a very powerful woman. Even though her family was murdered and their heads severed, she continued with her struggle to fight for what was right. Accepting something wrong was not her way. Such principles and love which she showed for God and His religion are rarely found in anyone today and thus it is important for people to learn from the brave women of the past. Today millions of Muslims remember the people who were present at Karbala where this war took place and many recall the voice Hazrat Zainab (R.A) raised in the court of Yazid.
Sahibzada Miskeen Faiz-ur-Rahman Durrani said in his presidential address that the conference was a significant step towards promoting the message of great Imam (R.A) and MQI holds such activities on all its forums to spread the teachings of Shaykh-ul-Islam with regard to denouncing extremism and radicalism in modern age and highlighting the true identity of Islam. He thanked the participants of the conference for squeezing out time to join and appreciated their valuable ideas. He also highly appreciated the efforts made by Women League to organize the conference.
Finally the Conference ended with the prayers led by Respected Pir Jameel-ur-Rehman Chishti.
Reported by: Sadaf Iqbal