National Conference: Role of Media….Democracy & Politics
On January 2, 2011, a National Conference on the subject of "Role of Media…..Democracy & Politics, attended by all elements of national opinion, was held in the central secretariat under the banner of Directorate of Media, Pakistan Awami Tehreek. The proceedings of the conference got underway with the recitation from the Holy Quran followed by Naat. People belonging to different walks of life addressed the conference.
Speaking on the occasion, Sheikh Rashid Ahmad, president of Awami Muslim League, said that the gang of the Five does not have interest in resolution of the national issues. He said that there are five dictators in politics who wear their uniforms under their waist coats. Every opposition party, he said, has been enjoying power. IMF would continue to keep Pakistan in the Oxygen net. 'It would neither allow us to move on nor creep', he added. Regretting the state of democracy in the country, Sheikh Rashid said that democracy is in the pockets of personalities. He said that Dr Muhammad Tahir-ul-Qadri is a reality whose work speaks for him. He asked Shaykh-ul-Islam to play his role in politics. He further said that democracy and politics are two sides of the same coin. He said that a day would soon come when the children of the corrupt politicians would not be able to escape law. He said that the government may be working but the country is not as it is stuck up due to mismanagement caused by successive governments. He said that there is no difference between drone attacks and target killings in Karachi.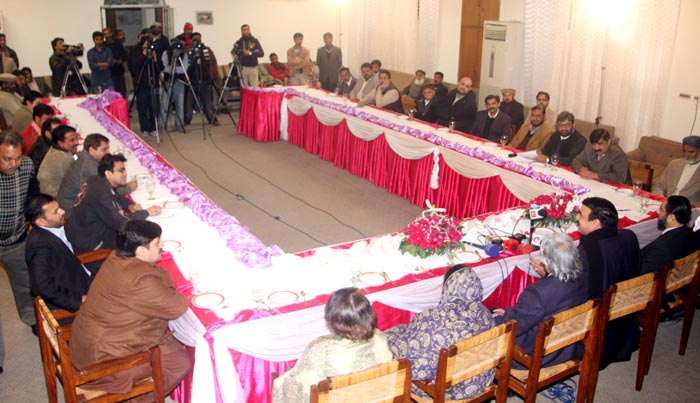 Ms Mahnaz Rafi, senior vice president of PML-Q, asked media not to show fights of political parties since it was no service to the cause of democracy.
Sheikh Zahid Fayyaz, senior Deputy Secretary General of MQI, said that only real democracy can lay the foundations of a clean politics. Media, he said, is playing agenda-setting role, while politicians remain reactive to the issues raised by media. He said that parliament does not represent the will of people as it is held hostage to a few families.
Aamir Waqas Chaudhry, vice president of Lahore Press Club, said in his speech that getting beaten for the sake of democracy is not the responsibility of media but of politicians. He said that it is in a democratic era that anti-media resolution was passed by a provincial legislature which was shameful. It is not the editors and owners but the working journalistic workers who render sacrifices for democracy. He regretted that no democratic government worked for the issuance of wage board award.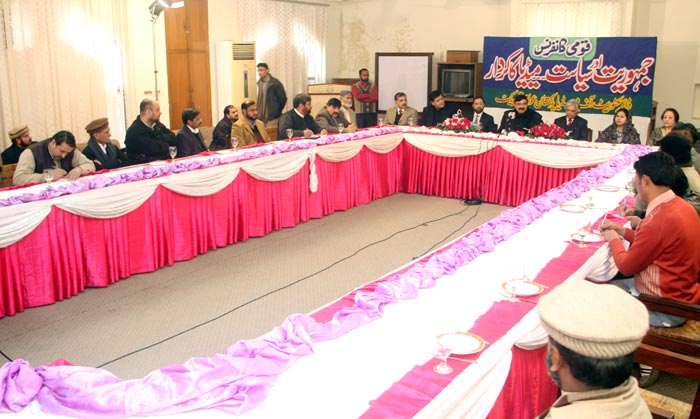 Secretary General of Pakistan Awami Tehreek, Anwar Akhtar Advocate said that media plays the role of a mirror and its history is full of sacrifices for the restoration of democracy. Media, he added, also played central role in the movement for restoration of independent democracy. Media and judiciary are taking notice of public issues while parliament remains mired in trivial issues. He said that people have pinned their hopes on media, which forms an indictment of politicians and political parties. He said that political parties need to establish democracy in their own ranks before advocating it at the national level.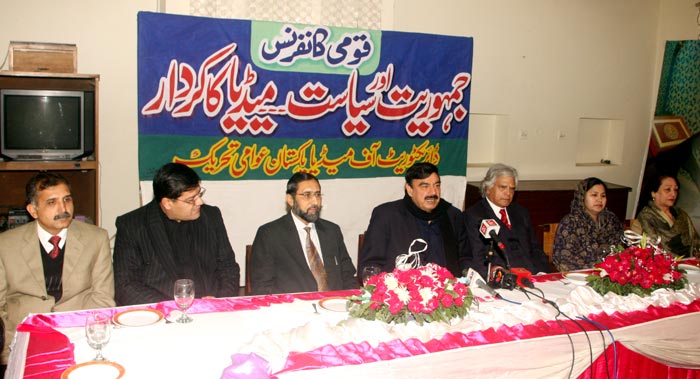 Mr. Ehsan Wain, Secretary General of ANP, said in his remarks that democracy can be strengthened through elimination of capitalistic system. Zamurd Yasin, MPA of PML-N, said that media won its freedom through struggle and played central role for the restoration of independent judiciary. Muhammad Aslam Mohsin of Awami Qiadat Party said democracy needs to be strengthened for the longevity of institutions and media is playing central role in this regard.
The conference concluded on Dua.