A COSIS graduate makes his alma mater proud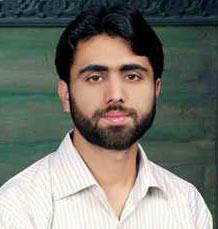 Sayyid Haider Ali Bokhari, a graduate of College of Shariah and Islamic Sciences (Minhaj University), has won first position in an examination for lectureship held under the aegis of Federal Public Service Commission. He has been appointed as lecturer in Islamabad Model College. Mr. Bokhari has done his Master in Arabic and Islamic Sciences from the COSIS. He is a gold medalist from Minhaj University as well as the University of the Punjab. Besides, he has also been taking part in extra-curricular activities such as speech and declamation contests and has won many prizes for Minhaj University. He also served as General Secretary of Bazm-e-Minhaj, a representative body of students at COSIS. Before his selection by the FPSC, Mr. Haider Bokhari was serving as lecturer as well as research scholar at the Farid-e-Millat Research Institute.
Shaykh-ul-Islam Dr Muhammad Tahir-ul-Qadri, Principal of COSIS, teachers and central leaders of MQI have congratulated Haider Ali Bokhari over his achievement and prayed for his success in life.