Muslim, Hindu & Christian leaders reiterate their pledge to work for Pakistan in a ceremony held under MQI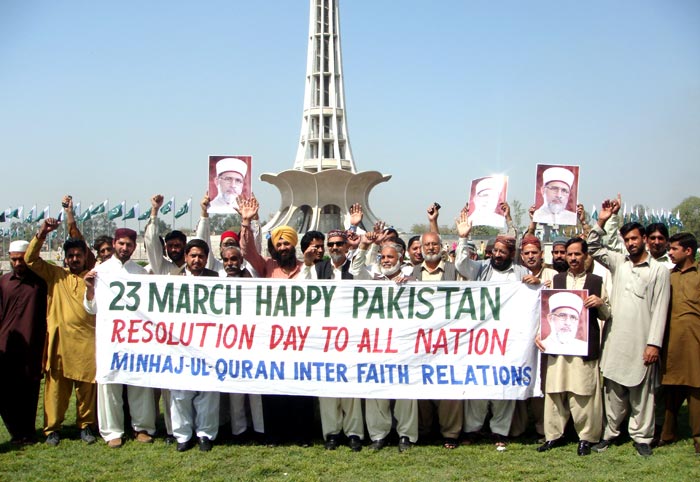 In a ceremony organized by Directorate of Interfaith Relations of Minhaj-ul-Quran International at Minar-e-Pakistan, Muslim, Hindu and Christian leaders reiterated their pledge to leave no stone unturned for the country's solidarity and unity and make every possible effort for her progress. The leaders of these communities also prayed for the country to fight off internal and external conspiracies.
Speaking on the occasion, G.M. Malik, chief coordinator of Directorate of Interfaith Relations, said that on the auspicious occasion of Pakistan Day, it is the national duty of every citizen to pledge to make Pakistan a hub of peace. The presence of non-Muslim leaders at historic Minar-e-Pakistan, he said, is a proof of the fact that the country is the blessed land for 180 million people without any discrimination of religion and all of them have shared happiness and grief. The minorities enjoy complete freedom in Pakistan of the Quaid-e-Azam, he held.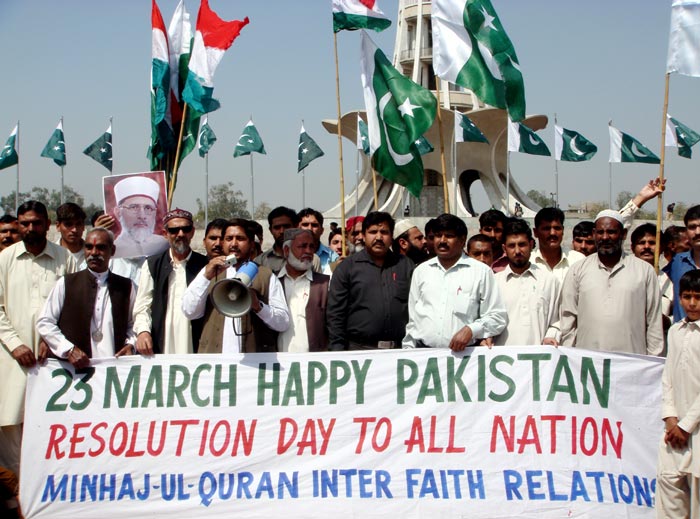 In his speech, Hafiz Ghulam Farid, Deputy Director of Interfaith Relations, said that the entire nation is on the same page when it comes to the country's security and progress. He said that today all of us confess to our mistakes and make a fresh commitment to expend our energies for the peace and security in the country. He said that if we stay the course, the day is not far when Pakistan would emerge as one of the leading nations of the world.
Lehrsiyab Khan, Secretary General of Pakistan Awami Tehreek, said that the 23rd of March is the seminal step towards the establishment of Pakistan wherein the Muslims identified their destination. The entire nation is reiterating its resolve to double their efforts for Pakistan's progress and prosperity. Pakistan, he said, has the capacity and strength to emerge as one of the leading members in the comity of nations.
Priest Liaqat Fida, Javed Akhtar Masih, Baghat Laal Ji, Kalyan Singh said in their speeches that the minorities have played major role in the country's progress. They assured that they would not be found wanting in meeting the contemporary challenges. They further said that the wellbeing of humanity is the essential and shared message of every religion and we must work for this purpose. PAT leaders Afzal Gujjra and Iftikhar Ahmad were also present on the occasion.