Urdu poetry competition held in COSIS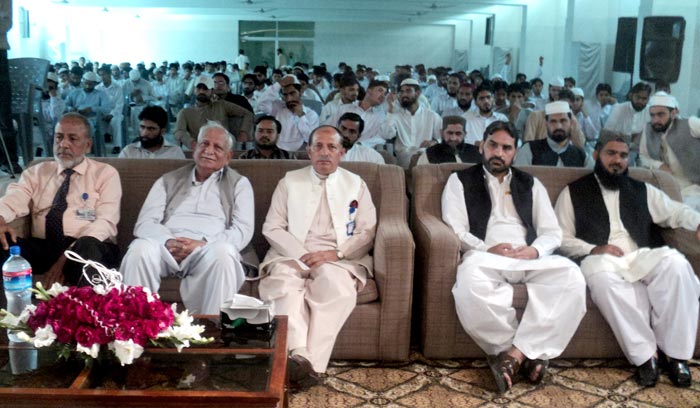 Urdu poetry competition was held on March 25 during the week-long celebrations in College of Shariah and Islamic Sciences of Minhaj University in connection with the 60th birth anniversary of Shaykh-ul-Islam Dr Muhammad Tahir-ul-Qadri, which was attended by a large number of students from colleges and universities. Prof Dr Ali Muhammad, Vice Chancellor of Minhaj University, was the guest of honour on this occasion, while the respected guests included Brig. (r) Iqbal Ahmad Khan, principal of COSIS, Dr Zahoorullah Al-Azhari, vice principal Academics, Maj. (r ) Ali Hussain Rizvi, vice principal of Administration, actor Ajib Gul, Masood Ahmad Mujahid, Sayyid Iftikhar-ul-Hassan Bokhari, Prof Manzoor-ul-Hassan, Mian Muhammad Abbas Naqshbandi, Prof Akram Qadri, Prof Shabbir Ahmad Jami, Prof Faizullah Baghdadi, Prof Mujeeb ur Rehman, Muhammad Zafar Iqbal, Muhammad Kashif Bhatti, Muraad Ali Danish and others.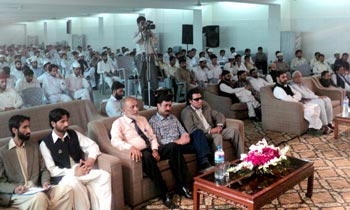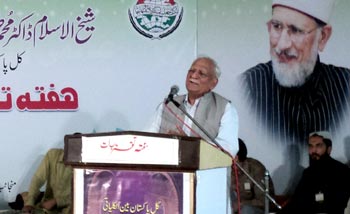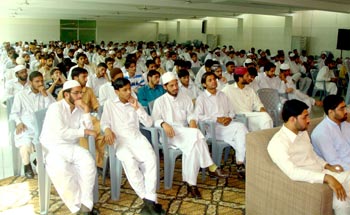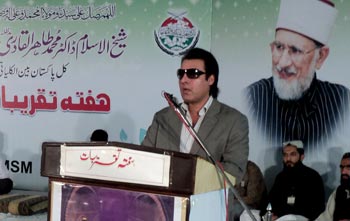 Muhammad Asif Watto conducted the proceedings of the program, which started with the recitation of the Beautiful Name of Allah Almighty by Sayyid Mudassar Hussain followed by Naat by Muhammad Shafique. Qari Anser Ali Qadri, graduate of COSIS, recited special Naat on the occasion. Sayyid Bahader Shah and Khurram Khalid presented 'kalam' in the honour of Allama Dr Muhammad Iqbal and Shaykh-ul-Islam Dr Muhammad Tahir-ul-Qadri.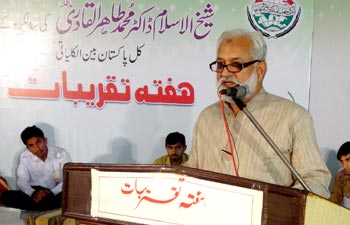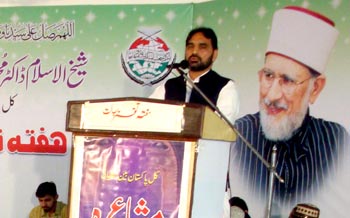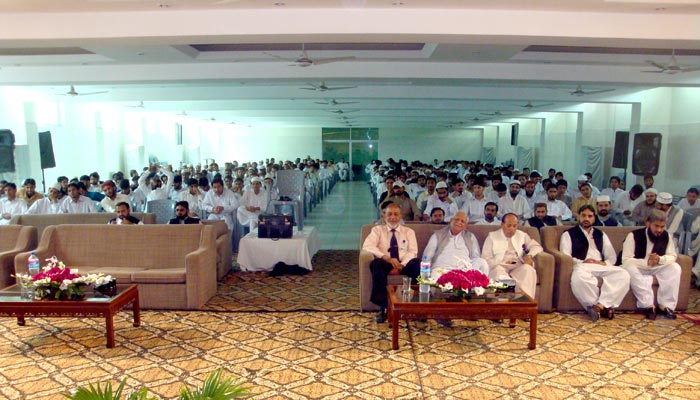 The reception committee warmly received the respected guests on their arrival. They conducted them to various sections and departments of COSIS. The jury of the competition consisted of Hassan Abbasi, Altaf Hussain Shah and Khalid Naqash. Muhammad Khan of COSIS, Ali Imam Yousufi and Sayyid Rehanul Hassan Shah got first, second and third positions respectively in the poetry competition. Film star Ajib Gul, Brig (r ) Iqbal Ahmad Khan, Dr Zahoorullah Al-Azhari and Muhammad Abbasi Naqshbandi distributed prizes among the position holders.