MQI leaders participate in the Hindu festival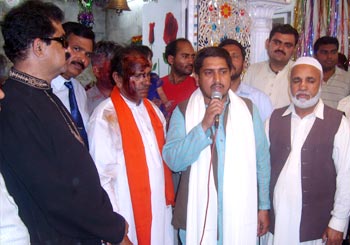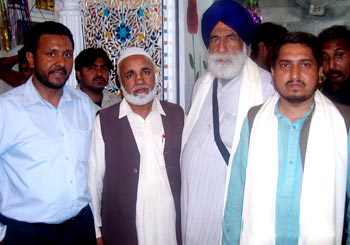 The Hindu community living in Pakistan celebrated the festival of Holi with religious zeal and zest on March 19, 2011 in Krishna Mandir Ravi Road Lahore. A prestigious ceremony in this regard was held at 4 p.m. The leaders of Directorate of Interfaith Relations of MQI attended the festival as a demonstration of solidarity with the Hindu community and in a spirit of interfaith harmony. The delegation included Hafiz Ghulam Farid, acting director of Interfaith Relations and Muhammad Afzal Gujjar, president of Pakistan Awami Tehreek Lahore. Other distinguished participants who were also present in the festival were Sikh leader Sardar Shaam Singh, Madam Nazli, chairperson of Greenland Society for Special Education, Karamat Ilyas Ch., chief editor of monthly Sada-e-Iqliayyat, Shafiq Raza, vice president of National Peace Committee and leaders of other minority communities.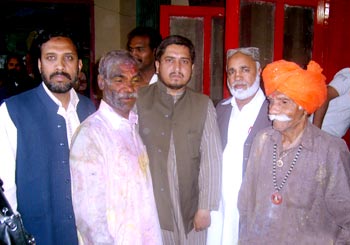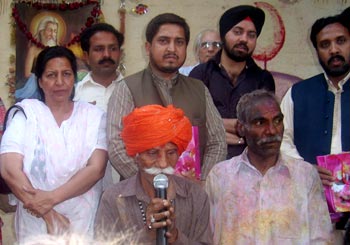 Speaking on the occasion, Hafiz Ghulam Farid, acting Director of Interfaith Relations, said that we congratulate the members of the Hindu community on the religious festival of Holi, and share their happiness on this auspicious occasion. He said that the way the Hindus are celebrating their festival with religious fervor is reflective of the fact that they enjoy complete religious freedom in Pakistan. He said that MQI has always supported the minority communities and stood for their full religious freedom.
Hindu leader Dr Manohar Chand said that the services of Minhaj-ul-Quran International for the promotion of interfaith harmony are praiseworthy, which the Hindu community holds in high esteem. He said that the entire community is indebted to the Muslims for their participation in the religious festival of Holi. He said that this process of interfaith engagement must continue in the interest of peace and welfare of people living in Pakistan.
Meanwhile the Holi festival was also celebrated in Sri Baghwan Mandir Neela Gumbad Lahore in which the leaders of MQI also participated. They conveyed the message of love, peace and interfaith harmony to the members of the Hindu community. Hindu leader Baghat Lal thanked the MQI's delegation for its participation and said that Dr Muhammad Tahir-ul-Qadri has rendered commendable services for the promotion of interfaith engagement and love in the world.