Arabic & English declamation contests held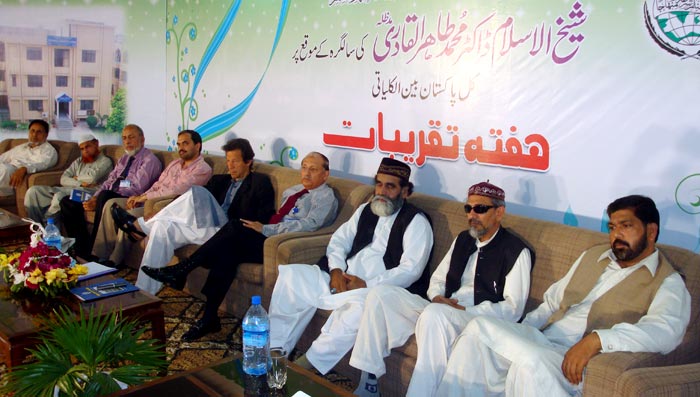 Declamation contests in Arabic and English languages were held on March 24, 2011 on the third day of 'Ambassador of Peace Celebrations' under the aegis of College of Shariah & Islamic Sciences (COSIS). The students from the renowned educational institutions of the country participated in the competition. The subject for English speech was "Men, not material make a Nation". The proceedings of the program got underway with the recitation from the holy Quran by Qari Sayyid Khalid Hameed Kazami followed by Naat.
Brig. (r) Iqbal Ahmad Khan, Principal of COSIS, presided over the program, while Imran Khan, chairman of Pakistan Tehreek-i-Insaaf and former captain of Pakistani Cricket Team and Pir Sayyid Asghar Ali Shah, Sajjada Nasheen of Gunjial Sharif, were the guests of honour on this occasion. Other distinguished guests on the stage included Asif Shah Hashmi, chairman of Evacuee Trust Board, Justice (r ) Nasira Javed Iqbal and Prof Umar Butt, journalist of Daily Pakistan, Dr Zahoorullah Al-Azhari, Maj. (r ) Ali Hussain Rizvi, G.M. Malik, Sajid Mahmood Bhatti and Qazi Faiz-ul-Islam.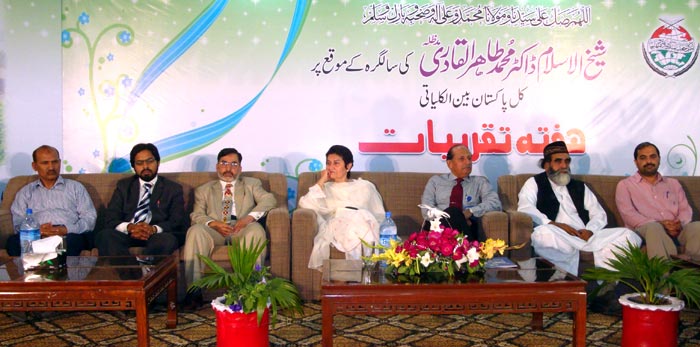 Dr Zia-ul-Mustafa, Dr Masood Ahmad Mujahid and Faizullah Baghdadi were the members of jury in the Arabic declamation. According to unanimous result, Hafiz Abdul Wahid of COSIS, Muhammad Zaid Mustafa of Jamia Islamia Lahore, Mian Ghulam Rabbani and Faiz-ur-Rehman of Dar-ul-Uloom Muhammadia Ghousia won first, second, third and honorary positions respectively. Hafiz Abdul Wadood, being a host, surrendered his position.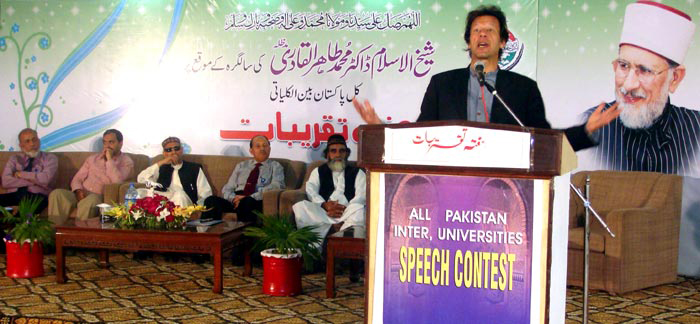 Dr Sayyid Sultan Shah performed the duty of chief judge along with Muhammad Sarfraz and Mudassar Awan in the English speech declamation in the second phase. According to results, Sayyid Muddasar Bokhari of Minhaj College, Obaid Khan of Punjab College, and Noor-ul-Murtaza of GC University Faisalabad got first, second and third positions respectively.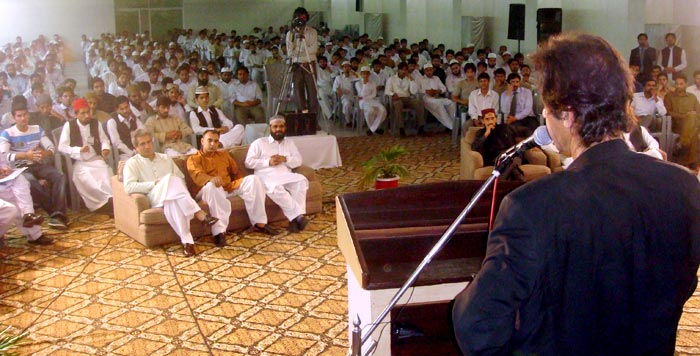 Chief Guest of the ceremony, Imran Khan, said in his address that the rightly guided Caliphs were the students of the Holy Prophet (SAW) and hence great leaders. He who had a nodding acquaintance with them would end up becoming a leader. Following Battle of Badr, the Holy Prophet's (SAW) condition for the disbelievers to educate ten Muslim children to secure their release highlights the importance of knowledge in Islam. This, he said, also proves that nations progress through the quality of human resources not material resources. He stressed the need of eliminating social divide to establish a just and peaceful society. He said that the Holy Prophet (SAW) empowered the weak and deprived sections of society by eradicating fear and it is only a fearless leadership who can take courageous decisions in the larger interest of nation.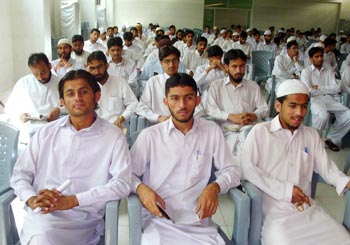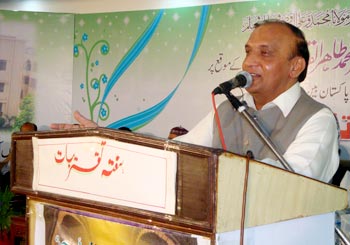 Speaking in the Arabic language in the ceremony, Dr Ghulam Mustafa said that the subject for today's declamation contest is an important and complex issue of the contemporary world. He said that the attacks are being carried on the respect of the Holy Prophet (SAW) and increasing trend of blasphemy and desecration of the Holy Books at the hands of extremists on both sides of equation threatens the global peace and harmony in the world. He said that we can safeguard the sanctity of Islam if we bring about real change in our lives and promote its message of peace, harmony and peace. He highlighted the need of familiarizing the youth with the teachings of the Holy Prophet (SAW).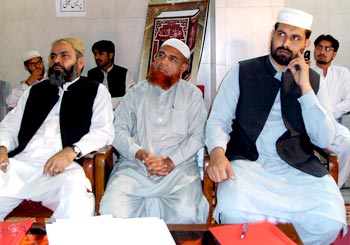 In his speech, Sayyid Asghar Ali Shah said that Minhaj University is a grand institution of learning under the leadership of Shaykh-ul-Islam Dr Muhammad Tahir-ul-Qadri and its students are great students. Paying tribute to Shaykh-ul-Islam, he said that the personality of Dr Muhammad Tahir-ul-Qadri is an asset not only for Islamic but also for entire world. His services and scholarly contributions are not only appreciated but the policies are also being framed in their light to fight the forces of terrorism and extremism.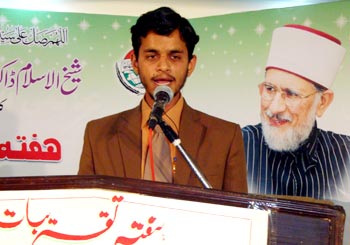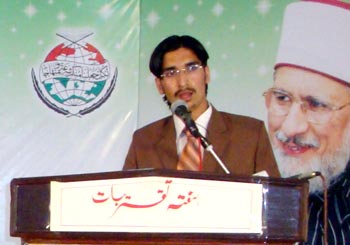 Sayyid Asif Hashmi, chairman of Evacuee Trust Board, said in his speech that Shaykh-ul-Islam does not represent any faction or sect but Islam and the Muslims. By resigning from his National Assembly seat, Shaykh-ul-Islam proved that respect does not lie in offices but in character. The stature of Shaykh-ul-Islam, he added, has risen up manifold after his resignation from the Assembly. By looking at his work, one concludes that he is not an individual but an institution who has established a vast number of institutes and branches of MQI around the world in a short span of three decades. Expressing his desire, he said that if he got to learn anything from his students, it would be a matter of honour for him. He advised the students to respect their parents, for success lay in respecting the elders and parents.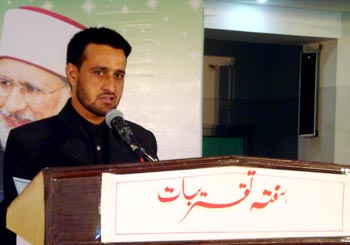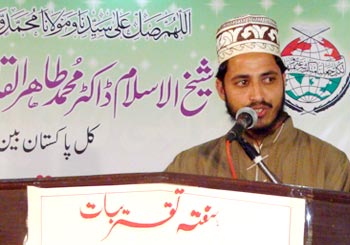 In her English speech, Justice (r ) Nasira Javed Iqbal took pride on being the student of Shaykh-ul-Islam Dr Muhammad Tahir-ul-Qadri. She said that English language is not part of our culture but has been imposed upon us. Our real culture, she maintained, is Arabic and Persian, languages being eliminated through a conspiracy. She regretted that blind conformism of West and materialism has deprived us of our values with the result that the modern man has fallen prey to the identity crisis. She said that the quality of human resource is more important than material resources to make this world a hub of peace and for progress of nations.
President of Bazm thanked all guests for their participation.