Monthly Spiritual Gathering of Gosha-e-Durood - April 2011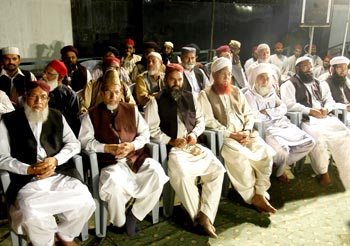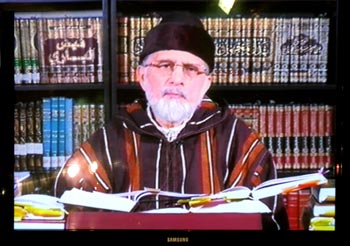 Monthly Spiritual Gathering under Gosh-a-Durood for the month of April was held in the central secretariat of Minhaj-ul-Quran International on the 7th of the month. The program was particularly dedicated to the religious scholars, intellectuals, teachers and the students of Jurisprudence. In addition to this, the office holders of Minhaj-ul-Quran Women League and senior students of Minhaj Women College also attended the program. Shaykh-ul-Islam Dr Muhammad Tahir-ul-Qadri threw a special light on "al-Illal as-Saghir", a magnum opus authored by Imam Abu Isa al-Tirmazi (210-279 h) on the principles of Hadith.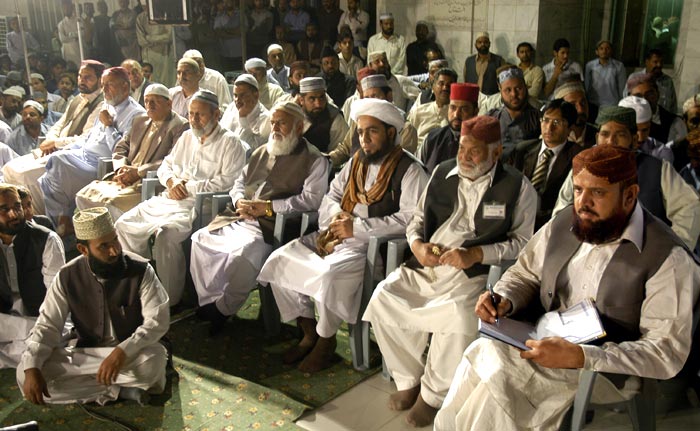 The renowned scholars who attended the spiritual gathering included Shaykh-ul-Hadith Maulana Muhammad Miraj-ul-Islam, Mufti Abdul Qayyum Khan Hazarvi, Shaykh-ul-Lughah wa al-Adab Prof Muhammad Nawaz Zafar, Shaykh-ul-Hadith Gul Ahmad Atiqi, Allama Shahzad Ahmad Mujaddadi, Allama Asghar Shakir, Allama Haji Imdadullah Khan, Allama Mufti Safdar Ali Qadri, Allama Muhammad Asghar Siddiqi, Allama Sayyid Farhat Hussain Shah, Allama Muhammad Hussain Azad, Allama Mir Asif Akber, and Allama Mumtaz Hussain Siddiqi.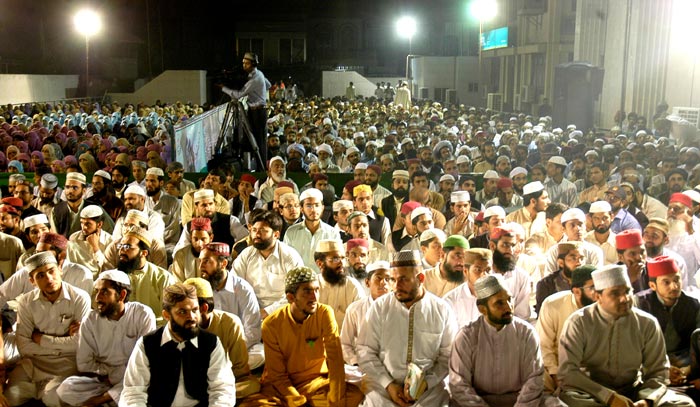 The proceedings of the program got underway at 9 p.m. with the recitation from the holy Quran by Khalid Hameed Qadri followed by Nasheeds recited by Anser Ali Qadri, Minhaj Naat Council, Shahzad Brothers, Haideri Brothers and other Naat Khawan.
Shaykh-ul-Islam Dr Muhammad Tahir-ul-Qadri addressed the gathering from Canada through video conferencing at 10 p.m. In his introductory talk on the subject, he told the audience that a lecture on Hadith would be organized every month.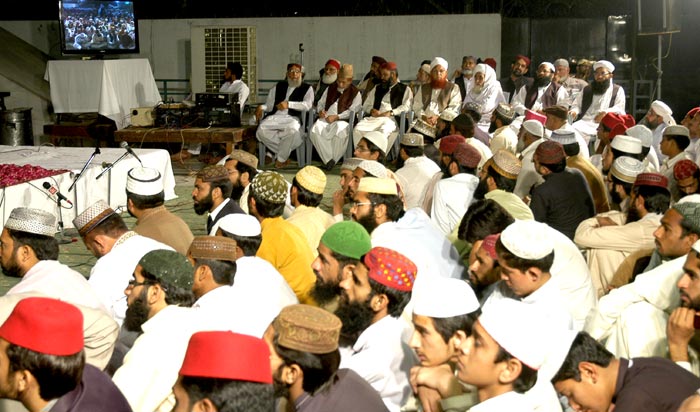 Talking about Hadith sciences, he said that the passion about Hadith in India and Pakistan in particular and other countries in general is on the decline. He said that we would have to pay our attention to knowledge of Hadith as real knowledge of Islam stem from Hadith. The wise sayings of the Holy Prophet (SAW) have reached the world through knowledge of Hadith. We are, therefore, under obligation to spread and promote the learning of Hadith sciences, he added.
Dr Muhammad Tahir-ul-Qadri told that work continues on the Hadith sciences in the Arab world at full pace and exemplary services have been rendered in this field there. He regretted that this important subject seems to have been put at the back burner in Pakistan and India. He further told the participants that he was writing a detailed interpretation of Sahih Bokhari in the Arabic language.
Dilating upon various aspects of the Hadith art, he said that 'subject' hadith is not a Hadith itself, whereas the authenticity of 'weak hadith' cannot be denied in comparison to it. He said that we cannot rule out 'weak hadith' from the category of hadith. The maximum we can do is to identify a defect in it.
In his scholarly discourse on Hadith, Shaykh-ul-Islam specifically mentioned Imam Abu Hanifa (R.A) in addition to other grand jurists. Referring to cogent and authentic references, he proved that the status of Imam Abu Hanifa was ignored in the Hadith sciences due to a few misunderstandings, and with the result that people got a wrong perception about it. He cited a number of examples of various jurists in this regard.
Before the start of his formal address, Shaykh-ul-Islam said that the total number of Durood recited at Gosh-a-Durood of MQI had exceeded 23 billion and 84 corers, while the number of Durood offered during the month of March alone stood at 88 corers, 65 lakhs, 34 thousand and five.
The keynote speech of Shaykh-ul-Islam continued for three hours. The program ended with the sending of greetings and salutations on the Holy Prophet (SAW) followed by Dua.