PAT takes out rally to mark global Labourers' Day
Labour Wing of Pakistan Awami Tehreek brought out a rally, which started from the press club in Lahore and concluded on the Muslim League House to mark the immense sacrifices rendered by the labourers of Chicago on May 1. The hundreds of labourers', who attended the rally, paid a glowing tribute to the Chicago men for their exemplary courage and relentless struggle for their rights. PAT Secretary General Anwar Akhtar Advocate, Afzal Gujjar of Labour Wing, Malik Yasin, and Irshad Tahir led the rally collectively. Mian Iftikhar Ahmad, Altaf Randhawa, traders' leader, Saqib Bhatti of Farmers wing, Zahid Sira, Hafizullah Javed and other leaders were also present on the occasion.
Speaking on the occasion, PAT Secretary General Anwar Akhtar Advocate dubbed the labourers' as the Friend of God. He said that the respect God conferred on the labourers' is a matter of pride for humanity. Islam has given complete protection to the rights of labourers' through its command of 'paying the labourers' before his sweat dries out.' He demanded of the government to raise the minimum salary package benchmark to 15000 rupees so that the labourers' could face off skyrocketing inflation and dearness in an attempt to make their both ends meet. He said that Islam talks of making labourers' share profits earned by factories, while violation of rights of the labourers' has become order of the day.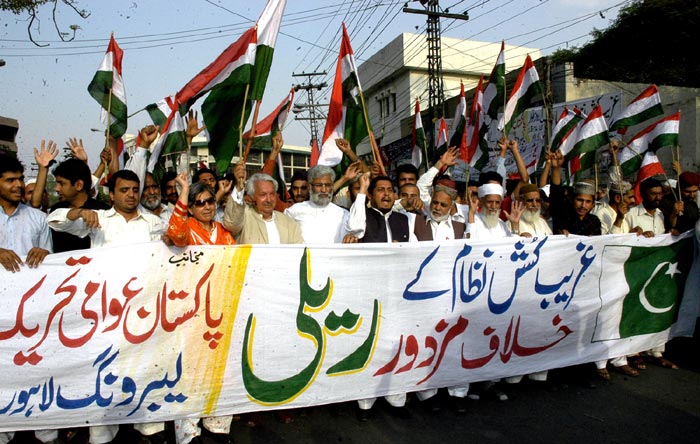 PAT's Lahore chapter president, Muhammad Afzal Gujjar, said that the present electoral system was the greatest enemy of the labourers'. They cannot get their rights without changing the system. He regretted that the worst energy crisis had taken a heavy toll on the employment sector and shut down thousands of jobs, adding to the miseries of people manifold.
Secretary General of PAT Lahore, Ghulam Farid, said that the recent price hike of POL products has taken away from the labourers' the right to life. He demanded of the government to put a moratorium on prices of POL products at Rs. 60 for two years. He said that the load-shedding has bolstered the worries of the working classes. He added in the same context that today's show is a reflection of tribute for the Chicago workers. He asked the workers and laboring community to be mindful of their rights and take initiative for getting those rights through peaceful struggle. He warned that the widening conflict between haves and have-nots is replete with grave ramifications, which needs to be bridged. He also asked the labourers' to organize themselves and work hard for their rights.