Monthly Spiritual Gathering June 2011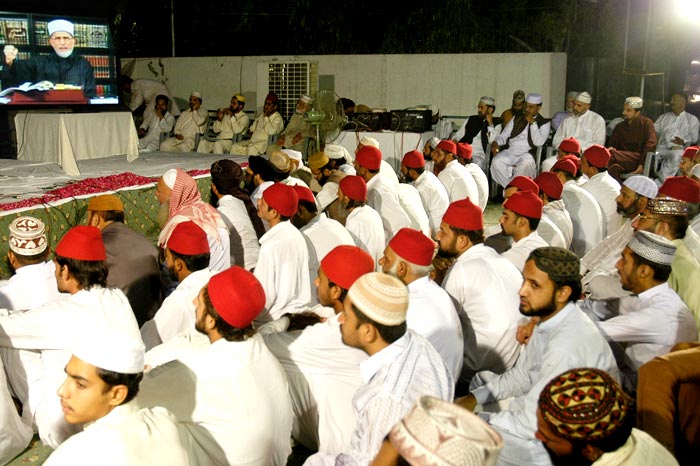 The monthly spiritual gathering of Gosha-e-Durood for the month of June 2011 under the aegis of Minhaj-ul-Quran International was held on June 2. The gathering was attended by religious scholars, intellectuals, teachers and students of College of Shariah and Minhaj Girls College in addition to office bearers of Minhaj-ul-Quran Women League. Shaykh-ul-Islam Dr Muhammad Tahir-ul-Qadri delivered a special talk on the Principles of Hadith on this occasion.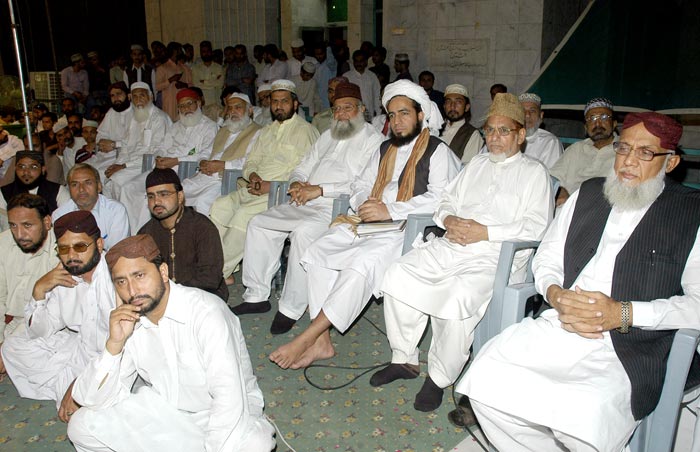 Sahibzada Faiz-ur-Rehman Durrani Central Amir-e-Tehreek, Dr Raheeq Ahmad Abbasi Secretary General of Minhaj-ul-Quran International, Sheikh Zahid Fayyaz, Shaykh-ul-Hadith Maulana Muhammad Miraj-ul-Islam, Mufti Abdul Qayyum Khan Hazarvi, Prof Muhammad Nawaz Zafar, Ahmad Nawaz Anjum, Dr Zahoorullah al-Azhari, Dr Ali Akber al-Azhari, Allama Asif Akber, Syed Musharraf Hussain Shah,Haji Riaz Ahmad, Raja Zahid Mahmood, Syed Altaf Hussain Shah, Raja Muhammad Jamil Ajmal, Aqil Malik, Rana Muhammad Idrees Qadri, Rana Farooq Ahmad, Haji Muhammad Saleem Qadri, Jawad Hamid and other leaders of MQI attended the programme. The leaders of MQI France were also in attendance. A large number of women attended the programme. Separate seating arrangements were made for them.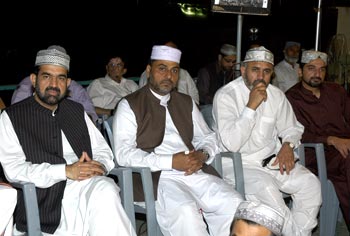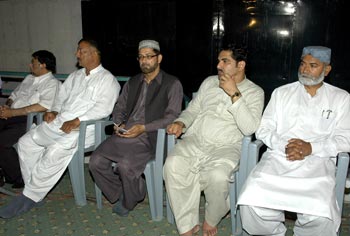 The formal proceedings of the event started at 9 pm after Isha prayers with the recitation from the Holy Quran by Qari Khalid Hameed. Shahzad Brothers, Bilali Brothers, Shahzad Hanif Madani, Anser Ali Qadri and Minhaj Naat Council presented Naat.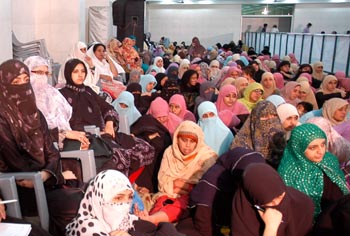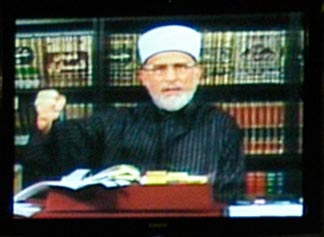 Shaykh-ul-Islam Dr Muhammad Tahir-ul-Qadri delivered his speech telephonically from Canada through video conferencing. Before starting his speech, Shaykh-ul-Islam said that the number of Durood offered so far stood at 25 billion, 9.9 million, 36 lakhs, 13 thousand and 407. He said that the Durood offered in the month of May only was 1 billion, 23 corers, 12 lakhs, and 431.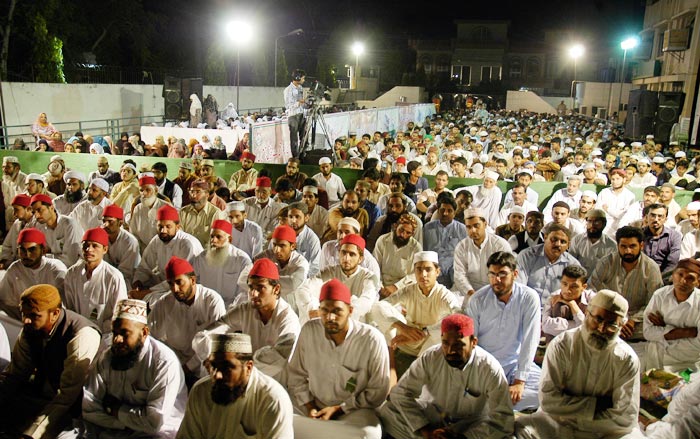 Shaykh-ul-Islam Dr Muhammad Tahir-ul-Qadri continued to dilate upon the subject he took up during the last spiritual gathering. He delivered a talk on the personality and work of Syedna Imam Malik during this sitting. He referred to other jurists and their opinions about Imam Malik in his scholarly talk.
He said that an attitude of persistence over good deed enables an individual to reform the society. The process of internal purgation, he said, makes man understand the reality of servitude. He said that in order to be able to achieve this state of mind, one should attend such spiritual gatherings, which remember Allah and His Beloved Prophet (SAW) in abundance. Regretting the absence of any such feeling in society, Dr Muhammad Tahir-ul-Qadri said that people have mistakenly regarded the world and its glitter as the final destination of their life.
Shaykh-ul-Islam said that through persistence on piety, such a time comes when pious deeds start happening automatically and a person is naturally disposed towards doing good things. "If one is overwhelmed by such a passion of doing good, one must understand that Allah is pleased with you and he who pleases his Lord is the luckiest person on the face of the earth but Divine Pleasure cannot be won without being steadfast in piety," he said.
Dr Muhammad Tahir-ul-Qadri said that the society has been stuck up in the rat race today with the result that moral values are on the slippery slope from society. Materialism, he said, has come to define our societal and collective existence. We do not offer our thanks to Allah Almighty for His favours upon us. He stated that man should not put the doing of his duties on the backburner, for doing so creates imbalanced attitudes in the society. He said that one must continue to struggle in the way of enriching oneself with spiritual light, which is possible through purgation of one's self and constant struggle. He said that those who live in darkness can never be deserving of spiritual knowledge. The opening of heart for Allah's guidance is the greatest blessing.
Shaykh-ul-Islam's speech continued till 12 at night. The program concluded with Dua led by Sahibzada Faiz-ur-Rehman Durrani.