Tanzeemat Camp 2011 held under Minhaj-ul-Quran Women League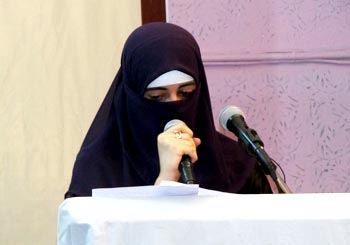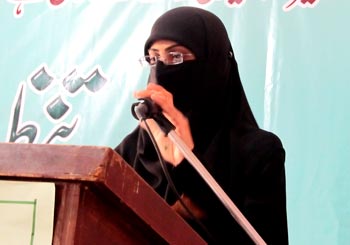 Minhaj-ul-Quran Women League arranged a 5-day long Tanzeemat Camp from July 24 to July 28, 2011 in Minhaj College for Women, Township Lahore. The aims and objectives of the camp were:
Training of workers along intellectual and ideological lines
Training of workers along organizational and administrative lines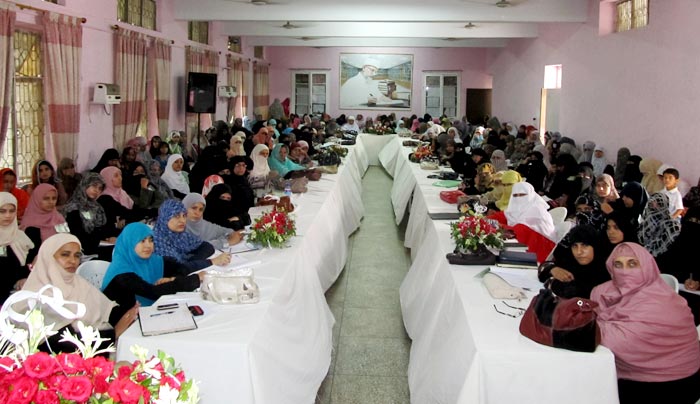 Those who played significant role in organizing and making the course a resounding success included Ms Sumaira Rafaqat, Secretary General Women League, Ms Sajida Sadiq, Ms Khadija Fatima, Ms Afnan Baber, Ms Sidra Karamat, Ms Naila Jafar, and Ms Nabila Yousuf.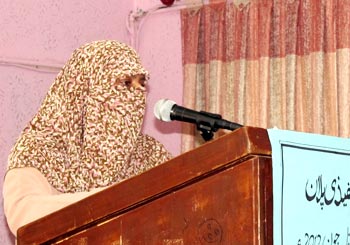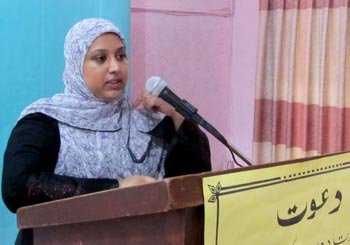 About 250 office holders from around 60 tehsils of Pakistan such as Lahore, Karachi, Faisalabad, Rawalpindi, Gujranwala, Sahiwal, Sargodha, Azad Kashmir, Arif wala, Jampur, Layya, Chowk Azam, Kabirwala, Isa Kael, Zafarwal, Tilla Gung, Ali Pur Chatta, Muridkay, Depalpur, Sher Garh, Kasur, Pind Dadan Khan, Noshahra Virkan, Malka Haans, Narwoal, Kamoki, Muzzafar Garh, Larkana, Pind Dadan Khan, Jehlum, different sectors and towns attended the camp.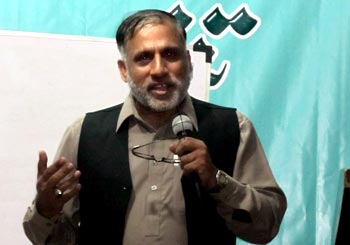 Different speakers who spoke to the participants of the camp on diverse subjects included Sheikh Zahid Fayyaz, Rana Muhammad Farooq, Sajid Mahmood Bhatti, Allama Ghulam Murtaza Alvi, Muhammad Farooq Rana, Brig. (r ) Obaidullah Ranjha, Ms Sumaira Rafaqat, Ms Sidra Karmat, Ms Sajida Sadiq, Ms Noshaba Zia, Ms Afnan Baber, Ms Farida Sajjad and Ms Naila Jafar.
In his special talk to the participants of the camp, Shaykh-ul-Islam Dr Muhammad Tahir-ul-Qadri congratulated the Minhaj Women League on the successful conduct of the Tanzeemat camp. He urged the participants to focus on Dawa along intellectual lines and understand the message of MQI. He also directed the women to convey the message of public awareness to 20 million people.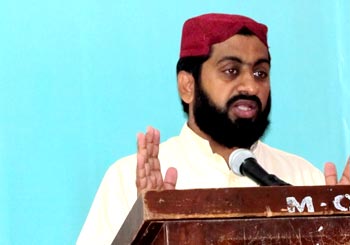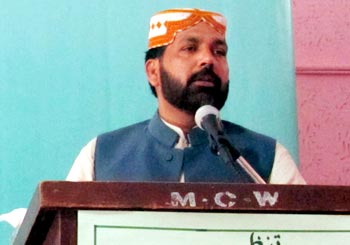 The lectures were delivered on the following topics:
MQI: Its Thought, Aims and Objectives
Present strategy of MQI
How to introduce Shaykh-ul-Islam in the field?
Way to stay updated about MQI's activities and its importance
Need and importance of organizational contact
Establishment of organizational network at UC level
Who are effective President and Secretary General?
Aims, priorities of Working Plan of 2011-12 and necessary steps
How to increase financial resources for image building of MQI
How is public awareness instrumental in the attainment of destination
Why strengthen bond?..... Sources
Importance of research and intellectual work of Shaykh-ul-Islam for people and intelligentsia
How to motivate intelligentsia to join MQI?
Sources of training… are they effective?
How to improve upon training tools?
Need and Importance of conveying MQI's message to youth
Training of workers…… why and how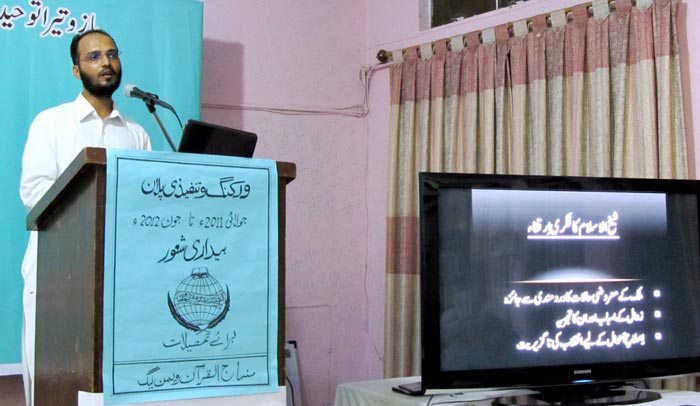 Different title was assigned to every day of the Tanzeemat camp:
Day one: MQI and Leader of MQI 2011
Day two: Organization 2011
Day three: Working Plan 2011
Day four: Dawa and Training 2011
Day five: Past performance and future strategy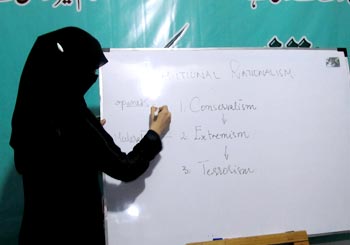 Exhaustive discussion took place on each and every aspect mentioned above. Other areas of discussion among the participants included all targets contained within the working plan, priorities, activities and result-oriented efforts. The office holders belonging to various towns and cities also brought forth their organizational challenges and extensive discussions took place. Different lectures of Shaykh-ul-Islam were also shown and documentaries on the current preoccupations and engagements of Shaykh-ul-Islam were also shown to the participants.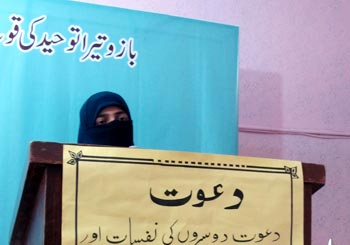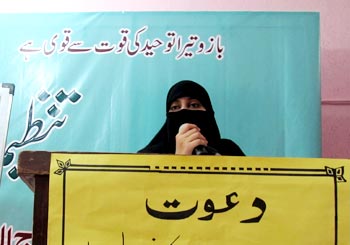 The closing ceremony of the Tanzeemat camp took place on July 28, which was attended by Brig. (r ) Iqbal Ahmad Khan, naib Amir-e-Tehreek, Sheikh Zahid Fayyaz, Raja Jamil Ajmal, Altaf Hussain Shah Gilani and Sajid Mahmood Bhatti.
MQI chapters, which accomplished its targets in the membership campaign were awarded with performance certificates and shields.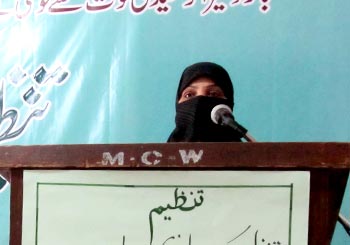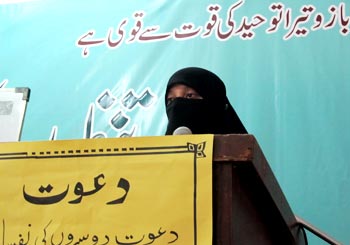 Meeting of Consultative Council
A meeting of Consultative Council took place on July 28 under the aegis of Minhaj-ul-Quran Women League, which was attended by office bearers of 60 Tehsils. Discussions were held on the following agenda: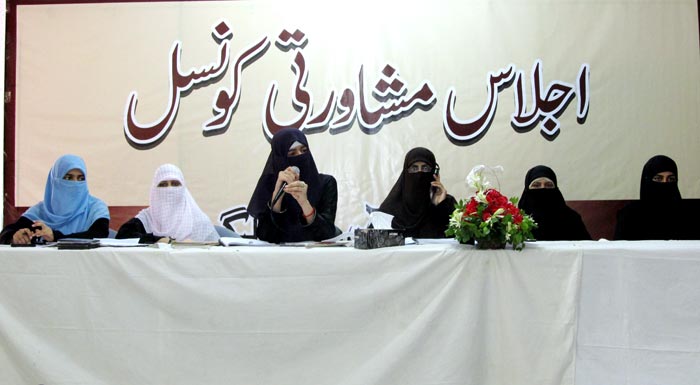 Review of annual performance of Minhaj-ul-Quran Women League
Future Strategy in the light of performance (Movement for raising public awareness, increase in manpower, and other objectives of working plan).
Zakat campaign 2011
Itikaf City 2011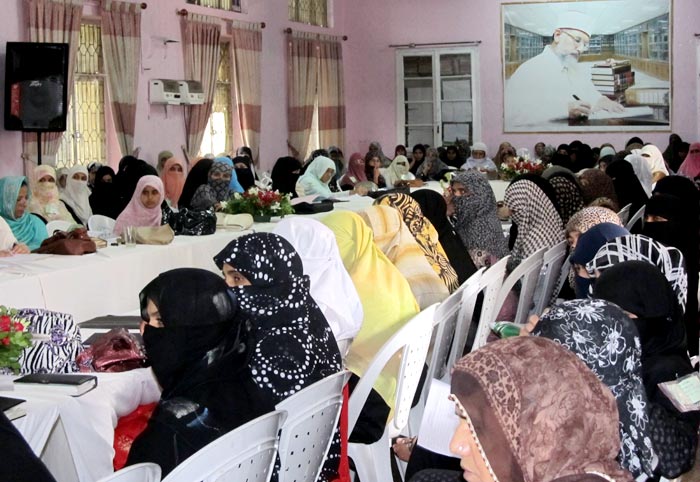 According to a dicision taken in a meeting of Consultative Council, all Tehsili chapters of MWF would collect Rs. 500/- Zakat from every regular member.
They would also ensure the participation of women in the Itikaf according to fixed quota given here below:
Workers 60%
Effective section of society 15%
Students 15%
General people 15%
Closing Ceremony
On July 28, the closing ceremony of Tanzeemat camp took place, which was attended in addition to office holders of the central body of MWL by acting Secretary General of MQI, Nazim Tanzeemat, Chief Security Officer and Director of Foreign Affairs.
The proceedings of the ceremony got underway with the recitation from the Holy Quran followed by Naat. Ms Sajida Sadiq presented a report of the Tanzeemat camp and Ms Sumaira Rafaqat delivered a vote of thanks for the guests and thanked the office holders of MWL from 60 Tehsils who made it convenient to attend a five-day camp.
Later on the certificates and shields were distributed among the office bearers of MWL chapters, which showed good performance and achieved targets set in the Working Plan. These chapters included Wagha town, Sialkot, Islamabad, Haroonabad, Gujranwala, Kamonki, Chishtian, Rawalpindi, Tilla Gung and Gojra.
Certificates were also distributed among the attending chapters of MWL.
Gifts were distributed among the workers who showed excellent performance in the five-day camp.
Speaking in the ceremony, all guests appreciated the hard work and high morale of MWL in holding a successful Tanzeemat camp. The ceremony came to an end with the concluding remarks of acting Secretary General Sheikh Zahid Fayyaz.