Minhaj Model Girls High School's spectacular Matric results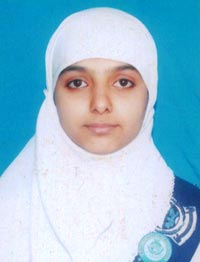 Minhaj Model Girls High School, Township, has shown splendid results of the matriculation examination. The result of the Matric exams conducted by Board of Intermediate & Secondary Education Lahore remained 100%. 26 students both from Arts and Science groups appeared in the exams and all of them passed it with flying colours. According to the detailed result announced by BISE, 14 students from the Arts group and 12 students from the Science group achieved significant success. 4 students got A+ grade, 6 students got A grade, 11 students got B grade, while 4 were awarded C grade.
Sobia Qasim of Science group bearing roll no 742564 scored 1013 marks and won first position in the school, while Saba Safdar, bearer of roll no 120007, got 946 marks and remained second. The third position went to Gulshaan Zuhra, bearer of roll no 55561, who scored 941 marks in science group.
Amna Ishaq from the Arts group, bearing roll no 120244, got 903 marks and bagged first position. Arsa Anwar, bearer of roll no 120117, scored 760 marks and stood second, whereas Bisma Amanullah with roll no 742783 managed to get third position by scoring 723 marks.
The Principal and teachers of the school have congratulated the students on their spectacular performance. They hoped that the students would continue to bring laurels to their school by showing consistently good performance.