'Ambassador of Peace' Seminar 2012
Renowned legal expert and former Federal Minister for Law, S.M. Zafar, who is chairman of Minhaj Education Society, has said that initiatives taken by Shaykh-ul-Islam Dr Muhammad Tahir-ul-Qadri for promotion of education in the country are historic in nature. "Keeping in view the educational services of Shaykh-ul-Islam, I have the honour of giving him the title of Sir Syed of contemporary age," he said.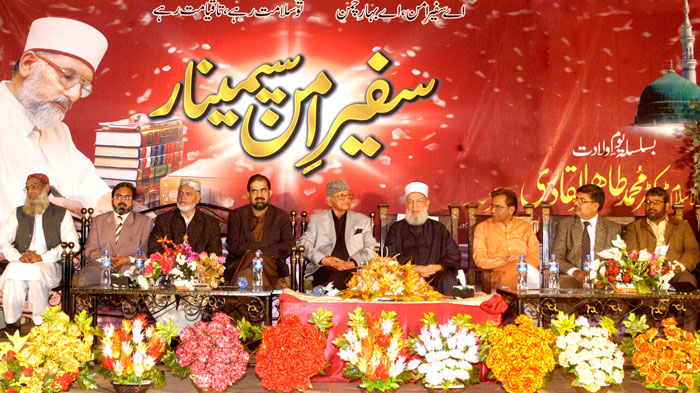 S.M. Zafar said that hundreds of thousands of students who are getting education from 630 schools, 73 colleges and one chartered university are witness to the historic services of Dr Muhammad Tahir-ul-Qadri in the field of education.
S.M. Zafar expressed these views while addressing "An Ambassador of Peace" seminar organized by Minhaj-ul-Quran International (Wagha Town) in connection with the 61st birthday celebrations of Shaykh-ul-Islam on March 15, 2012.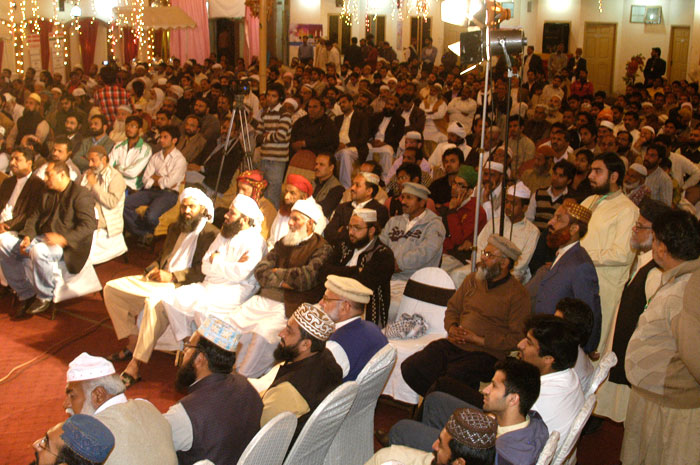 Speaking on the occasion, Dr Raheeq Ahmad Abbasi, Secretary General of Minhaj-ul-Quran International, said that Shaykh-ul-Islam was on a one-month long tour of India and a flood of people pours in to listen to his speeches wherever he goes. He is spreading the Islamic message of peace, love and human integration in different cities of India and letting millions of people know that Islam has nothing to do with terrorism, militancy and violence and those doing so wrongly invoke the name of religion to justify their reprehensible actions.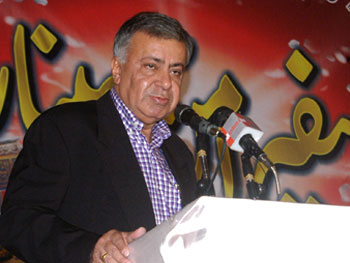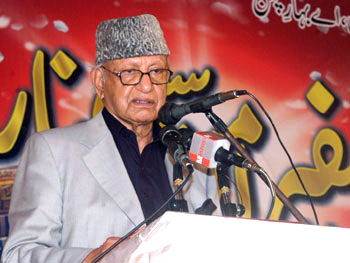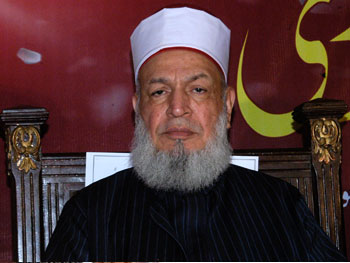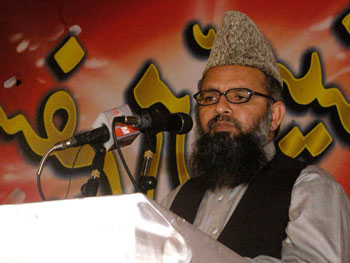 In his remarks at the seminar, renowned journalist and Editor of Daily Pakistan Today, Arif Nizami, said that there is a dire need of peace in the world today. He said that the writings and lectures of Dr Muhammad Tahir-ul-Qadri have started to change the misconceptions about Islam in the world. He said that it was without any doubt that Dr Tahir-ul-Qadri has worked hard on promoting a culture of knowledge and dialogue. He said that struggle of MQI against ignorance and illiteracy is appreciable.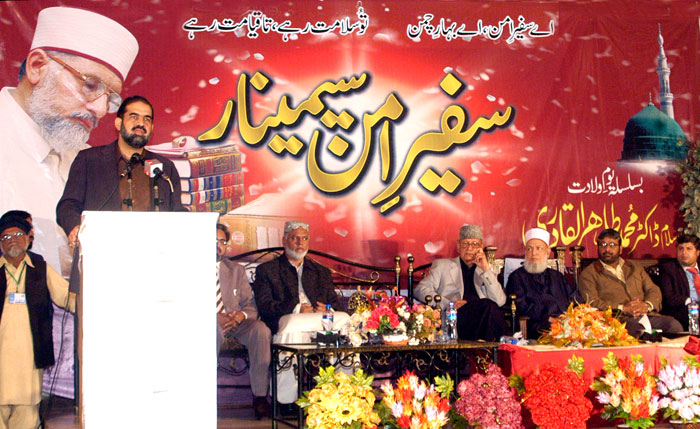 Renowned journalist P.J. Mir said that Dr Muhammad Tahir-ul-Qadri is an asset of the entire Muslim world without any shadow of doubt and his efforts for promotion of interfaith dialogue are of historic nature and need to be appreciated. He said that the followers of different religion hold him in high esteem. He said that if religious scholars made Dr Tahir-ul-Qadri as their ideal, the entire society would become a hub of peace and tranquillity. He said that he had been visiting different parts of the world and wherever he goes, he has found immense respect and reverence for Shaykh-ul-Islam for his educational, spiritual and welfare services.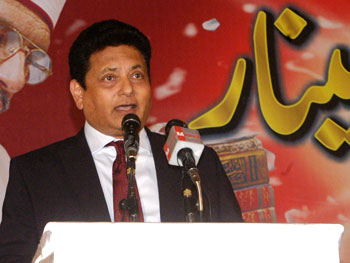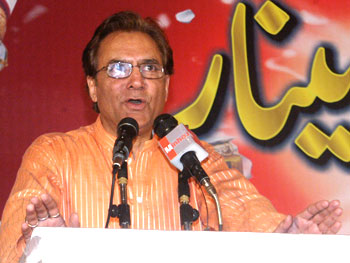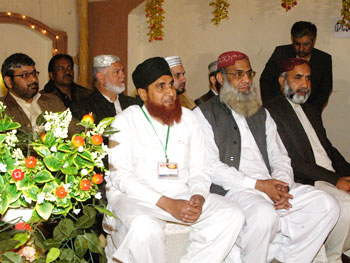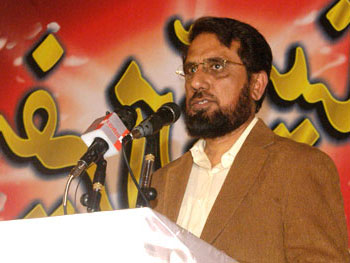 Dr Raghib Naeemi said that Shaykh-ul-Islam Dr Muhammad Tahir-ul-Qadri is a naked sword of peace against terrorists and militants and he has waged a successful struggle to expose the terrorists, militants and their handlers by giving historic fatwa, for which the Muslims of world are thankful to him. He said that those who use the fair name of Islam have nothing to do with the great religion.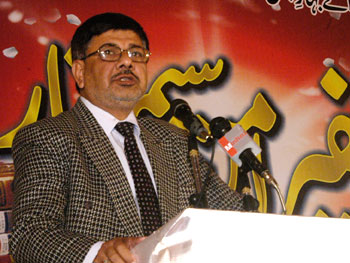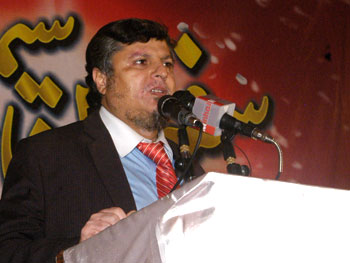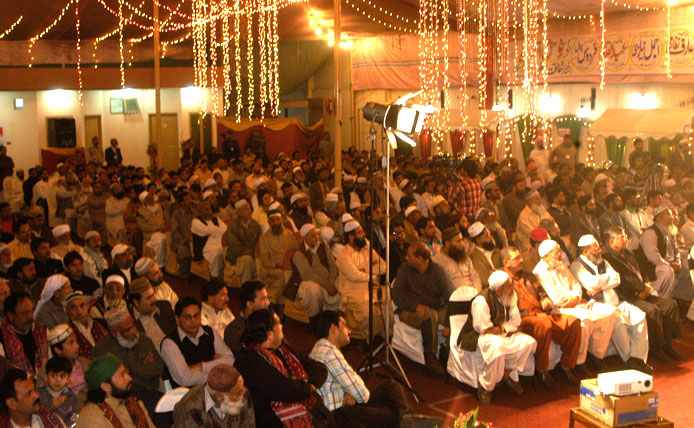 Speaking on the occasion, renowned actor Ferdous Jamal said that Shaykh-ul-Islam is an Ambassador of Peace and the people of Pakistan are lucky that such a revered personality belongs to them. He said that history would chronicle the services of Dr Muhammad Tahir-ul-Qadri in golden letters which he is rendering for promotion of real teachings of Islam which are based on peace, harmony and love. He said that MQI established by him is doing the duty of transferring the great Islamic message to the succeeding generations.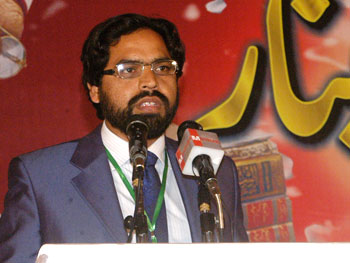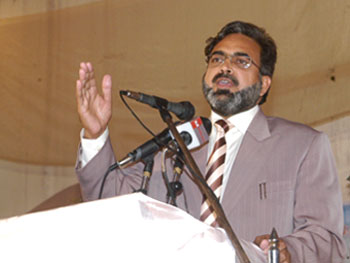 Journalist Irshad Arif said that the Muslim community suffered from complete and multiple disorder and it explains why the role of the movement being waged by Dr Muhammad Tahir-ul-Qadri is also multidimensional in nature and MQI is playing its due role to face the challenges of the contemporary world.
Renowned intellectual Dr Shabih-ul-Hassan said that Dr Muhammad Tahir-ul-Qadri is a writer, a researcher, an intellectual, a politician, a lawyer and above all a representative of humanity all rolled into one person.
Those who spoke on the occasion also included Dr Ahsan and Shahid Lateef. A 61-pound cake was also cut on the occasion. The seminar concluded with the prayer of Ghulam Hiader Ziai Qadri.