Iqbal's concept of democracy still a dream: Qayyum Nizami
Dr Allama Iqbal gave a real Islamic concept of democracy in comparison to the western democracy and the version of democracy presently being practised in Pakistan is in stark contrast to Iqbal's concept. This dichotomy explains why our society continues to go downhill in every area of national life.
These views were expressed by Mr. Qayyum Nizami, renowned columnist and journalist while delivering a special lecture to senior students of COSIS, Minhaj University Lahore today.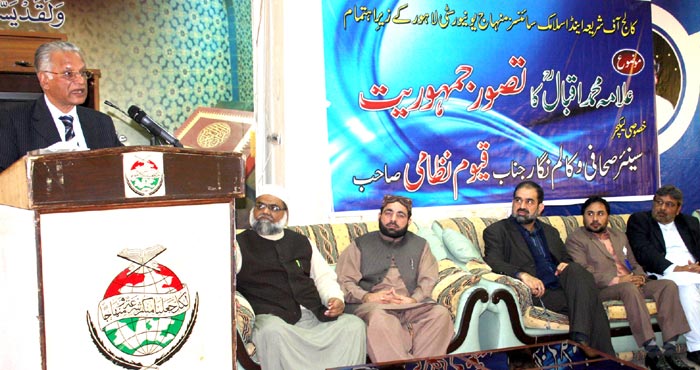 Qayyum Nizami said that Dr Iqbal's concept of democracy was that the poor had the right to tax the rich. He was convinced of politics, which resulted in people's wellbeing and state stability.
The renowned columnist said that the present electoral system was contrary to the ideals espoused by Quaid-e-Azam and Allama Iqbal. He said that Dr Tahir-ul-Qadri has effectively raised a voice against this system. He said that his call for change and reforms in the system was timely.
Qayyum Nizami said that there was not even a single politician in the present democratic system who was inheritor of Iqbal's ideology and Jinnah's politics. He said that there was class based democracy in the country in which the poor were getting poorer and the rich richer by the way. He said that the politicians who never tire of quoting Iqbal's poetry were actually acting against the spirit of his message. He said that democracy based on equality could flourish in an Islamic environment. He said that Iqbal's concept of democracy revolved around service of the people. He said that it was his experience of 40 years in the ruling elite always preferred personal interests to national ones.