Lawyers pledge their support to MQI
On November 29, 2012, Naeem-ud-Din Chaudhry Advocate, Chief Coordinator of Awami Lawyers Movement, hosted a sumptuous lunch in the honour of lawyers at Asia Hotel in Lahore in collaboration with Minhajians. Around 85 lawyers attended the lunch.
The distinguished among the gathering were Allama Sohail Ahmad Siddiqui, Shahzad Rasool Qadri, Ch Bashir Ahmad Advocate, Ch Imtiaz Ahmad Advocate (Chairman Wisdom Lawyers Forum), Shahzad Bhatti Advocate (Chairman National Lawyers Forum), Asif Maher Advocate (former vice president of Ferozwala Bar Association), Ishtiaq Ahmad Ch Advocate (President of National Lawyers Forum), SM Murid Bhutta (Chairman PAO Lawyers Group), Sheikh Yasir Khalil Advocate (former vice president Lahore Bar Association, Sardar Ghazanfer Hussain Advocate and Nasir Iqbal Qadri Advocate.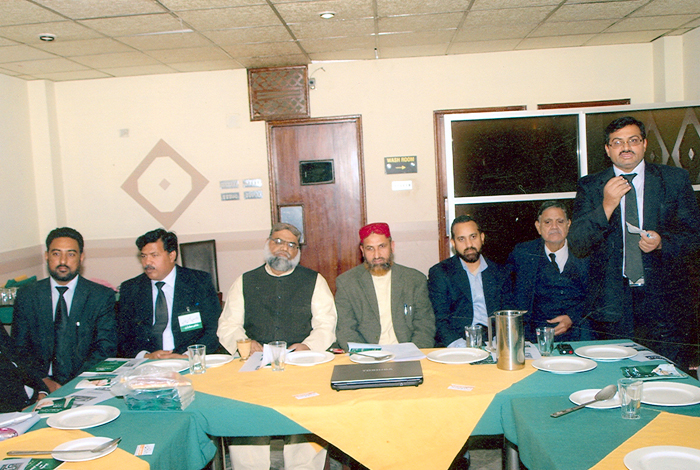 Abdur Rashid Qureshi, Advocate of Supreme Court and chairman of 'Save Judiciary Committee', said that lawyer community was in complete agreement with the agenda of Dr Muhammad Tahir-ul-Qadri and were ready to support him. He assured that lawyers would welcome Dr Tahir-ul-Qadri on his arrival in Pakistan.
Adbur Rashid Qureshi said that an interim government consisting of honest and clean people was likely to be formed after December 23. He said that such a government would hold fair, free and impartial elections to change the system after conducting accountability. He said that only such an arrangement could ensure the emergence of competent, honest and clean leadership.
Allama Muhammad Sadiq Qureshi briefed the audience about arrangements of grand public reception on December 23. He said that Dr Tahir-ul-Qadri was returning to Pakistan to save the country. The lawyers on this occasion pledged their complete support.