Women ready to play their role for change: MWL Lahore
Mrs. Irshad Iqbal, President of Lahore chapter of Minhaj Women League, has said that the daughters of Eve have also taken to street for change and we would not rest until the corrupt, pro-elite and outdated electoral system was sent packing through a peaceful and democratic struggle. She said that the sun of December 23 would rise with glad tidings of hope, optimism and ushering in of new dawn and December 23 would become as eternal in history as is 23rd of March.
Mrs. Irshad Iqbal made these remarks while addressing women participants of a public rally held under the banner of MWL Lahore. The rally started from Aiwan-e-Iqbal and concluded at the Press Club.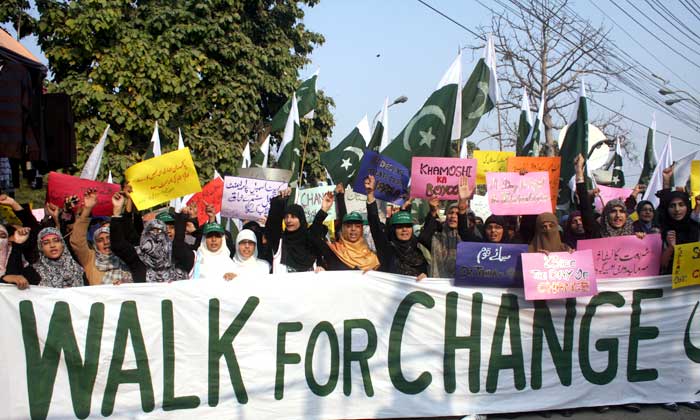 Mrs Iqbal said that the nation would come to know on that day as to who their real leader was. She said that the arrival of Dr Tahir-ul-Qadri would lay the basis of a sustained struggle for restoration of people's rights. She said that due to current electoral system, the masses were deprived of their due rights under the law and Constitution so much so that they did not have access to basic necessities of life.
Mrs Irshad Iqbal said that Dr Tahir-ul-Qadri would announce a national agenda before the nation, which would be acceptable to all segments of national opinion. She said that the plan would address the raging challenges such as energy crisis, and terrorism and extremism etc. She said that the women would extend historic welcome to Dr Tahir-ul-Qadri on his arrival.
She said that Dr Tahir-ul-Qadri is pride of the nation and a national asset who was fully capable of bringing about change in the country.
Speaking on the occasion, Ms Sidra Karamat said that the Pakistan nation was blessed with enormous talent. She added that what was needed was creation of enabling environment in which the youth could utilize their potential to the fullest extent. She said that the return of Dr Tahir-ul-Qadri would strengthen the resolve of the educated youth and give them new hope.