Pattoki Bar Association extends support to Dr Tahir-ul-Qadri
MQI Pattoki chapter organized a seminar on the subject of 'Let us save the country, not politics' in the Pattoki Bar Association on December 8, 2012. Allama Muhammad Rafique Habib, vice principal of Minhaj College, was the guest of honour on the occasion.
Addressing the lawyers community, Prof Muhammad Rafique Habib said that Dr Muhammad Tahir-ul-Qadri would launch peaceful and democratic struggle for change in the system on his arrival. He said that Dr Qadri would be accorded the biggest ever welcome in the country's history on his return at Minar-e-Pakistan. He said that Dr Qadri has shown the people a way out of current set of problems by telling them that electoral system was responsible for their predicaments. He told them that no improvement would come about in any walk of life without bringing about reforms in the system through which people got elected to positions of power. He said that successive elections held in the country from time to time were the worst examples of rigging and electoral manipulations, which barred representative leadership from emerging. He said that Dr Tahir-ul-Qadri was coming to Pakistan with a message that they should seek salvation from the system to change their destiny.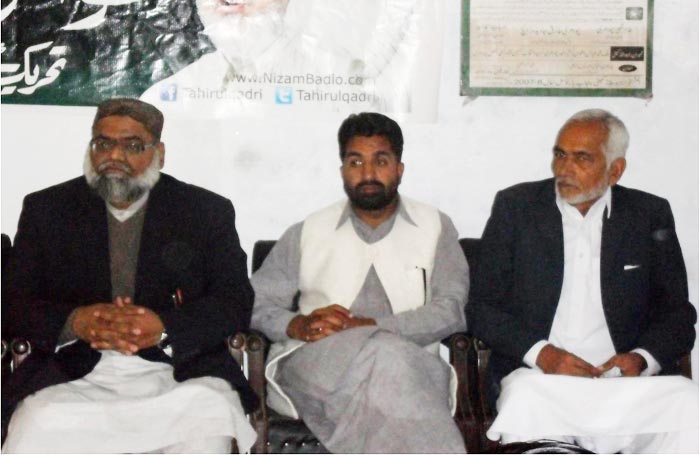 Rafique Habib said that the people belonging to all walks of life would extend historic welcome to him and tell him that the entire nation stood united in support of his agenda of reform. He invited the lawyers to join hands with MQI and Dr Tahir-ul-Qadri for comprehensive change in the system.
The seminar was attended by Prof Sohail Ahmad Siddiqi, Ishtiaq Hanif Mughal, Muhammad Nadeem, Mahboob Alam Bhatti, Muhammad Ashraf Rana Advocate, Syed Ahmad Farrukh Shah, Zakir Hanif Advocate, Syed Tayab Mahmood Jafar advocate, Ch Maqsood Ahmad Virk Avocate, Malik Anjum Iqbal Advocate, Ch Imtiaz Ali Advocate, Malik Abid Khizar Advocate, Malik Sakinder Hayat advocate, Muhammad Rizwan Aslam Advocate, and other leading lawyers of the Bar Association.
The lawyers pledged their support to Dr Tahir-ul-Qadri.