Dr Tahir-ul-Qadri addresses press conference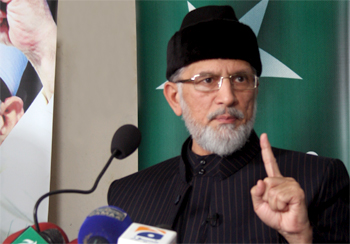 Shaykh-ul-Islam Dr Muhammad Tahir-ul-Qadri has said that he will give a message to Pakistan's parliament, judiciary, armed forces, media and political parties on December 23 in his keynote address at grand public reception. He asked those, who wished to bring about a change in the country, to throng Minar-e-Pakistan and pledge to bring down a system based on oppression, and negation of people's rights.
Dr Muhammad Tahir-ul-Qadri expressed these views while addressing a hurriedly called press conference in Model Town Lahore today after his arrival in Pakistan.
In reply to a question, he admitted that yes he was a threat to corruption, exploitation, current outdated electoral system, dictatorial thinking and dishonesty. He made it clear that no state, country, or agency helped MQI in organizing a public meeting at Minar-e-Pakistan. He said that the workers of MQI contributed their share to make this happen. So much so that women sold their jewellery.
Dr Muhammad Tahir-ul-Qadri said that MQI had a broad-based network in 90 countries of the world with millions of workers, adding that with Allah's blessings we were self-sufficient and needed no one's help. He said that the Pakistani expatriate community would go to any extent to help their motherland.
Dr Tahir-ul-Qadri said that he would dedicate first five minutes of his address to answer all those questions being asked being his return to Pakistan. He said that he did not know any establishment nor was he in contact with it. He said that he was connected to 180 million people of Pakistan. He asked the journalists to feel free to write against him if his agenda turned out to be against democracy and Constitution.