Malik returns empty-handed as Qadri firm on march
LAHORE: Federal Interior Minister Rehman Malik, who called on Tehrik-e-Minhajul Quran (TMQ) chief Dr Tahirul Qadri at his secretariat on Monday night, reportedly failed to convince him to give up his proposed march and sit-in at Islamabad on January14.
"The march will be held at all costs, and if anyone tried to sabotage it, then I cannot guarantee that it will remain peaceful. "In such a case, those interfering in our peaceful march will be responsible for any untoward outcome," warned Qadri while talking to reporters along with Rehman Malik after the meeting.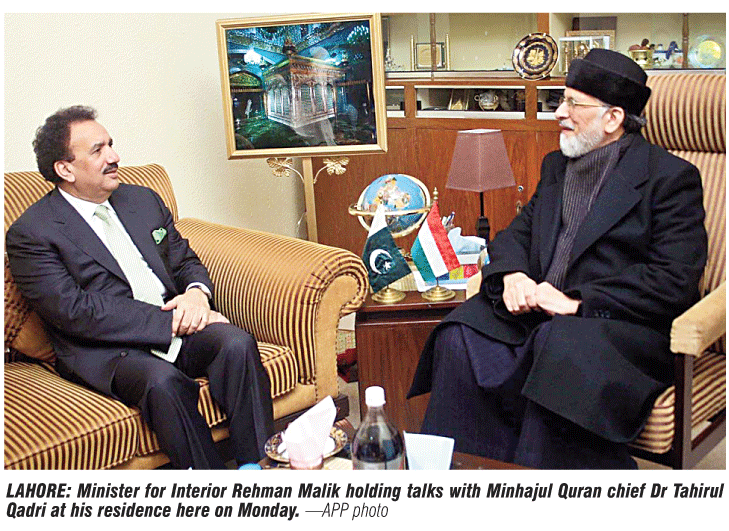 The TMQ chief clarified that Rehman Malik had not come for any negotiations. He said: "I will only hold negotiations with the prime minister and his cabinet if they come to me for the purpose," he said. "I clearly explained my charter for change and a package of demands to Interior Minister Rehman Malik and he agreed that all of my demands were in line with the Constitution and law of the land," he added.
Malik said he had asked Dr Qadri about his plans regarding the proposed march on Islamabad and the venue where hewould be stationed for the sit-in. He said he was satisfied that all the demands of Dr Qadri were according to the Constitution and that he was not trying to postpone elections or doing anything extra-constitutional.
He said he had asked Dr Qadri not to come to Islamabad but since his demands were in line with the Constitution, the government would not stop his march. The minister said he asked the Punjab home secretary and other officials concerned to provide security to Dr Qadri's march and escort them through the Punjab territories from where he intended to pass before reaching the federal territory of Islamabad.
He clarified that neither the Pakistan Muslim League-Q leadership nor the Muttahida Qaumi Movement chief Altaf Hussain were trying to do anything unconstitutional or were involved in any move to derail democracy. He quoted Altaf Hussain as saying that his party was not involved in any move against democracy or trying to delay elections. Malik said his government would not tolerate anything against the country's security, solidarity and sovereignty.
Qadri protested that certain elements had been trying to sabotage his march by creating hurdles in it. He mentioned that bus owners had been pressurised to cancel the booking for the Islamabad march and a number of bus owners and transporters had returned the advance money and cancelled bookings.
He said his march was aimed at turning the present democracy of loot and plunder into a democracy for the welfare of the common man. "I want that the law should create a capacity to implement the requirements of the Constitution so as to establish freedom for all to cast their vote and contest elections, maintain the rule of law, and make sure that no corrupt elements contest elections or reach the parliament," he added.
Qadri said any party which called itself democratic would have no objections to his demands and plans of his march on Islamabad.