22 families ruled Pakistan in 1970, 2200 rule it today: Dr Tahir-ul-Qadri
Change is left behind and now revolution will come. There is no place for people in an artificially contrived democratic system. The present version of a democracy is a sub-title of corruption. There is no rule of law in the country. Pakistan's sovereignty is in danger. Hurdles should not be created in the preparations of peaceful and democratic march. Otherwise two million people will march on Lahore and another two million on Islamabad.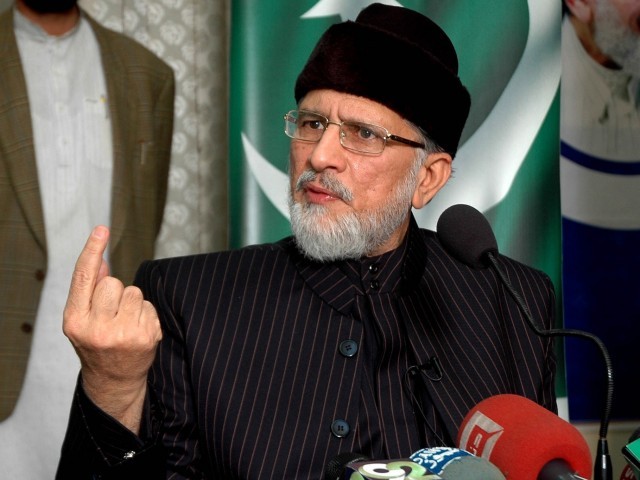 Dr Muhammad Tahir-ul-Qadri expressed these views while addressing a press conference after meeting a large number of delegations that called on him in Model Town today. Hundreds of religious scholars, labourers, farmers, lawyers, central office holders of social organizations supported the Long March on the occasion and declared to join it. Those who extended their support included Khalid Mahmood Khokar of Pakistan Kisaan Ittehad, Pir Syed Riaz of Tehreek-e-Tahuffiz-e-Pakistan, Ghulam Mustafa Advocate of Awami Justice Party, Syed Ali Raza of Tehreek-e-Istehkam-e-Pakistan, Mumtaz Hussain Niazi of Pakistan Ghuraba Party, Rana Raees Ahmad Khan of Pakistan Ittehad Movement, Mian Abdul Qayyum of Labour Qaumi Movement, Muhammad Junaid of Government Retired Service Association, Mrs. Ashfaq of Awami Justice Party, and Allama Nazakat Hussain Golarvi of Sunni Ulama Council. These leaders announced to take part in the Long March.
Dr Muhammad Tahir-ul-Qadri thanked these social and religious leaders for their support and said that baseless controversies being generated publically about him were meant to distract attention from the issues he had raised. He said that development funds worth billions of rupees were released to legislators ahead of polls, which was pre-poll rigging. He asked the Election Commission to take note of pre-poll rigging.
Dr Tahir-ul-Qadri said that the politicians always got elected to positions of power due to sacrifices and hard work of their party workers but these were their offspring and other relatives who were given party tickets for elections while the poor workers were ignored. He said that this attitude led to two distinct classes i.e. the leaders and workers. He said that the workers went from pillar to post to serve their leaders but when it came to awarding tickets, the relatives and children of the leaders would qualify for their receipt while the workers would go empty handed. He asked the workers to join him for change in the system.
Dr Tahir-ul-Qadri said that there were 22 families having their monopoly on the country's resources in 1970 but they had now multiplied to 2200 families. He said that Long March on January 14 would not be of MQI only. Rather it would be owned and supported by all sections of society including the students, farmers, traders, labourers etc. He said that the people were deprived of their rights due to oppressive system and they were out on the streets protesting for their rights. He said that the feudal lords and capitalists were enjoying the power and perks at the cost of the poor. He said that he wanted to see an electoral system in which the farmers could elect a farmer, lawyers a lawyer, traders a trader, and labourers a labour etc.