Long march schedule announced
ARY News
Updated : Tuesday January 8 , 2013 5:37:44 PM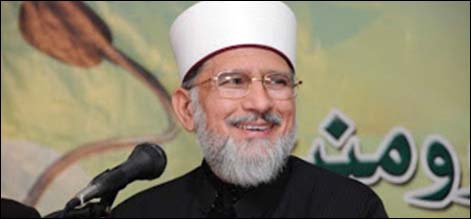 Pakistan Awami Tehreek has announced schedule for Dr Tahir ul Qadri's January 14 long march.
According to PAT spokesman Abdul Hafeez Chaudhary, a convoy comprising of Tehreek Minhaj ul Quran and Muttahida Qaumi Movment would leave for Islamabad from Dr Tahir ul Qadri's Lahore residence on January 13 at nine in the morning.
He further said that the convoy's first stay would in Muridke. The long march would reach Rawalpindi passing through Gujranawala, Kharian, Dina, Gojar Khan and Rawat, he said, added that, finally the convoy would set camps in Islamabad.
Dr Tahir ul Qadri will address the participants of the long march.
Chaudhary went on to say that Jamiat Ulmae Pakistan, different traders organisations and labour unions would join the long march.
At the other hand, banned Tehreek-i-Taliban has refused all news of giving threats to Dr Tahir ul Qadri.
The TTP spokesman Ehsanullah Ehsan told AFP from any confidential place that despite strong idealogical differences with Tahir ul Qadri, no threats have given to him.
Source : http://www.arynews.tv/english/newsdetail.asp?nid=68699