Long March to be held on schedule, come what may: Dr Tahir-ul-Qadri
Shaykh-ul-Islam Dr Muhammad Tahir-ul-Qadri said that the superior judiciary of Pakistan has put a seal of approval on legality and constitutionality of the Long March by rejecting three petitions moved against it. He said that those who were propagating that the March was undemocratic and unconstitutional were in fact committing contempt of court after the verdict of the High Courts. He said that no power including the government's machinery would stop the Long March and it would be held on time.
Dr Muhammad Tahir-ul-Qadri made these remarks while addresseing an important press conference in the central secretariat of MQI on January 11. A large number of media men including foreign reporters were also present on the occasion. This press conference was held after the deadline of January 10 given to the government expired.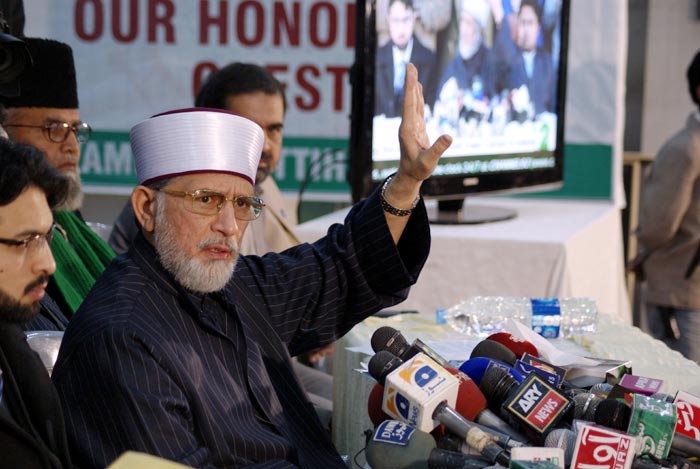 Dr Muhammad Tahir-ul-Qadri said that the government of Punjab was creating hurdles in the way of the Long March by employing different tactics. He said that the instructions were issued to MNAs, MPAs, district administrations and police to stop the caravans from leaving their respective places. He said that every kind of pressure was being brought to bear upon the transporters including the cancellation of their route permits. He said that the transporters were returning the fare under the pressure of the government. He said that CNG stations were already closed and the petrol pumps were being forced to shut down ahead of the Long March.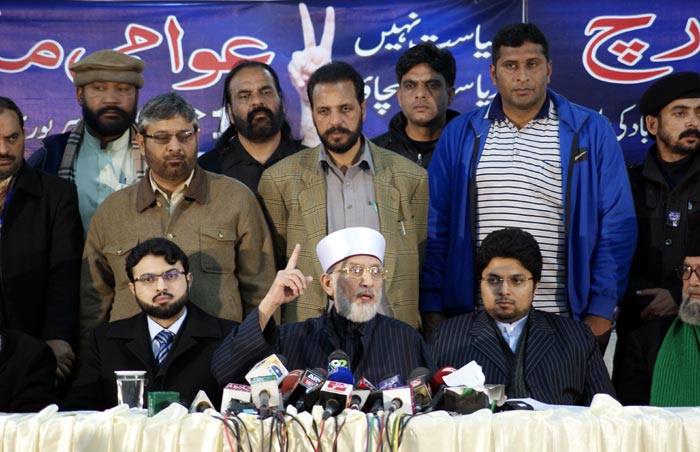 He said that Islamabad was seiged with containers across the city and all hurdles were in place for the marchers. He made it clear that whatever tactics the government could apply, the people would take to streets for the Long March.
Dr Tahir-ul-Qadri said that both the federal and Punjab governments were promoting and sponsoring terrorism. He added that terrorist incidents that rocked the country on Thursday were continuation of the same. He said that if the rulers were helpless before terrorists and unable to eliminate it, why were they clinging on to power?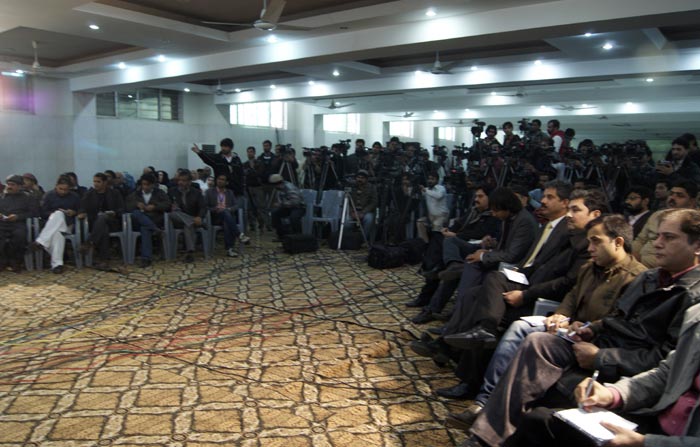 Dr Muhammad Tahir-ul-Qadri nominated President Asif Ali Zardari, Prime Minister Raja Pervez Ashraf, Mian Nawaz Sharif, Mian Shahbaz Sharif, Minister for Interior Rehman Malik and provincial Ministe for Law Rana Sanaullah in the FIR if anything happened to him. He directed his workers that if any such thing happened, they should remain peaceful and not be provoked into violent reaction.
Answering a question about MQM's decision not to attend the Long March, Dr Muhammad Tahir-ul-Qadri said that the decision to hold the Long March was taken by MQI and MQM declared to support it. 'If they are not taking part in it for reason, it was their decision and they have a right to take decision and I respect their democratic right," he added.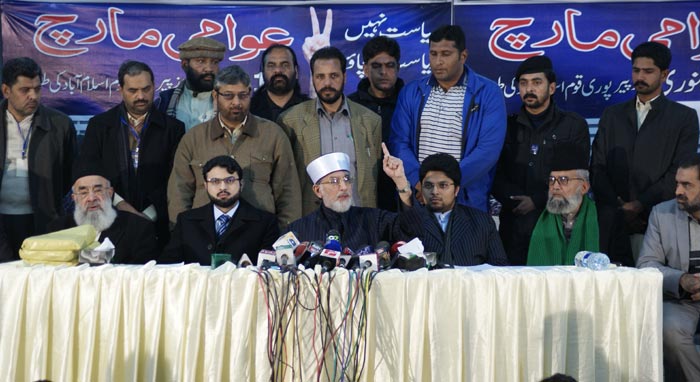 Dr Muhammad Tahir-ul-Qadri said that millions of the poor, widows, labourers and downtrodden sections of society were with him who would take part in the Long March. He said that the Long March was a 'Hussaini Caravan', which was being opposed by the Yazidi forces. He said that Islamabad would be a replication of scene of Karbla.
Dr Muhammad Tahir-ul-Qadri addressed the press conference by wearing black ribbon as an expressio of sympathy for the families of those killed in Quetta and Swat terrorist attacks. He also expressed 'Fateha' for the departed souls including Mian Abbas Sharif, younger brother of Mian Nawaz Sharif, and sent him condolence message.