Dr Tahir-ul-Qadri demands formation of impartial election commission
The patron-in-chief Minhaj-ul Quran International (MQI) has called for the Election Commission of Pakistan to be dissolved and a new impartial commission to be formed for the upcoming general elections.
Speaking at a press conference in Lahore on Saturday, Dr Tahir-ul-Qadri announced his charter of demands and reiterated his commitment to carry out the long march on January 14 come what may. He emphasized that the march would be for the supremacy of the constitution and the law. His charter consists of seven points out of which he announced one and the rest he will reveal in Islamabad.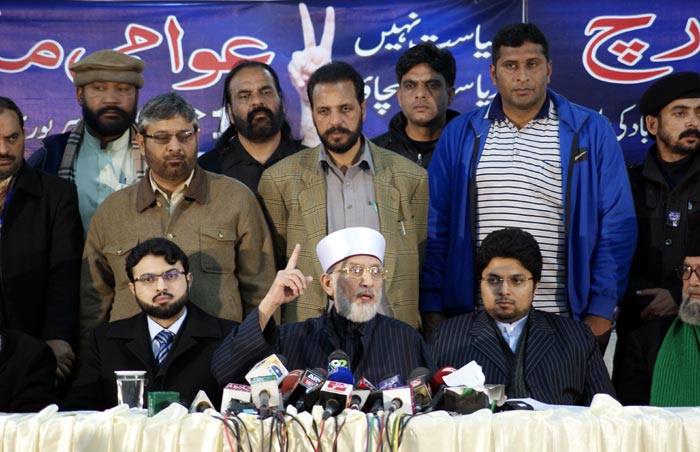 Among his demands, Dr Tahir-ul-Qadri called for the formation of an impartial election commission to be formed in place of the current ECP.
Dr Tahir-ul-Qadri said that, apart from the chief election commissioner, all four heads of the provincial commissions were politically appointed by the provincial administrations.
There is no doubt about the integrity of Justice (retd) Fakhruddin G Ebrahim; but, he is unable to shoulder the immense electoral responsibilities owing to his old age, he noted.
The MQI chief further demanded that polls be held according to Articles 62, 63 and 218 of the Constitution. He said the people would not accept polls if they are not held under these articles.
He again invited Imran Khan, chairman PTI, to take part in the January 14 long march as his party is raising the slogan of change. Also, he invited all patriotic political parties and their workers to stand in unison to bring the required change.
Slamming the PPP-led coalition government, Dr Qadri said that the rulers have completely failed at curbing violence. He challenged that the government-cum-opposition cannot form an independent interim set-up ahead of elections.
Dr Tahir-ul-Qadri said a story was being broadcast on state television that cited Federal Interior Minister Rehman Malik stressing that MQI chief Dr Qadri will surely be attacked in the long march. He demanded the minister be arrested for his assertion on national TV.
Dr Tahir-ul-Qadri added that the door for negotiations was never closed, however, final negotiations would only be held in front of millions of people at Parliament House in Islamabad. He vowed that the long march would start from Data Darbar in Lahore tomorrow and would take place as planned in spite of all hindrances.