Dr Tahir-ul-Qadri asks govt to dissolve assemblies
Leader of the Tehrik Minhaj-ul-Quran, Dr Tahir-ul-Qadri, gave the government a one-day ultimatum early Tuesday to dissolve parliament and provincial assemblies to make way for a caretaker administration, as he addressed a mass protest rally in Islamabad.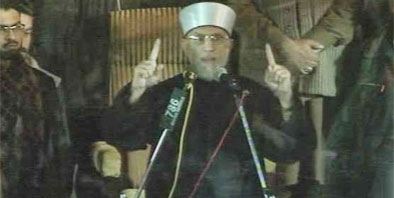 Tahir-ul Qadri was chauffeur-driven in a sleek black car and showered with pink rose petals while his vehicle inched its way towards a stage on one of the main thoroughfares in Islamabad, following a 38-hour march from the eastern city of Lahore.
"Morally, your government and your assemblies have ended tonight," he told the crowd from behind a transparent bullet-proof box erected around a podium, after he had been bustled up the steps by handlers holding up what appeared to be bullet-proof shields.
He said he would address the long marchers in front of Parliament House and not here at the Jinnah Avenue and demanded of the government to immediately shift the venue of the sit-in in front of Parliament House.
"I will give you (the government) a deadline until 11:00am today (Tuesday) to dissolve the federal parliament and provincial assemblies. After that, the people s assembly here will take their own decision," he added.
"Great sons of the democratic revolution, sons, daughters, scholars, traders, government officials, people from all other walks of life, stay until I tell you to leave," he said.
"I congratulate the 180 million people of Pakistan for the supremacy of law and for establishing a real democracy and ending tyranny, rigging and corruption, for snatching back the rights of the people from the elites, looters, terrorists who have deprived them of their rights," he said.
Qadri spoke on Jinnah Avenue, around a kilometre (less than a mile) from parliament, which is where he wanted to hold the rally, but which was barricaded behind shipping containers after the government said the Taliban had threatened to attack the march.