Thousands show support for Pakistani cleric
Thousands of protesters have gathered in Pakistan's capital city, Islamabad, in a show of support for a controversial cleric. Authorities there have reportedly fired tear gas to disperse the crowds.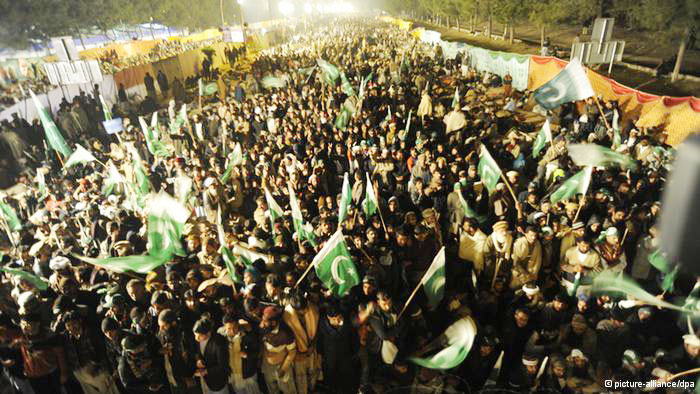 Violence broke out near Pakistan's parliament early on Tuesday, after some of the estimated 30,000 demonstrators began throwing rocks at security forces sent in to control the crowds. In the lead-up to the eruption, supporters of cleric, Tahir ul Qadri, had descended upon the capital over a two-day period to protest against government corruption.
A protester told the AFP news agency said that the police fired on the crowd unprovoked.
"We were peaceful, we want to be peaceful, police fired tear gas and gun shots without any reason," protester Muzamal Ahmed Khan told AFP.
"This was the government's conspiracy, we are not violent people. We have come here for a peaceful protest," he said.
DW.DE
No country for Pakistani Shiites
Shiite Muslims buried the victims of Quetta attacks after Pakistan's prime minister imposed governor's rule in Balochistan. But activists say the government is still refusing to act against perpetrators of the attacks. (14.01.2013)
The spiritual leader began amassing the crowds nearly two days ago to speak. Addressing his audience from behind bullet-proof glass, he announced a deadline for lawmakers to comply with the crowds' demands.
"I am giving you a deadline until [Tuesday] morning to accordingly announce the dissolution of the national and the four provincial assemblies," said ul Qadri, who recently returned to his native Pakistan after living in exile in Canada.
"Do it yourself, otherwise the nation will take the decisions."
"The 'Long March' has ended and now a revolution begins," he said.
Initial reports indicated that critics believe the military was behind the cleric's protests in a move to influence the US-backed civilian government.
Source : http://www.dw.de/thousands-show-support-for-pakistani-cleric/a-16521613