Pakistani police attack cleric supporters in Islamabad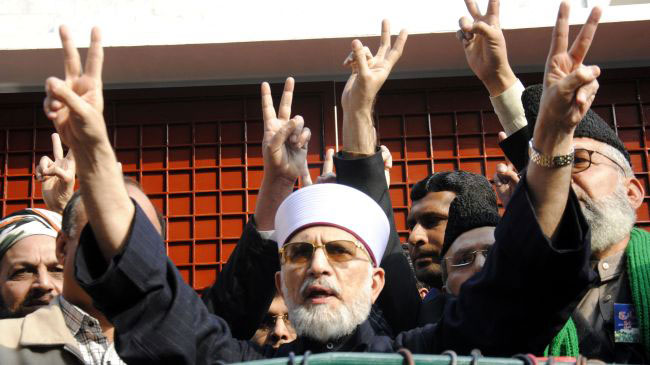 The Pakistani police have attacked supporters of an influential Muslim cleric during an anti-corruption rally in Islamabad.
The security forces used tear gas to disperse a growing crowd of demonstrators holding the protest rally near the parliament building on Tuesday.
Reports say the protesters also threw stones at security forces near the parliament and smashed the windowpanes of vehicles.
The demonstration was held after Pakistani cleric Tahir-ul Qadri called on his supporters to march into the capital to demand a peaceful "revolution" and the dissolution of parliament.
Qadri gave a one-day-long deadline to the government to dissolve the parliament.
"After that, the people's assembly here will take their own decision," he said on Monday.
Qadri and his followers left the city of Lahore on Sunday and reached Islamabad late on Monday.
The officials accuse the cleric of trying to delay elections, due by May, and sow political chaos.
However, the supporters of Qadri say he wants an end to the corruption and problems facing Pakistan.
Source : http://www.presstv.com/detail/2013/01/15/283616/pakistani-police-attack-cleric-supporters/