Neither my family members nor I to take part in elections: Dr Tahir-ul-Qadri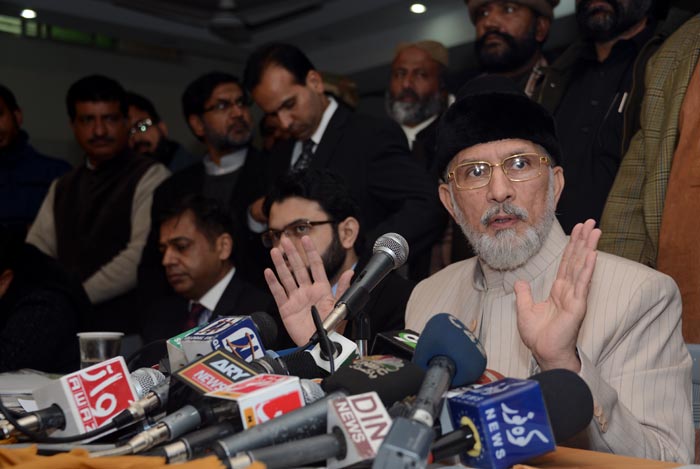 My struggle is for restoration of people's rights, establishment of real democracy and supremacy of rule of law and constitution. I am working hard for participation of all segments of society in national life including the poor, labourers, farmers, traders, lawyers and the masses on the whole. I am neither desirous of any role in the caretaker setup nor am I interested in taking part in the upcoming polls. I am caretaker of the whole nation and protector and advocate of their rights.
Shaykh-ul-Islam Dr Muhammad Tahir-ul-Qadri expressed these views while addressing a press conference in the central secretariat of MQI the other day. He said that whether Pakistan Awami Tehreek (PAT) would take part in the forthcoming elections or not would be decided in a phased manner in the meetings of CEC, Advisory Council, Federal Council and lastly General Council under the organizational consultation system.
Dr Tahir-ul-Qadri said that irrespective of whatever decision PAT took vis-à-vis its future strategy regarding elections, neither he nor any of his family members would take part in the electoral process. He said that he was against dynastic politics, adding that both of his sons, Dr Hassan Mohi-ud-Din Qadri and Dr Hussain Mohi-ud-Din Qadri, would not take part in the elections despite possessing requisite qualifications and capabilities. He said that he declared in 2004 that he would never participate in electoral politics. He said that through that declaration, he was setting up a new tradition in the Pakistani politics and this was what democracy and democratic culture was all about. He asked the politicians to become leaders and behave in the same manner.
Dr Tahir-ul-Qadri made it clear that solution to Pakistan's problems lay in real democracy and not dictatorship. He said that a government which failed to deliver in a span of five years had no reason or justification to shift the blame on the previous government because five years was good enough time to translate a manifesto into reality.
Answering a question about the Long March, Dr Tahir-ul-Qadri said that when the governments fail, protests are natural to take place. He said that the Long March was a successful mega event in every respect. He said that Long March raised public awareness about legal, political and constitutional issues, adding that the people got the maximum benefit which was possible in this democratic movement.
Dr Muhammad Tahir-ul-Qadri said that it was success of the marchers that the Election Commission of Pakistan has taken steps to stem pre-poll rigging. He said that the people's knowledge of Articles 62, 63 and 218 increased as a result of the Long March and sit-in. He said that the ECP had banned release of funds and doling out of government jobs among political loyalists in contravention of rules and regulations. He said that scrutiny process of candidates would be completed in 30 days as per People's Representation Act 1976.
He said that what else could be a glaring proof of the success of the Long March that the Election Commission had embarked upon implementation of electoral reforms by accepting the Islamabad Long March Declaration. He said that no constitutional amendment was required for the said purpose.