Govt, Dr Qadri talks begin
Talks between a government delegation and Dr Tahirul Qadir have begun at Tehreek-e-Minhajul Quran (TMQ) International Secretariat Lahore in the first round of follow-up of Islamabad Long March Declaration.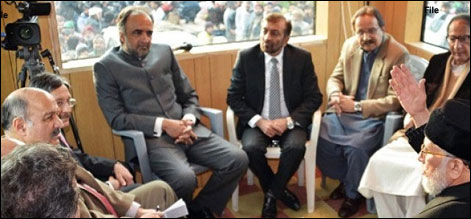 A government team led by President Pakistan People's Party Parliamentarian Makhdoom Ameen Faheem will debate over different issues with Dr Tahirul Qadri and his team.
Earlier, PML-Q chief Chuadhary Shujaat Hussain and Mushahid Hussain Syed reached at the residence of Dr Tahirul Qadri where they pass some time for chit-chat.
Other members of the team including Ameen Faheem, Farooq Sattar, Babar Ghouri, Afrasiab Khattak, Qamar Zaman Kaira, Syed Khursheed Shah and Abbas Afridi made consultation with Governor Punjab Makhdoom Ahmed Mehmood over the issue. Later they all reached MQI Secretariat for dialogues.
Makhdoom Ameen Faheem said that talks with Dr Tahirul Qadri would be carried out within the limits of the Constitution. He added that neither govt term nor Tahirul Qadri would cross Constitutional limits during the meeting.
Source : http://www.arynews.tv/english/newsdetail.asp?nid=69362