Govt team arrives at TMQ Secretariat for talks with Qadri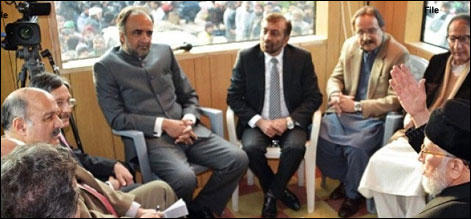 ISLAMABAD: The government team, led by Chaudhry Shujaat Hussain, has arrived at Tehrik-e-Minhajul Quran (TMQ) Secretariat to discuss with Tahirul Qadri on how to move forward on Islamabad Long March Declaration here on Sunday, Geo News reported.
Members of the ruling coalition including Deputy Prime Minister Chaudhry Pervez Elahi, Information Minister Qamar Zaman Kaira, Syed Khurshid Shah, Farooq Sattar and others while as many representatives from the TMQ led by Qadri would take part in the meeting.
The meeting would discuss issues related to implementation on the agreement signed by Qadri and the government that led to lifting of a four day sit-in in the federal capital.
Farooq H Naek, key member of the 10-member government team, has been summoned by President Asif Ali Zardari to Islamabad.
Now PML-Q leader Chaudhary Shujaat Hussain is leading the government team.
The law minister is likely to meet President Zardari and PM Raja Pervez Ashraf in the federal capital.