Dunya News: Assemblies to be dissolved before March 16, poll date within 10 days
LAHORE: Addressing a joint press conference here Doctor Tahirul Qadri and Qamar Zaman Kaira briefed the media person about the follow up meeting between the two sides.
Tahirul Qadri said today's meeting had proved that Islamabad Declaration was not just a piece of paper as described by some sections, adding government team has promised that the document would be given legal coverage through legislation.
He informed that it had been agreed that assemblies will be dissolved before 16 March and election date would be announced within 10 days.
Eligibility of candidates and scrutiny of nomination papers would be completed in 30 days, he said.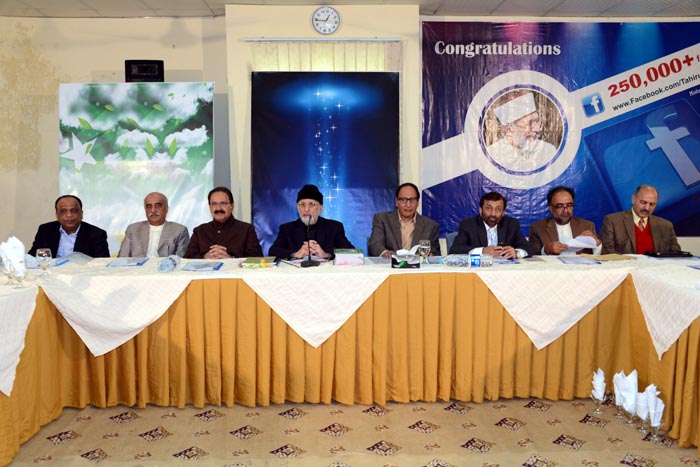 He said there was difference of opinion between Coalition partners and Pakistan Awami Tehrik regarding the reconstruction of Election Commission.
Objecting to the appointment of the members of Election Commission Qadri said the process of nomination did not fulfill the requirements of the constitution.
"We have no doubts about the impartiality of the Chief Election Commission but the selections of other three members was in violation of the constitution, and we move the Supreme Court if EC in this regard.
Qadri said electoral laws stress transparency not only during polling but before that also.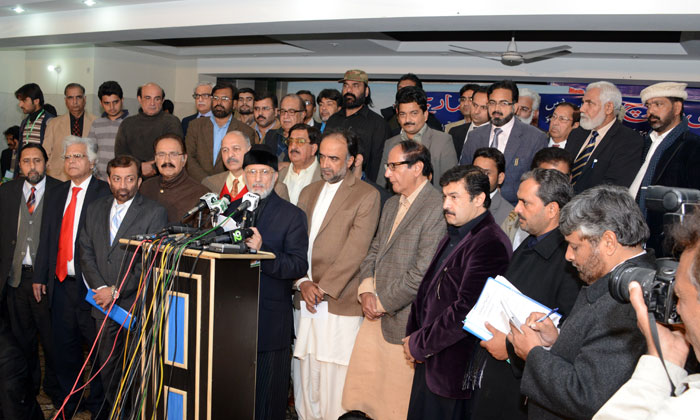 "Justness, fairness and impartiality must be maintained before the polls and for this purpose any step that can influence the voters has to stopped as pre-emptive measure", he said, adding allocation of discretionary funds to MNAs MPAs and senators at this stage was unjust..
He said that it was also reaffirmed that 30 days will be given for the scrutiny of filed nomination papers of candidates in the light of constitutional article 62 and 63.
He said no candidate before getting clearance from the election commission regarding his eligibility will start his campaign. He said that practical implications and procedures were discussed in this regard at the talks.
He said that consultation is in progress between the coalition government delegation and Awami Tahreek to reach consensus over the formation of interim governments at the Federal and Provincial level.
He demanded that discretionary funds of PM and CMs should be seized immediately and the amount should be used for provision of electricity and gas to masses on subsidized rates.
Kaira informed that due process of law was adopted in the appointment of members of Election Commission and a team of seven legal experts took the decisions.
The minister said that government cannot act out of constitution regarding election commission and decision of parliamentary Committee cannot be reverted. However' he said consultation with Awami Tehrik will continue regarding formation of caretaker government.
Regarding the discretionary funds, he said it was not possible to sieze the funds at this stage.
Most of the funds are at the disposal of the provinces, he said.
"EC will activate only after the dissolution of assemblies and cannot take decisions regarding the funds as it was technically not possible," he said.
"Our intensions are the same but there are procedural differences", he said.
Responding to a question Kaira said legislation will be done to give legal coverage to the Islamabad Declaration.
About Ch Nisar Role he said the role of Opposition leader was intact.