PAT & Government hold dialogue - Dates for assemblies' dissolution, elections to be announced in 7-10 days
Shaykh-ul-Islam Dr Muhammad Tahir-ul-Qadri has said that the follow-up meeting held between Pakistan Awami Tehreek (PAT) and the government's team on Sunday at MQI's Secretariat was in line with the Islamabad Long March Declaration which was signed on January 17 in the federal capital after 5-hour long negotiations. He said that it was decided in the meeting that the date of dissolution of National and Provincial Assemblies would be announced within next 7 to 10 days and it would be ahead of March 16. He that the Election Commission would have 30 days to conduct scrutiny of the candidates and only those getting through this process successfully would be able to start their election campaigns. He said that it was also agreed to give legal cover to the Islamabad Long March Declaration before the dissolution of the assemblies.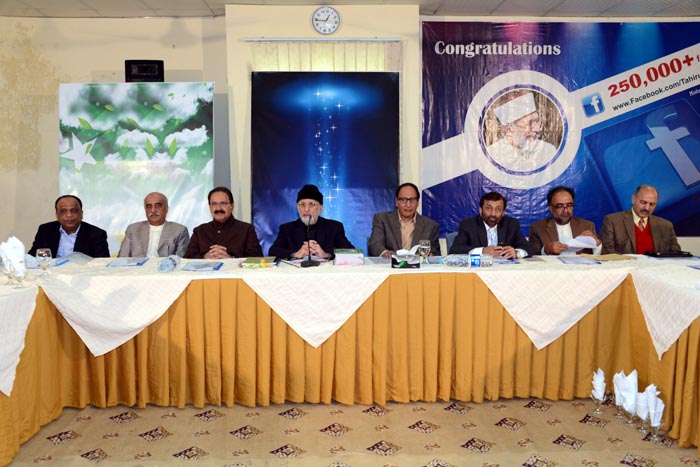 Dr Muhammad Tahir-ul-Qadri said that no one could question the legal, political, historic, and moral status of the agreement. He said that it was agreed in the meeting that caretaker Prime Minister, Chief Ministers and members of their cabinets would be selected after consultation between Pakistan Awami Tehreek and the coalition government. He said that differences existed on reconstitution of the Election Commission, which would be sorted out in the upcoming meetings.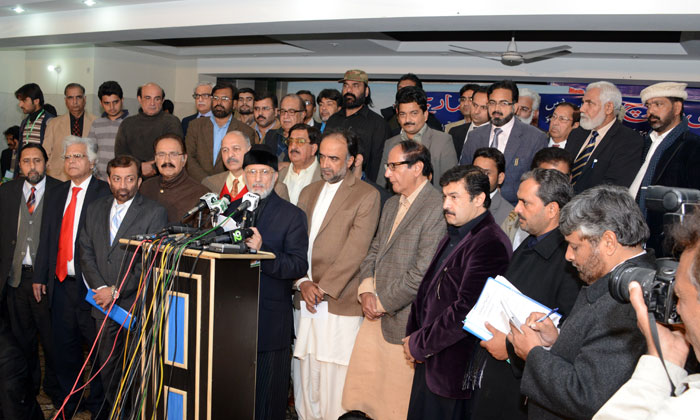 Dr Tahir-ul-Qadri expressed these views while briefing the media after holding long meeting with the high-powered committee of the coalition government. The meeting was attended by Chaudhry Shujaat Hussain, Mushahid Hussain Syed, Qamar Zaman Kaira, Makhdoom Amin Faheem, Dr Farooq Sattar, Babur Khan Ghori, Syed Khursheed Shah, Abbas Khan Afridi, Akram Zaki, Dr Hassan Mohi-ud-Din Qadri, Dr Hussain Mohi-ud-Din Qadri, Dr Raheeq Ahmad Abbasi, Sheikh Zahid Fayyaz, and Anwar Akhtar Advocate.
Dr Tahir-ul-Qadri said that under clause A-2 of Article 213 of the Constitution of Pakistan, each province was required to send three names each for formation of the Election Commission and the parliamentary committee was to select four names out of 12 nominations after personal hearing and meeting other formalities. He said that four members were selected without hearing, which was unconstitutional. He said that the entire process from oath-taking of members to their joining their positions was illegal and ultra vires of the Constitution. He said that the Election Commission was not constituted in line with the constitutional provision and PAT reserved the right of going to the Supreme Court to seek a direction for dissolution of the Election Commission. He made it clear that Articles 62, 63 and 218 (3) would be implemented in letter and spirit to make electoral exercise fair, free and transparent.
Dr Tahir-ul-Qadri said that there was complete consensus on implementation of the Supreme Court's judgment delivered on June 8, 2012. He said that the Election Commission's job was merely to stop irregularities and corruption from taking place during the election process. It was also its responsibility to ensure that pre-poll rigging did not happen to make election process transparent. He said that clause 3 of Article 218 stipulated that discretionary funds of the Prime Minister, Chief Ministers, Ministers, MNAs and MPAs should be frozen forthwith. He demanded that funds allocated for Benazir Income Support Programme, Susti Rot Scheme and laptops should also be frozen. He said that Rs. 300 million was given to each provincial legislator of Balochistan, which was pre-poll rigging. He said that these frozen funds should be diverted back to masses in the form of subsidy on electricity and gas bills and other necessities of life including flour, rice, pulse, ghee, sugar and tea so that the inflation-stricken people could heave a sigh of relief.