Dr Tahir-ul-Qadri to move petition in Supreme Court for reconstitution of ECP
Addressing a crowded press conference in central secretariat of MQI, Dr Muhammad Tahir-ul-Qadri, Chairman of Pakistan Awami Tehreek, has said that the very formation of Election Commission of Pakistan is unconstitutional and hence there is no question of its dissolution. He said that he sought the ECP's reconstitution in the light of relevant provision of the Constitution. He declared that PAT would move a petition in the Supreme Court in a day or two and he would present arguments in the Court himself. He said that the appointment of four members of the Election Commission was illegal and they did not have any legal or political status.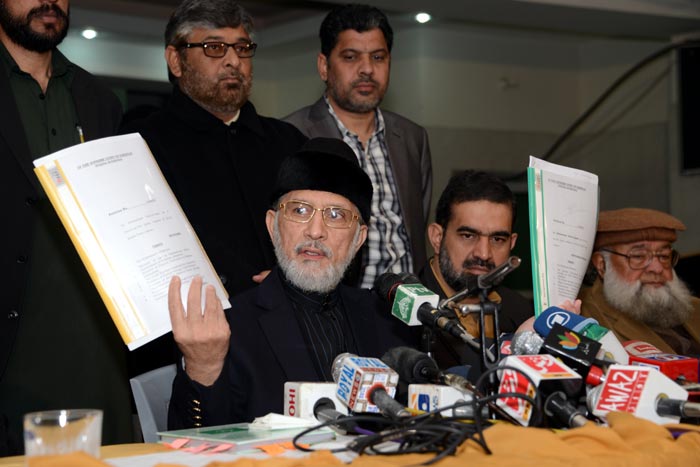 Dr Muhammad Tahir-ul-Qadri said that separate petitions would be moved in the Supreme Court challenging appointment of four members in the ECP and seeking the apex court's orders for freezing discretionary funds of the Prime Minister, Chief Ministers, and Ministers ahead of upcoming polls.
Dr Qadri said that the Constitution laid down a procedure, which even the President or PM or parliamentary committee could not cancel. He said that Constitution was abided by in the democratic countries, while the very politicians who frame the laws also violate it for their vested interests in Pakistan, adding that they are ever ready to brand those as undemocratic who talk of supremacy of Constitution and rule of law.
Dr Tahir-ul-Qadri said that the mammoth public meeting on December 23 and historic Long March on January 14 were instrumental in enhancing people's awareness about constitutional affairs and law. He demanded of the Chief Election Commissioner to take control of record of parliamentary committee so that no tempering could be done with it to twist facts. He said that it was the Election Commission's job to conduct scrutiny of the candidates as well as hold fair, free and transparent elections. He said that he was waging a struggle for restoration of the people's rights so that law breakers could not become law makers and those committing corruption should not become part of Parliament.
Dr Tahir-ul-Qadri said that he wanted to see Parliament composed of honest, educated and competent people so that rule of law and supremacy of Constitution could be ensured in the country. He said that those who said that there were no people in the country who could qualify as per provisions of Articles 62 and 63 were actually questioning the honesty and credibility of people of Pakistan. He said that it was insult of the entire society. He said that many of the legislators sitting in the present assemblies met the criteria contained in these Articles. He said that the people should ask the rulers as to why they did not establish local bodies institutions which could resolve their problems. He said that hundreds of billions of rupees in the form of discretionary funds of the Prime Ministers and Chief Ministers should be diverted for relief of dearness-stricken people.