Dr Qadri demands establishment of Judicial Commission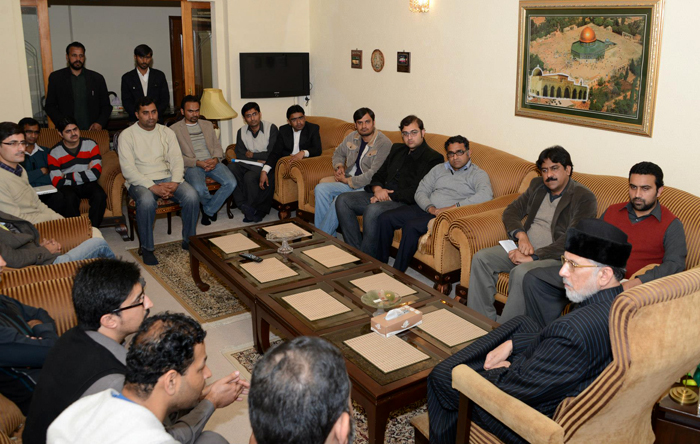 A delegation of Young Doctors Association met Dr Muhammad Tahir-ul-Qadri at his residence the other day and apprised him of their demands. While talking to media after the meeting, Dr Tahir-ul-Qadri demanded of the Chief Justice of Lahore High Court to establish a Judicial Commission to resolve issues between young doctors and the government of Punjab. He opposed the idea of privatization of government's hospital, adding that it would be tantamount to selling human life and public health. He said that there was a dire need to increase allocations in the health sector aimed at enabling it to respond to people's health needs. He said that public sector hospitals were too few to meet the rising needs of escalating population and their infrastructure was ill-equipped as well.
Dr Tahir-ul-Qadri said that high-powered committee, which was to be constituted in the light of agreement reached between the government and young doctors on November 7, 2012, could not be established. He said that resolution of doctors' problems should have been a top priority so that they could pay undivided attention to their patients.
Dr Muhammad Tahir-ul-Qadri solicited a pledge from the young doctors to press their justified demands through democratic means and provide medical services to the patients without any letup or delay, for it involved people's lives. He said that boycott of medical operations by doctors resulted in difficulties for the patients so much so that some of them lost their lives.
The young doctors assured Dr Qadri that they would continue to render their services during strikes. Dr Tahir-ul-Qadri asked the government of Punjab to show generosity and magnanimity and deal with the doctors' problems on priority. He said that had their problems been solved earlier, the regrettable incident of Gujranwla would not have taken place. He demanded that those dismissed or removed or suspended from service in the wake of this incident should be reinstated forthwith. He said that arrested doctors should be freed immediately.