Geo News: Saved country from martial law by ending sit-in: Tahirul Qadri
Geo News
February 03, 2013 - Updated 170 PKT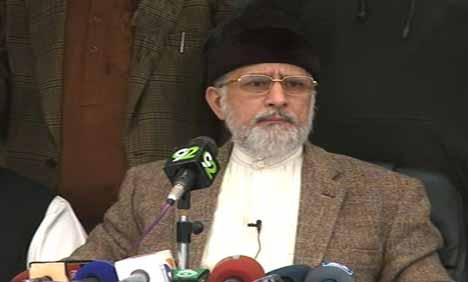 LAHORE: Tehreek-e-Minhajul Quran Chief Tahirul Qadri said Sunday that if he had not ended the sit-in, martial law would have been imposed in the country in the next five minutes.
Addressing the central executive committee of the Pakistan Awami Tehreek (PAT), Qadri said he would not allow thieves to come into power in the name of democracy. "Corrupt politicians had been robbing the country for the last 65 years."
Qadri added that he was in favour of a new southern Punjab province but new provinces should not be formed on the basis of political aspirations. "A referendum should be conducted from the people of south Punjab regarding the formation of a new province."
According to Qadri he had retired from the post PAT president. Regarding contesting elections, Qadri said he had received the mandate today but a decision would be taken after a survey was conducted.