Tribune: PTI leaders, Dr Tahir-ul-Qadri hold talks over reconstitution of ECP
LAHORE: Top leaders of Pakistan Tehreek-i-Insaf (PTI) met Minhajul Quran International (MQI) chief Dr Tahir-ul-Qadri in Lahore on Wednesday to discuss their reservations over the current Election Commission of Pakistan (ECP).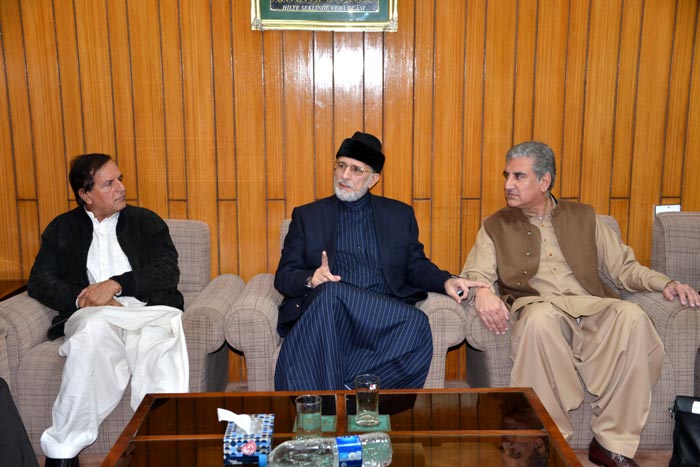 PTI president Makhdoom Javed Hashmi told the media that the reservations were only discussed during the meeting, but the final decision will be taken by his party regarding the petition being filed in the Supreme Court by Qadri for the reconstitution of the election commission.
PTI vice chairman Shah Mehmood Qureshi said that a transparent ECP is crucial for the upcoming elections, "but the government claims that it cannot dissolve the election commission as it is against Article 209". He said that Qadri explained to his party leaders that his argument is not about dissolving the commission, but he considers the constitution of the commission as "unlawful".
"We will raise the question of composition and constitution of the election commission," he said.
He also denied giving comments against Qadri's long march in Islamabad and said that it was the party's democratic right for as long as the protest remained peaceful and under the ambit of the law.
Qadri said that after a long time, two institutions in the country – the judiciary and the army – were working in favour of democracy. "If these two institutions can work for these causes, then the political leadership should also show maturity."
He said that he was going to the Supreme Court because there was no winning or losing there. "Only the law wins there… Our right is to go the court, taking a decision is their job. We will implement whatever decision the court takes."
Qadri also clarified that the petition was only being filed by his party Pakistan Awami Tehreek (PAT).
Source : http://tribune.com.pk/story/503384/pti-leaders-tahirul-qadri-hold-talks-over-reconstitution-of-ecp/