Days of fake mandate are over: Dr Muhammad Tahir-ul-Qadri
I want to draw a line between the oppressors and the oppressed: Dr Tahir-ul-Qadri
Corrupt politicians have been abusing public mandate for their vested interest for last 65 years: Dr Tahir-ul-Qadri
Mammoth public meeting on December 23 and the Long March has equipped people with knowledge of Articles 62 and 63: Dr Tahir-ul-Qadri
Reforms will precede elections. The days of fake mandate are over: Dr Tahir-ul-Qadri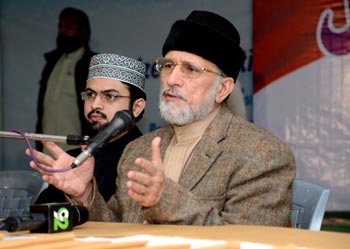 I want to draw a clear line between the oppressors and the oppressed in Pakistan. The so-called corrupt politicians have been misusing the public mandate for their vested political interests, while the people continue to be deprived of basic necessities of life such as health, jobs and education etc. The historic public meeting on December 23 and the Long March has given political awareness to the masses. We want to get Articles 62 and 63 incorporated in electoral system in the first phase. These Articles were not implemented in the past.
Shaykh-ul-Islam Dr Muhammad Tahir-ul-Qadri made these remarks while talking to central executive of PAT in the central secretariat the other day. Dr Raheeq Abbasi, PAT president, Khurram Nawaz Gundapur, Secretary General, Fayyaz Warriach, Qazi Faiz-ul-Islam, Anwar Akhtar Advocate, Sajid Mahmood Bhatti, and Mian Zahid Islam attended the meeting.
Dr Tahir-ul-Qadri said that that as a result of mammoth public meeting on December 23 and the Long March, the people now had sufficient knowledge of what Articles 62 and 63 stood for. They came to know who qualified to represent them in the assemblies and who were not illegible. He added that 30-day period for scrutiny of candidates would filter those aspiring to occupy leadership positions in the legislatures. He said that corrupt elements would be disqualified in large numbers under the said Articles.
Dr Tahir-ul-Qadri said that he was waging a struggle to give people their due rights under the Constitution and break arrogance of the privileged elite who benefited from the corrupt system. He said that Revolution Marches would be held in six major cities of the country starting from February 15 onward. He said that he would change people's awareness into a force for revolution within the confines of democracy and Constitution. He said that reforms would precede elections and the days of fake mandate were over.