Judiciary & army supportive of democracy: Dr Tahir-ul-Qadri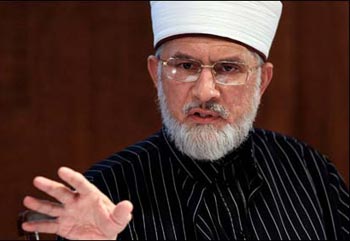 I give credit to both Judiciary and Pakistan Army for being supportive of democracy in the country. Both institutions have been making sincere efforts for strengthening of democratic process. It is now on politicians to play their role in promoting corruption-free and pure politics by taking a leaf from the book of both institutions. Politics is part of Islam and Sunna of the Holy Prophet (SAW). Politics should be such as leads to bettering the future of coming generations. It (politics) should be instrumental in serving the state and society. The kind of politics which endangers the state is no politics but pursuit of vested interests.
Dr Muhammad Tahir-ul-Qadri expressed these views while talking to a PAT delegation from Multan, which called on him at his residence the other day. PAT President Dr Raheeq Abbasi, Secretary General Khurram Nawaz Gundapur, Fayyaz Warriach and MH Shaheen were also present on the occasion.
Dr Tahir-ul-Qadri said that PAT would hold 'revolution marches' from February 15 to March 10 in six major cities of the country. He asked the entire nation to join those marches which were being organized to bring about democratic change in the country. He said that extremism of all hues and colours was nourished in the country during last 65, which had now resulted in terrorism and violence, a wave which continues to rock the country with abandon. He said that unless the root cause of the problem was eliminated, terrorism would not go away.
Dr Qadri said that the purpose of his struggle was to make common man aware of his rights as granted by the Constitution of Pakistan. He further said that when awareness of rights is developed among the people, it creates a desire for change. He said that people needed to know about Articles 62, 63 as well as 37 and 38 of the Constitution.