Dunya News: SC bench formed to hear Qadri's petition
ISLAMABAD: The Supreme Court on Saturday formed a three-judge bench to hear a plea moved by Tehreek-e-Minhajul Quran chief Dr Tahirul Qadri, seeking reconstitution of the Election Commission of Pakistan.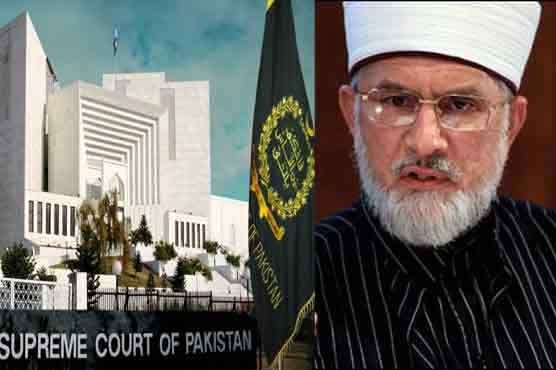 The bench will be headed by Chief Justice Iftikhar Muhammad Chaudhry and comprising Justice Gulzar Ahmed and Justice Sheikh Azmat Saeed.
The cleric himself would represent his case before the apex court bench, sources said. Mr Qadri last month took out a long march on Islamabad that led to virtual siege of the federal capital.
Qadri has been demanding electoral reforms since his arrival in the country and his long march attended by thousands of his followers prompted the rulers to hold negotiations with the cleric to woo him to end his sit-in.
Tahirul Qadri decided to move the apex court after government refused to accept his demand to reconstitute the electoral body during a round of talk held at his residence in Lahore.
Source : http://dunyanews.tv/index.php/en/Pakistan/158668-SC-bench-formed-to-hear-Qadris-petition