Quetta be handed over to Army: Dr Tahir-ul-Qadri
Addressing a press conference, Dr Muhammad Tahir-ul-Qadri has said that Quetta bomb blast is a national tragedy in which innocent people lost their lives. He condemned the bomb blast in the strongest possible words. He said that the perpetrators of such blasts were barbarians who were a blot on the face of religion as well as our conscience. He dubbed the Quetta blast as a heinous conspiracy against the integrity of Pakistan. He said that the workers of PAT and MQI shared the grief and sorrow of the bereaved families.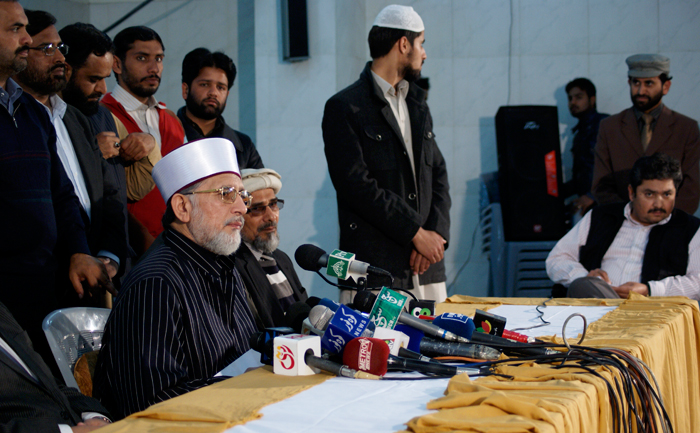 Dr Tahir-ul-Qadri said that the government had failed miserably to control law and order situation in Balochistan. He demanded that Quetta city should be handed over to the army. He said that the Constitution was clear in such a situation saying that the army could take control of a city in case the civil administration failed to restore law and order and protect the life and property of the citizens.
Dr Qadri directed the MQI and PAT workers to take part in the protest sit-in organized in Quetta and across the country. He said that the Governor promised to detail a plane to airlift the injured and shift them in hospitals in Karachi. He said that the number of fatalities increased to 114 due to lack of fulfillment of the promise, while 140 were seriously injured.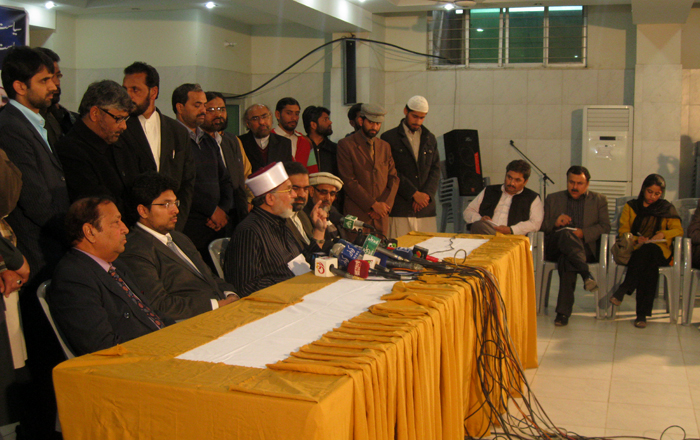 Dr Muhammad Tahir-ul-Qadri said that no effective and comprehensive anti-terrorism policy was formulated during last five years with the result that Pakistan was ranked second after Somalia with reference to terrorism. He said that Pakistan was not created for terrorism, adding that we would have to choose one of the two; terrorism or Pakistan. He said that the government claimed to arrest 3000 terrorists during last five years and not even a single terrorist went to gallows. He said that judiciary freed 1200 terrorists, while 1800 were under police custody. He said that not even a single terrorist was unmasked and his identity shown to the people because politicians had vested interests in the entire game.
Dr Muhammad Tahir-ul-Qadri said that politicians condemned terrorism but shied away from pinpointing their identity and criticizing them as they had understanding with them. He asked as to what was the plan to block the free movement of terrorists across 2600 km long borders? He said that the entire world changed its policy after 9/11 with an exception of Pakistan, which did not have any vision with regard to counter-terrorism and inland security.
In reply to a question, Dr Qadri said that no country could launch drone attacks on another country in the world. He said that drone attacks were responsibility of the political leadership.