Dr Tahir-ul-Qadri supports ECP's stand on 30-day scrutiny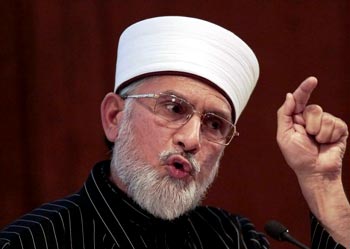 Dr Muhammad Tahir-ul-Qadri, leader of Pakistan Awami Tehreek, has praised the Election Commission's stand on 30-day scrutiny period of the candidates, demanding that it should be implemented forthwith. He said that he supported the scrutiny period to make sure that people having questionable track record should not be able to come to the assemblies. He said that though he had reservations on the composition of the ECP, yet he extended his full support to the Commission to get Articles 62 and 63 of the Constitution implemented in letter and spirit, and barring the tax evaders, defaulters and corrupt elements from the elections.
Dr Tahir-ul-Qadri condemned the government's and opposition's attitude towards the ECP, adding that both parties of the status quo were exerting pressure on an institution they established together through their nexus. He said that the purpose of unjustified criticism was to discourage the ECP from taking measures for holding fair, free and impartial elections.
Dr Muhammad Tahir-ul-Qadri said that it was necessary that the scrutiny of candidates was conducted thoroughly by a joint committee of NAB, Federal Board of Revenue, State Bank of Pakistan, NADRA, FIA and other relevant organizations. He said that the elections held without following Articles 62, 63 and 218 would be purposeless.
Dr Muhammad Tahir-ul-Qadri said that those who ridiculed and violated law would have to be put out of electoral race. He said that the Election Commission was justified in conducting the scrutiny within 30 days. He said that the Election Commission now understood the importance of Islamabad Long March Declaration and consequent struggle launched by PAT for implementation of electoral reforms.