Dr Tahir-ul-Qadri to make important announcements today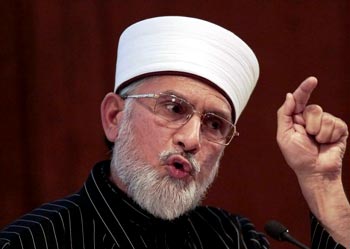 Condemning the bomb blasts in Peshwar and Quetta in the strongest possible words, PAT President Dr Raheeq Abbasi has said that the continuation of wave of terror was a conspiracy to destabilize Pakistan. He said that the Quetta carnage was one of the worst disasters and a national tragedy of hue proportions in the country's history, adding that the heart-rending incident left many questions on the role and conduct of the federal and provincial governments in tackling law and order problem.
PAT President further said that unhindered transportation of explosive material all the way from Lahore to Quetta exposed the working of the law enforcement agencies, which failed miserably to detect the container carrying this deadly material. He said that the people's lives and property were not safe and internal destabilization of the country was detrimental to its interests at the external level as it reduced the country's capacity to protect them at a better footing.
Dr Raheeq Abbasi said that sanctuaries of terrorists inside the country would have to be dismantled through better and effective intelligence gathering, sharing of information and coordination among the law enforcement agencies. He said that the security architecture would need to be revised to make sure that those playing with the country's integrity were taken to task in an effective manner. He said that cosmetic measures of removing officials were of no help as they could not compensate for lack of effective anti-terror strategy. 'As long as we do not take a hard look at what fosters and creates terrorism, we cannot eliminate this scourge, which was eating into vitals of state and society,' he added.
PAT President expressed these views while addressing Central Executive Council of Pakistan Awami Tehreek in its central secretariat in Lahore. He said that PAT's show of power in Multan would prove to be a milestone in its struggle to raise people's awareness. He said that the public meeting would leave indelible marks on politics of South Punjab. He said that people were joining the caravan of Dr Tahir-ul-Qadri in droves and supporting his agenda of change. He said that the day was not far when people would be able to get their rights.
Dr Raheeq Abbasi said that Dr Muhammad Tahir-ul-Qadri would make important announcements regarding his future course of action in the public meeting in Multan. He said that law and order situation was deteriorating very rapidly in Quetta now after Peshwar and Karachi as the innocent people were losing their lives. He said that PAT condemned all such elements that were out to hurt law and threaten stability of the country. He said that the entire nation would have to forge unity in its ranks against target killing and violence. He said that those who were perpetuating violence and shedding blood of innocent people on linguistic, ethnic and sectarian basis were the worst enemies of Pakistan, Islam and humanity. These elements need to be handled with iron hand, he added.
Dr Abbasi said that law and order situation had created many problems for national economy as the businessmen were relocating their businesses in other countries and millions of people were becoming jobless. He said that people were getting bogged down in the mire of problems with each passing day. He said that future of the nation could not be held hostage. He said that PAT would continue to struggle for restoration of people's rights.