Killing of Malik Mumtaz an attack on independence of media: Dr Tahir-ul-Qadri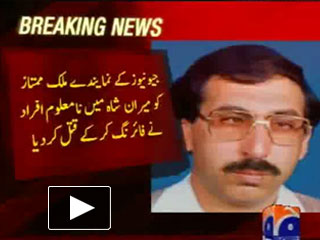 Condemning the killing of senior journalist and Geo News reporter Malik Mumtaz in Miran Shah, Dr Muhammad Tahir-ul-Qadri has said that the killing is an attempt at gagging freedom of expression and independence of media. He said that the journalistic community played a leading role in exposing terrorist and extremist mindsets. He said that journalists were the mirror in which society could see itself. By killing the messengers, the terrorists wanted to kill the message, he held.
Dr Muhammad Tahir-ul-Qadri said that the fifth killing of a journalist in 2013 coupled with other deaths of journalists in preceding years meant that Pakistan was the most dangerous country for journalists who laid down their lives in the line of duty. He asked the government to apprehend those involved in the heinous killing and bring them to justice. He prayed to Allah Almighty to rest the departed soul in peace and give patience to the bereaved family.